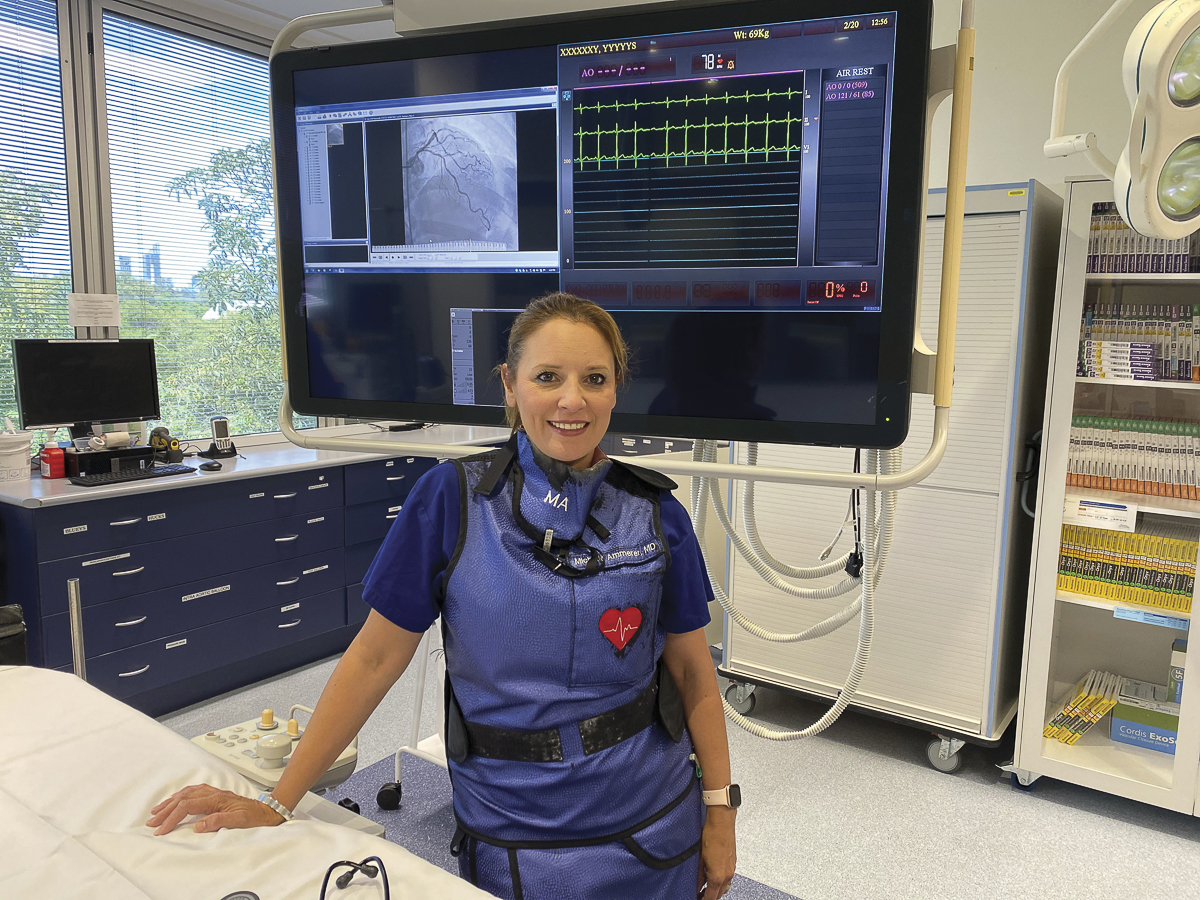 A love of problem solving has drawn cardiologist Michelle Ammerer to a field of medicine that has captivated her for 20 years.

Ask a doctor why they became one and chances are they'll tell you it's to help people. That was never the first answer for consultant cardiologist Dr Michelle Ammerer.
While, of course, she certainly wants to help heal or save a life, she's always been fascinated by science and problem solving. It's this intense curiosity and love for sleuthing which has made her one of the State's most respected cardiologists.
"I decided to be a doctor in Year 10 after I had done work experience in a law office," recalls Michelle. "It reminded me I loved science. I'm kind of amazed because I didn't really have a role model and had never been in a hospital. I liked problem solving and working things out.
"I had a background in dance and rhythmic gym at school, so my other plan was to be a back-up dancer for Kylie Minogue!"
Michelle was determined at university to study a discipline which ended in a job, rather than an amorphic and hopeful occupation.
"I wanted direction. I wanted to know exactly where I was going."
While recently stepping down from 16 years as director of coronary care at Sir Charles Gairdner Hospital, Michelle continues to operate there as well as at St John of God Subiaco and alongside her partners at Western Cardiology. She spent 15 years on the board of the Heart Foundation and continues her pro bono work as a trainer with the Royal Australian College of Physicians.
Boston calling
In 2004, Michelle was one of a select handful chosen from hundreds of applicants to complete a career-highlight fellowship in Interventional Cardiology through Brigham and Women's Hospital, part of Harvard Medical School in Boston.
While at Harvard, she was noted as one of the 40 Under 40 in 2008 and then named their First Amongst Equals, she went on to be a judge of subsequent lists. She considers giving back one of the best things she can do for the next generation of doctors and cardiologists.
"I've mentored and supervised trainees and I think in cardiology you learn so much by observation. I can see myself in these students and if they have the right traits you must help them grow.
"Some people have just got it and some people haven't. You can help students improve on things but I'm not sure you can always help them learn if they don't have that thing which can make them a good or great doctor. I think a great one requires attention to detail, being thorough, staying up-to-date, among other things."
SCGH was where Michelle did her intern, resident, registrar and basic physician training. Like others, she tried several different rotations, but cardiology won her heart fast.
One of the reasons she has loved and continues to love cardiology is the camaraderie and support from her teachers, many of whom eventually became her peers and partners.
"Our patients are sick and need help. It's an adrenaline rush like a rollercoaster. I love it and I have my mentors and teachers to thank in many ways for what I have learned.
"The people I've worked with have been great to be around and have taught me so much. They were the reason I wanted to do cardio at Charlies and later Western Cardiology.
Inspiring colleagues
"I wanted to work with people who were excellent in a great environment, and people who I bonded with. As it turned out, I was the first female they trained in cardiology at Charlies, the first female cardiologist at the hospital and the first woman in WA to train in stenting. I never set out to do that, I just paid attention to being good."
A sense of humour is very much at the heart of a cardiologist Michelle says. Much like other professions dealing in life and death, knowing when it's time to loosen a valve with something light-hearted is vital to mental wellbeing. And yup, she's heard all those finger-on-the-pulse jokes.
Michelle considers herself careful, particular, fastidious and pays attention to detail. She dislikes laziness and suggests many of her closest colleagues feel the same way. No, they aren't complete sticks in the mud. Yes, they still know how to have fun.
She's firm, driven and knows her own mind. Speaking with her reveals an unquestioned confidence.
"My parents were really fastidious in terms of making sure you studied. My mum was a schoolteacher and a model before that. Presentation was important. At medical school, my girlfriends and I would look at older female doctors and decided we could be doctors and still be interested in fashion. I still like fashion and keeping up-to-date."
Compared to other specialties, part of the attraction for Michelle is the innovation. While the art of medicine is always there, she also relishes the evidence behind it.
One of the character traits she didn't know she had until she started working as a doctor was the ability to be intensely calm "when the sky's falling down".
"When patients are unstable or something is happening, you have to be calm and work methodically to save them. Calm under pressure, that was never assessed at medical school. Some people just can't do it but I have to say I enjoy it."
On the home front
At home, if there's ever a problem, her action meter is measured by "if everyone is breathing and has a pulse, it's ok." No need to get into a flap about small things.
Outside of her family, skiing is one of her passions and echoes her Austrian family name, Ammerer. She first got on skis at the age of three. Michelle's Austrian relatives taught when she was younger and these days it's her sport of choice.
Sometimes she briefly flirts with wondering what it would have been like to be a ski instructor after meeting a woman around her age who lived on a mountain and seemed to have her own idea about life. But this doctor's love for medicine and investigation still means being a cardiologist wins out over being a snowologist.
Recently celebrating her 20th wedding anniversary, the mother of two almost-teens also has a Samoyed dog named Mozart. You'll find the pair out walking companionably every morning at 6am – without fail, rain or shine. A fact she tries not to bring up when talking to patients who tell her they can't find time for exercise. Yes, she practises what she preaches when it comes to a healthy lifestyle.
Fluffy white Samoyed dogs are known for their determined, lively and playful temperaments. Mozart and Michelle also share a birthday month.
While the demands on life as a specialist and at home keep her constantly in motion, if she's ever curled up on the couch with a book, Michelle's choice of reading material is usually books about the history of medicine or fictional medical mysteries. There's that sleuth again.
"Medicine has been a fabulous career because I have met a lot of great people. Everyone is very collegial.
"Equally, I love dealing with emergencies and treating acutely unwell patients. If a patient comes in having a heart attack and we do a primary angioplasty which saves their life, I love rising to that challenge. I really do love it."