By Dr Jade Acton, Gynaecologist
Endometriosis is common, yet under diagnosed, in adolescents. Those assessing young women with pelvic pain and dysmenorrhea should consider endometriosis in their differential diagnosis to avoid delays. It reportedly happens in 25-38% of adolescents with chronic pelvic pain. Traditionally, nonsteroidal anti-inflammatory drugs (NSAIDs) and oral contraceptive pills (OCPs) are the first line of treatment.
However, many adolescents describe continuing pelvic pain despite these medications. Moreover, the Endometriosis Association says 38% of women had symptoms starting before age 15 years and when this happens, an average 4.2 physician consultations take place before a diagnosis is reached. That is, the younger the onset of symptoms, the more delayed the diagnosis.
Presentation and assessment
Adolescents with endometriosis have a variable pain history (see table 1). Whereas 9.4% will complain of cyclic pain alone, more than 90% have an acyclic pain pattern with or without dysmenorrhea.
In addition, bowel and bladder symptoms may be common in adolescents found to have endometriosis. Complaints of difficulty participating in normal activities, missing school, or avoiding extracurricular activities because of pain suggest that medical intervention is appropriate. A family history makes endometriosis more likely.
Physical examination and pelvic ultrasound will most often be normal in adolescents with endometriosis, however, they importantly rule out underlying genital tract anomalies or ovarian cysts etc.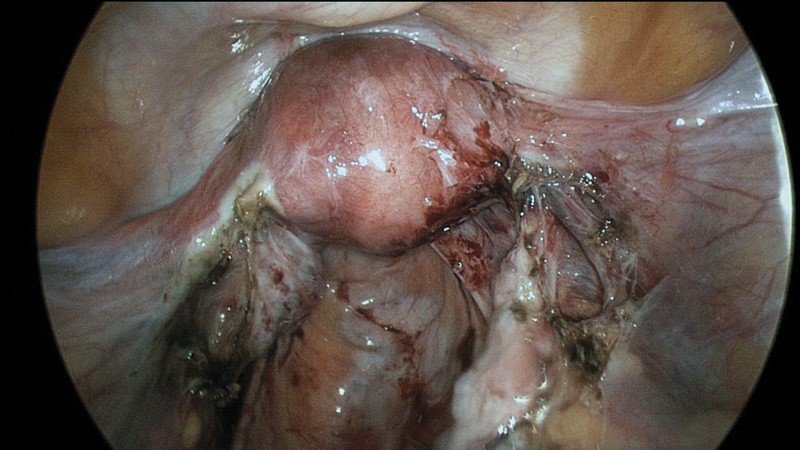 Empiric treatment
For a tentative diagnosis of endometriosis, 3-6 months of NSAIDs and the oral contraceptive pill is recommended. NSAIDs are taken at the first onset of menses and continued for one to three days or usual duration of painful symptoms (those with severe symptoms may begin NSAIDs one to two days prior to onset of menses). The OCP can be taken in either a cyclical or continuous fashion.
Where disabling pain persists laparoscopic diagnosis is essential – numerous series have shown rates of endometriosis at 50-70% when adolescents did not have control of pelvic pain with OCPs and NSAIDs. There is no need to 'time' the laparoscopy and it can be performed whilst still on OCP and NSAIDs.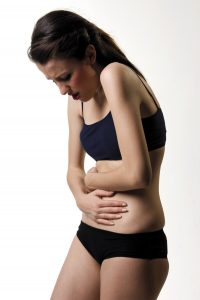 Surgical management
Importantly the gynecologist operating on an adolescent with pelvic pain should also be equipped to both diagnose and treat the disease, to avoid repeat procedures. Surgery has been shown to reduce pain from endometriosis – endometriosis implants in this age group can vary in appearance (red flame lesions, shiny clear vesicular lesions, and peritoneal windows are more common) and may be missed.
When there is no visible evidence of endometriosis, a posterior cul-de-sac biopsy for microscopic disease should be performed (as this is reported in 3% of adolescent girls with chronic pelvic pain unresponsive to conventional therapy and with a visually normal pelvis.)
Post-operative treatment
Surgery alone is usually inadequate for endometriosis as microscopic residual disease must be suppressed with medical therapy. The general consensus is that adolescents with histologically confirmed endometriosis should receive medical treatment after surgical ablation/resection until they have completed childbearing.
The rationale for medical therapy is inhibition of prostaglandin synthesis, decidualisation and subsequent atrophy of residual ectopic endometrial tissue, and reduction of ovarian oestrogen production, thereby inhibiting the growth and activity of the endometriosis.
The oral contraceptive pill is the first line treatment for adolescents, followed by progesterone formulations. The Mirena-IUD has been shown to be effective and placement at time of surgical diagnosis reduces the incidence of pain and bleeding for adolescents.
Table 1: Presenting endometriosis symptoms in adolescents
| | |
| --- | --- |
| Both acyclic and cyclic pain | 63% |
| Gastrointestinal pain | 34% |
| Acyclic pain only | 28% |
| Urinary symptoms | 13% |
| Irregular menses | 9% |
| Cyclic pain only | 9% |
| Vaginal discharge | 6% |
References available on request.
Disclaimer: Please note, this website is not a substitute for independent professional advice. Nothing contained in this website is intended to be used as medical advice and it is not intended to be used to diagnose, treat, cure or prevent any disease, nor should it be used for therapeutic purposes or as a substitute for your own health professional's advice. Opinions expressed at this website do not necessarily reflect those of Medical Forum magazine. Medical Forum makes no warranties about any of the content of this website, nor any representations or undertakings about any content of any other website referred to, or accessible, through this website.