Adrenal incidentalomas are adrenal lesions greater than or equal to 1cm identified serendipitously on imaging performed for unrelated indications. The widespread use of cross-sectional imaging has highlighted this entity. 
Assessment focuses on both imaging and biochemical/functional characteristics of the lesion. In the evaluation of adrenal lesions, the two key clinical questions are: Is the adrenal lesion functional or non functional? And is the adrenal lesion benign or malignant?
Functional and biochemical assessment
The clinical history and physical examination should focus on eliciting signs and symptoms of adrenal hormone excess. This is followed by biochemical testing. Assessment should be undertaken for the following conditions, which are summarised in Table 1. If there are any abnormalities detected on biochemical screening, further confirmatory testing may be necessary, and referral to an endocrinologist or endocrine surgeon is recommended.
Imaging assessment
The key question is whether it is benign or malignant, If the adrenal lesion is malignant, this can either reflect a primary adrenal malignancy (quite rare), or more commonly a metastasis. The probability that the adrenal lesion is a metastasis is significantly raised if there is a prior history of any malignancy.
Imaging characteristics that suggest malignancy (either primary or secondary) include:
Higher Hounsfield unit (HU) – Radiodensity of the lesion

In fact, a non-contrast HU of <10 is almost diagnostic of a benign lesion

Larger size

Risk of malignancy is greater in lesions > 4cm

High HU and lesion diameter >10cm are almost always malignant

Invasion of adjacent organs/ structures

Low percentage CT scan contrast washout

 
One should be cautious in drawing conclusions from low dose CT scan (e.g. CT KUB for renal calculi), as this has less sensitivity and specificity for characterisation of an adrenal lesion.
Occasionally FDG-PET or MRI can be useful to assist in triaging and assessment of potentially malignant lesions.
Role of needle biopsy
Unlike the situation for most other solid tumours, the role of image guided needle biopsy of adrenal lesions is very limited. The reasons for this are twofold. If the lesion is a malignancy (primary or metastasis), needle biopsy and the resultant spillage of tumour destroys the potential for curative surgical excision. Also, if the lesion is an unrecognised Phaeochromocytoma, needle biopsy may precipitate hypertensive crisis and death.
An endocrine surgery opinion is prudent prior to considering needle biopsy.
If the adrenal lesion is small, biochemically inactive, and benign/ or likely benign on CT criteria, then usually one further interval CT with adrenal protocol scan is necessary prior to discharging the patient. The interval scan should be performed at a 6- to 12-month interval. Should there be no progression/growth then we are usually satisfied that no further surveillance or intervention is necessary.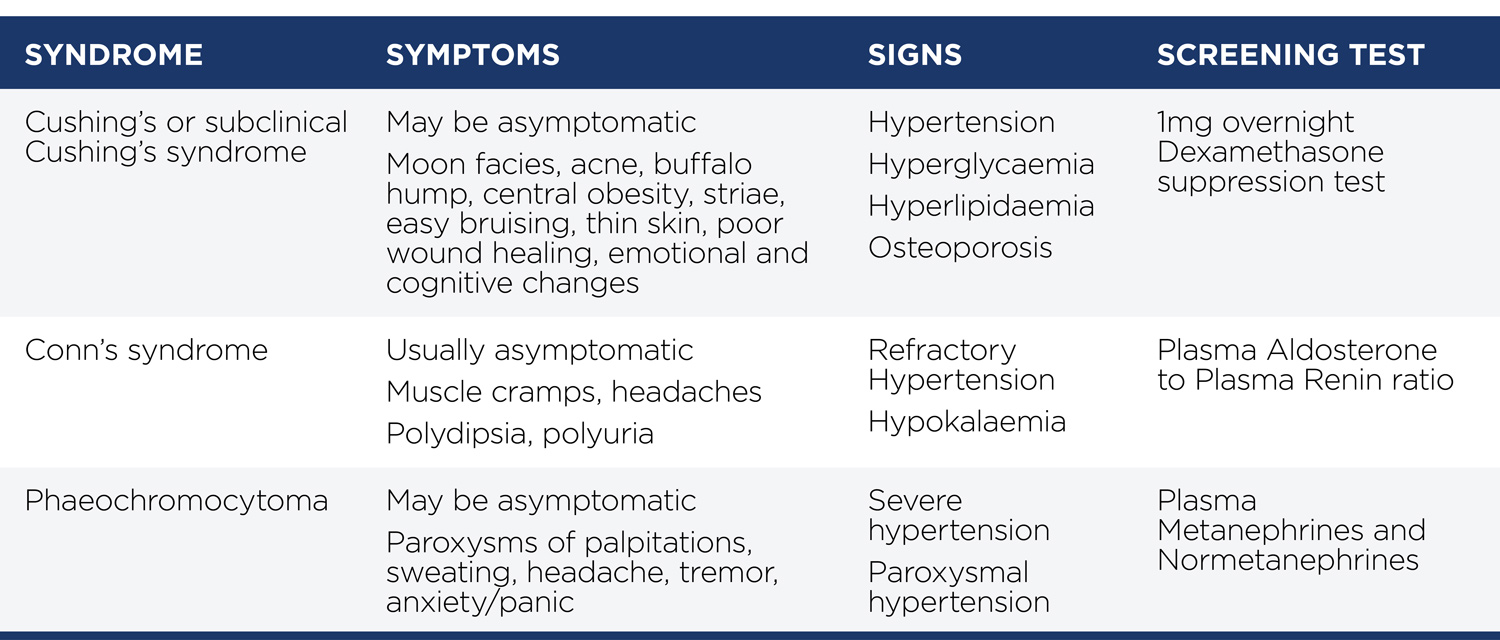 Key messages
All cases of adrenal incidentaloma should undergo biochemical screening to exclude adrenal hormonal excess

The role of image guided needle biopsy for adrenal lesions is limited

Small, biochemically inactive lesions with non-contrast HU <10 can be safely managed with one further interval CT adrenal protocol scan and discharged.
Author competing interests – nil