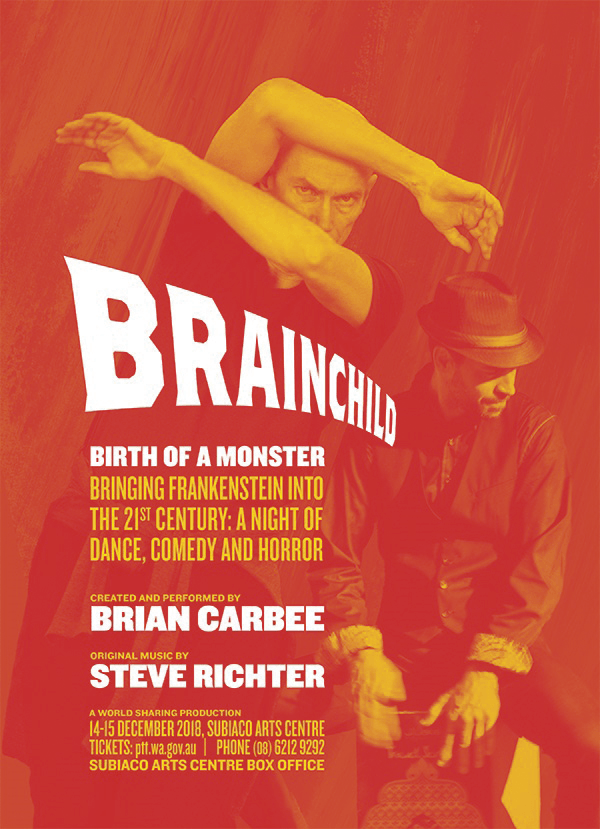 This year marks the 200th anniversary of a young woman's breakthrough novel. Remarkable firstly that a woman should have the literary world talking and then, of course, there was its controversial subject matter.
The woman was Mary Shelley and the book was Frankenstein, a work imbued with the angst of its times and since an essential consideration in explorations of our own.
Most come to Frankenstein as adolescents, where audacity and ghoul, monsters and slayers, love and tragic romance force themselves in. Yet returning to the novel with life under the belt, those elements shift and darken to create a work of immense depth and insight into humanity's capacity for nobility and savagery, mixed so subtly among Shelley's characters.
Then of course, there's Hollywood's Boris Karloff … but that's another story.
Next month, the fascinating actor/writer Brian Carbee and captivating composer Steve Richter bring a new interpretation of the Frankenstein behemoth to the Subiaco Theatre Centre in a collaboration that will no doubt add to the cultural collection.
Brainchild will have its world premiere here in Perth due to those serendipitous connections the artistic community survive on. Brian spoke to Medical Forum about some of the ideas he and Steve have been working on.
"As I started putting down ideas for Brainchild, it seemed to me as things never really change. We are in a similar situation as we were 200 years ago. When Shelley began writing Frankenstein in 1816, it was known as the Year Without Summer. There had been an enormous volcano eruption in Indonesia and there was mass starvation in Europe with people dying in the hundreds of thousands," he said.
"It was a horrendous situation and that came hard on the heels of the Napoleonic Wars and Europe was a wasteland. Then you consider Mary Shelley's own circumstances in the circle of her poet husband Percy Shelley and Lord Byron – highly privileged men who exercised their privileges freely. That's the environment in which the story germinated."
"We are also in a kind of scary situation right now when it comes to the environment and the futures of world's economies and all the existential angst."
"We realise that Shelley's work is really a zeitgeist, which is making everyone re-examine her story."
In Brainchild, Brian is concerned with how society creates its own monsters.
"Shelley created a monster that became a prototype but monsters have littered history and created havoc throughout it. We are now in another stage of history where monsters are on the rise."
The collaboration with Steve Richter will be an interesting one to witness. Both men's artistic output is eclectic. Surely this is a collaboration over time?
"We only met in person last weekend," Brian laughs.
The pair were united by producer Maree Laffan, an "arranged marriage" as Brian puts it, and until their first physical meeting have been exchanging ideas over the internet.
"When we met, things really started to happen. We could see how the words and music would interplay and it's thrilling – it's going to work. There's always some anxiety in the early stages, it's about finding the language and the ideas," he said.
"And best of all, we will be performing on stage together and that's a relief because it can be hard out there on your own. It's really good to have a partner you can have fun with."
For Brian, a life of dancing (Sydney Dance, Chunky Moves), acting, screen and stage writing and filming has seen a fascinating body of work – check out his short film In Search of Mike, which was shown at Sundance, and his feature film Accidents Happen. Is there any one genre he prefers?
"As I get older, writing is a little bit more appealing. Dance is a little harder to maintain but but while I can I'll keep doing it. And the beauty of writing my own performance pieces – I can write in the rests!"