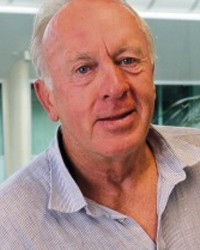 Dean AlstonThe West Australian's resident cartoonist likes to stir the pot and that's exactly what Dean Alston has been doing for the past 25 years. Along the way he's penned more than 13,000 cartoons and won a prestigious Walkley award. He reckons it's the greatest job in the world.
"I get to my desk just after midday, have a look at what's going on and then we have an editorial news meeting at three o'clock. That gives me an idea what's going into the paper on the following day and I'll work on the main cartoon between 4.30 and seven in the evening."
"It's just so enjoyable, there are different issues popping up every day and that means a huge variety of possibilities with the drawings. It keeps me thinking. There's a bit of pressure heading towards deadline and it's a good brain workout every day. I'm working with people who are bright, well-read and can write."
"I'm here six days a week with Sunday my only day off and, as far as I'm concerned, I'll be doing this forever. I'm going to die at my desk!"
A tavern in the town
Dean has always been a bit of a larrikin and in his pre-cartooning days he was a part-owner of the Carine Tavern.
"Some people say it was because I spent so much time in there but, in fact, I'd never been there at all. A partner and I bought the freehold, ran it for 14 years and then I sold my share, got married and went to England."
"I worked for British Gas in London and the Lands Department back here in Perth and brought a bit of unconventionality to both those places. I honed my cartooning prowess by painting pictures for tourist books and annoying people mercilessly. I've been lucky enough to continue in that vein."
"I also had the good fortune to have wonderful parents and grow up near the Canning River, it was wonderful! As early as I can remember I was drawing and in the days before television I'd sit at our lounge-room table doing just that."
"And at school there'd be the occasional, 'Alston… get out!' because a drawing of mine would go around the room and end up at the front of the class. It was all good fun!"
Take it to the limit
There's often a cutting 'edge' to a cartoonist's pencil and Dean Alston is no exception. In September 1997 a cartoon entitled, Alas Poor Yagan, landed both The West Australian and the cartoonist in the Federal Court.
Accusations of racism were levelled at the newspaper and, indeed, the Human Rights and Opportunity Commission ruled that the cartoon made inappropriate references to Noongar beliefs but did not breach racial discrimination law.
"It's important to push boundaries and challenge political correctness. The latter is a cancer in our society and goes way too far sometimes. Alas Poor Yagan ruffled a few feathers and was a pretty difficult time, although the newspaper ended up winning the case."
"I tend to shy away from an ideological position when it comes to politics but you do need to have a point of view on some issues. And sometimes I do end up dancing on the borderline of slander."
Late last year Dean couldn't resist yet another somewhat delicate 'soft-shoe shuffle'. His 'take' on feminism raised more than a few hackles when six panels depicting 'Camp Femdom' portrayed a group of militant women declaring they intended to 'shatter the glass ceiling', but not before they'd 'sipped a latte, waxed and had their hair done.'
Nonetheless, there is one line he refuses to cross.
Political separation
"I don't do lunches with politicians. In fact, apart from putting them in my cartoons, I don't have anything to do with them."
Dean's career had been creative and colourful and it would seem that Perth's politicians will be in his cross-hairs for some time yet.
"I stay pretty active, run three days a week and go to the gym on the other days so hopefully old age is still a fair way around the corner. I've had over two decades at The West and I must have drawn thousands of cartoons. The words, I don't want to go yet will be on my tombstone."