West Coast Eagle David Wirrpanda is striving for something beyond an AFL premiership. As a passionate fighter for indigenous youth, he established the David Wirrpanda Foundation a year ago with the support of Lotterywest and mining giant Woodside Energy. It was his lifelong goal. "After years of doing community work, the Foundation is a formal way of recognising the influence professional people have on the lives of our children. The Foundation is a dream come true for me," he said.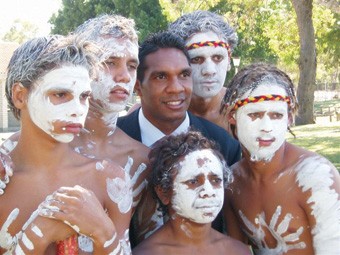 David is one of AFL's elite. He's in his eleventh season with the Eagles, and named an All-Australian following a stellar performance in 2005. But there's much more to David's game than just stats and milestones.
"I'm not just representing a football club. When I play, I represent a race of people, and I get satisfaction out of that."
Being a role model to thousands of other indigenous people inspires him to greater success on and off the field.
"It makes me want to perform consistently… to get myself right. With what I do outside of that, support is just as strong. One day if I do want to get into politics or whatever, I know I may have that support there."
Such is the level of support for his off-field work he was awarded the inaugural AFL Community Leadership Award in 2003. The buzz he gets from his community work is related to his own roots. David started football at the tender age of 16 and succeeded because of family support.
"With the way they've pushed me through life and helped me develop as a young person, I was able to become very mature very early. In a way I probably regret that, because I sacrificed a lot of my youth but looking back I probably gained more than I've lost."
As a young man, David struggled with peer pressure, an issue he tackles with kids today. "It doesn't matter what race you are – whether you're black, white, or brindle – everyone goes through those same scenarios growing up as a young person."
Using a combination of mentoring, outreach, education, and recreation activities, the Foundation's goal is to get indigenous kids on the right track in life. "I play that big brother role as far as advice and experience and sharing some of the stories that I've been through."
He sees their potential. The next David Wirrpanda is just around the corner.
"There's plenty of them around. Plenty. One thing I do stress to these young kids who want to develop in elite sports or athletics or whatever, is the point of their education first. To have that base is very important."
Work with the Foundation has taken him and his team of mentors (which include fellow AFL players Ashley Sampi and Troy Cook) to remote communities and prisons around the state. Because of these experiences, he is a realist when it comes to the challenges faced by the next generation of indigenous sport stars.
"A lot of different things are introduced when young kids are vulnerable and that's when you've got to be very careful with your choices. I've seen plenty of kids with more talent than me… but some of the choices they've made outside of that have probably affected them now and for the rest of their lives."
Working with indigenous youth in the Pilbara and Kimberly, David has seen the failures of the health system.
"I think there could be a lot more improvement in that area. The same issues with the small remote communities are happening over in Victoria, North-east Arnhem Land, and North Queensland. And it all comes under health. It's something that could be improved and if it's an area that I could assist with, well I'll be more than happy to do whatever I possibly can with it."
He is keen to make indigenous health a greater priority for the Foundation. One step is the proposed implementation of the Ashley Sampi Fitness Programme, which incorporates a diet and exercise regime.
Another involves health studies and consultation work with Foundation ambassador and indigenous doctor Dr Mark Wenitong.
---
David Wirrpanda Foundation, at a glance
Launched: February 2005
Referrals: 75 children referred from Dept. of Community Development, Ministry of Justice, schools, and regional areas.
Targets: Feedback shows referred young people had a 90% improvement in behaviour, 75% increase in retention and attendance, as well as marked improvements in manners, listening, literacy, and goal-setting.
Activities: Include ?Wirra Club' rec centre, mentoring, outreach, fitness programme, scholarships, and awards.
Ambassadors: Heath Ledger, Dr Mark Wenitong, Naomi Wenitong.
Mentors: David Wirrpanda, Ashley Sampi, Troy Cook.
www.dwfoundation.com.au