Radiologist Dr Liz Wylie is passionate – about breast screening, helping women and her garden.
By Ara Jansen
---
"I'm a fat post-menopausal single woman – why should I be ashamed of that?"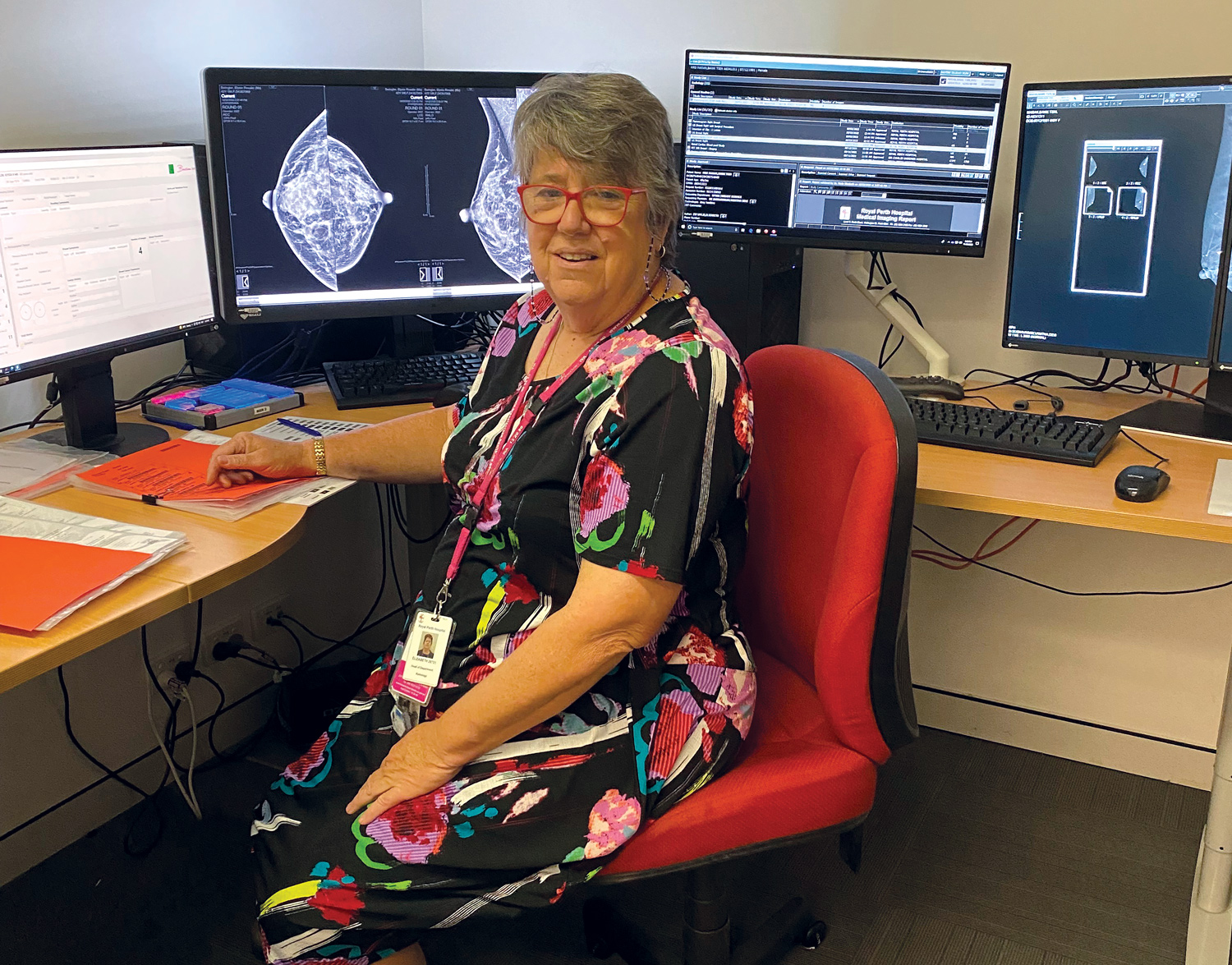 Dr Liz Wylie is in a feisty and happy mood. The radiologist is discussing some of her favourite things: helping women through her work as medical director at BreastScreen WA and radiologist at Royal Perth Hospital, her garden, dogs and books.  
Liz and her dogs drive south every other weekend to tend her much-loved garden on 3ha on the Blackwood River near Bridgetown. She's had the property since 1990 and, with a passion for the gardens of England, has set about creating her own version. 
The property features a pear orchard and lots of deciduous trees. She describes it as an eclectic Australian ornamental garden with lots of autumn colour, natives, trees and homes for birds. She also has an endless supply of plums and quinces, the latter which she tries to give away to everyone she knows. 
After a week of screens and intense focus at work, she loves the physicality of working in the garden, pushing a wheelbarrow, planting bulbs and spending days at a time outside. Keeping her company are her rescue dogs Poppy and Peanut.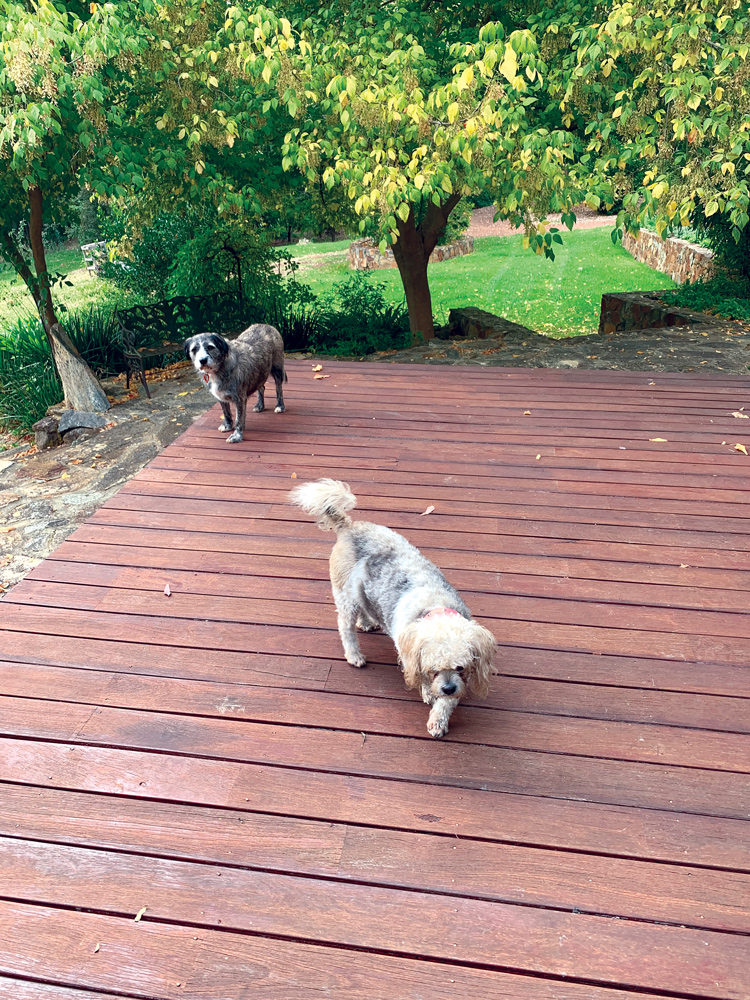 "I can feel sore but enriched and really quite happy," Liz says. "There's a palpability for me about being outside, so I love being in the garden."
She's a big fiction reader and voraciously consumes audio books during the drives south.  
"I love the humanity of storytelling. I'm most transported when I'm listening to really good fiction. I have very eclectic tastes but love a good story. My favourite authors are Alan Bennett, Joanna Trollope and Julian Barnes. I also love a good Ruth Rendell or Agatha Christie. 
"Life is too short and if I'm not consumed by a story, I'll rip the disc out and fling it across the car. I won't listen to anything that's boring. Sometimes, I'll get home and the book hasn't quite finished so I'll sit in the garage for 20 minutes."
Once married to a psychiatrist and a mother to two adult children, Liz loves her now single life. 
"When I found myself as a single person coming back from Bridgetown in the late afternoon one summer, after not being single for a very long time, I got home and thought 'is it this wrong to feel this happy? Shouldn't I be miserable?'." 
Making her mark
Liz decided in that moment that post-menopause and all, she was going to continue to live a life of meaning, both personally and professionally. She feels like she's doing exactly that every day at BreastScreen and RPH.
The eldest of five children, Liz was born in Sydney, spent her first five years in Darwin and then came to Perth. Her father was an electrical engineer, and her mother became an architect after leaving the army. 
"They worshipped education," she says. "Four of us went to university. I never thought you could do anything else."
Liz learnt plenty of life skills during her primary and high schooling in Midland – especially after having her plait set on fire on the school bus. Resilience was at the top of the list of high school achievements and she only half-jokingly suggests hand-to-hand combat came a close second. 
"I definitely learnt how to look after myself during high school." Three women in her graduating class in 1974 got accepted into university. She was the only one who went, the others chose dressmaking and a job as a bank teller. 
"I did medicine but I can't say it was like a noble calling because I didn't really have much of a clue. I got good marks but really it has just been serendipitous that I have had the most charmed professional existence. I've had such a fortunate professional life and feel like I was born just at the right time.
"Doing radiology made me realise how an inspiring teacher can have such an influence on you as a student. I remember one of the radiology registrars doing a tutorial for medical students when I was in fifth year at Princess Margaret Hospital. He made it fun and I thought 'I can do this!'
"Of all the things I did as a student, there were heaps of medicine areas I would rather have had my teeth pulled out than do, but the two things which really appealed to me were radiology and psychiatry."
Liz started as an intern at RPH and did her radiology training there too. Toward the end of her studies, she spent two years in London, which was a strong developmental experience and where she had been doing quite a lot of breast screening. Then the call came from Perth offering her a job back home.
Mentor inspires
"I worked with radiologist Turab Chakera, who was like the father of radiology in WA and had a massive influence on the area from the 1970s and well into the 2000s. He passed away in July 2020. I was incredibly lucky to have worked with him. He was an incredible person and an amazing character." 
After London, she returned to RPH in 1990. BreastScreen had started in 1989, she became a consultant for them and never left. She's been with the free service breast screening group for 32 years, the last 22 of those as medical director. 
"In the '90s I felt like breast imaging and mammograms were like secret women's business. It wasn't considered very important and was hard to get people to do it. It was considered the medical imaging equivalent of the last professional resort. 
"I love breast imaging and if you have a vigorous and long career, you might stop hundreds if not thousands of women from dying. It's not glamorous and you're not a hero or the rock stars of imaging. But I do read tens of thousands of mammograms and out of that there will only be 6-7 per 1000 reads with cancer and 994 normal ones. For the women who screen regularly, they are half as likely to die of breast cancer than those who don't screen."
While it could always be higher, Liz is also thrilled that the public profile around breast cancer and screenings has risen hugely over the past 30-odd years. She says celebrities like Kylie Minogue, Olivia Newton-John, Cynthia Nixon and Shannen Doherty have certainly helped keep the issue in the spotlight and remind women to get a regular screen. 
"I love the work," Liz enthuses. "I love the interaction with women – being in a clinic and making small talk and doing procedures as painlessly as possible. It's also surprising – but heartening – at the level of joy there is amongst the staff and participants in the clinics. It all gives me and the multidisciplinary team a strong sense of purpose."
"I love breast imaging and if you have a vigorous and long career, you might stop hundreds if not thousands of women from dying."

---
Powerhouse team
She cites chief radiographer Helen Parry at RPH and Carolyn Madeley at BreastScreen as powerhouses to work with and women who show courageous leadership.
"I get out of bed in the morning because I like the work and I like my peers and co-workers and I love the patients."
"I come from a family that was strongly iconoclastic and while they taught me to respect authority, I have a healthy scepticism and have been accused of being cynical."
She's also excited to have lived through – and continues to be part of – some of the most exciting times of innovation in her field such as the vast improvements in MRI machines, CT, ultrasound and imaging, diagnostic tools and interventions.
"Given where I am in my career, I probably won't have to deal too much with AI and other disruptors. Hopefully they will be good at making imaging even more accurate, rather than turning it all into factory imaging. I think I've had a charmed professional existence but I do think some parts of this career will be more challenging for my successors."