Cancer care grows
GenesisCare is at the centre of two major private cancer centre developments – one south of the river, the second north. Last month the sod was turned on the building of a $17 million facility at St John of God Murdoch Hospital. The new facility is the result of a partnership between Centuria Healthcare, SJG Murdoch and GenesisCare. The building will be developed and owned by the Australasian real estate funds manager, Centuria Healthcare, expanding its existing healthcare presence in Western Australia. It is thought the facility will have capacity to treat up to 1,000 cancer patients a year and it will be fully integrated into the Murdoch hospital. The facility will also offer theranostics and nuclear medicine services molecular imaging equipment such as PET-CT and SPECT-CT.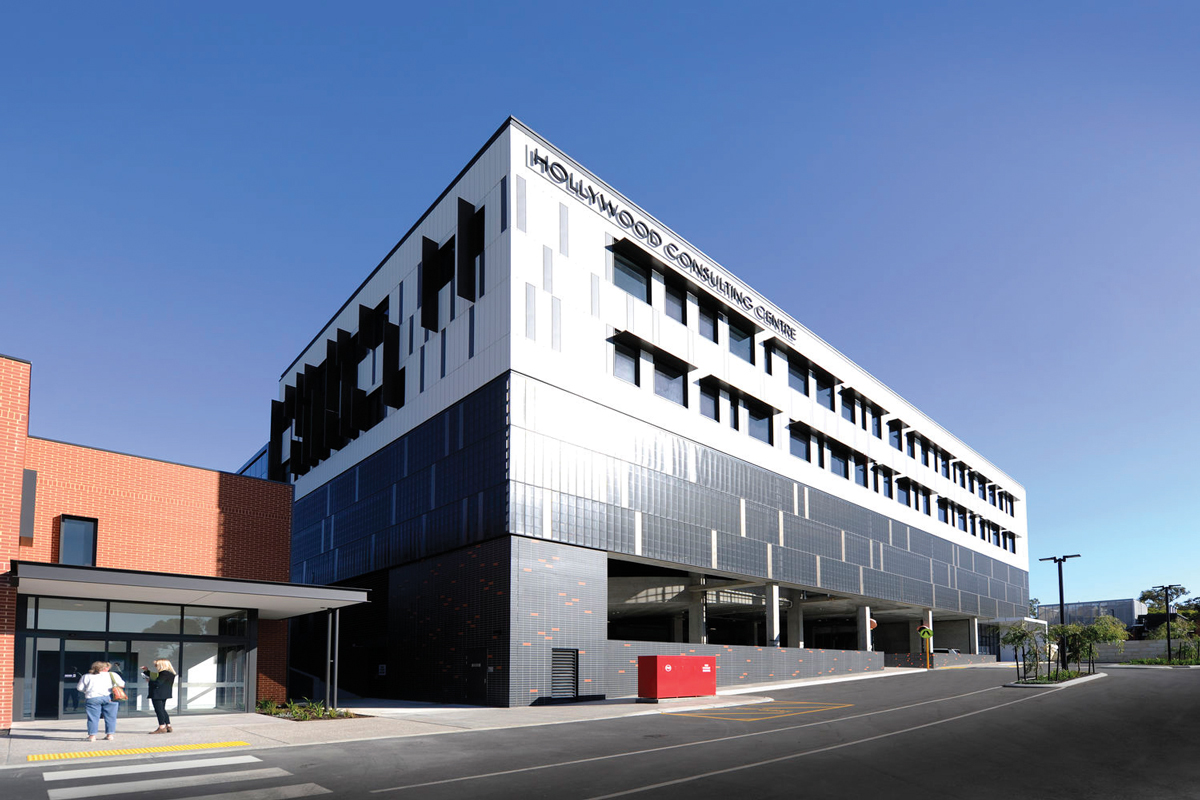 Over the Narrow Bridge at Hollywood Private Hospital, a partnership between Ramsay Health Care and GenesisCare will see, for the first time, patients at Hollywood having access to onsite radiation therapy with medical and radiation oncologists, haematologists, surgeons, radiologists, nurse specialists, clinical trial researchers, allied health and mental health professionals all on the one campus. The Hollywood centre will have a state-of-the-art linear accelerator, the Elekta Versa HD with the Brainlab ExacTrac Xray System, capable of delivering advanced stereotactic radiotherapy (SRT) and stereotactic radiosurgery (SRS). The centre will have a strong focus on prostate and breast cancer including partnering with the Breast Cancer Research Centre WA for additional dedicated breast care nursing support.
DREAM comes true
UWA's DREAM trial, under the watchful eyes of Professor Anna Nowak, has published results that show a combination of chemotherapy and immunotherapy treatments can yield positive results for patients with advanced mesothelioma.
They reported in The Lancet Oncology that the study was the first reported trial to test the combination of an immune checkpoint inhibitor with chemotherapy drugs. Trials were conducted in nine hospitals around Australia involving 54 patients who were considered unsuitable for cancer surgery. Almost half the patients had a substantial shrinkage in their tumour, and patients lived longer than would be expected for chemotherapy alone. The antibody treatment continued for up to 12 months. However, once the antibody was stopped the majority of patients then had disease progression. Prof Nowak said there was a strong unmet need to improve available therapies in mesothelioma and the results of this trial suggested chemo-immunotherapy could become a valuable treatment in this disease.
Short-stay or managed?
Short-stay models of care for major orthopaedic surgery was canvased during a webinar and panel discussion organised by Australian Orthopaedic Association (AOA) and the Australian Ethical Health Alliance (AEHA). Participating in the discussion were private health insurers Medibank Private and Bupa. Possible business models and funding pathways were discussed. The webinar comes after it was announced that Medibank Private has acquired a 49% stake in the East Sydney Private Hospital. Reports indicate the insurer will initially invest $8.8 million to fund capital investment and operational costs required for the hospital to scale its short-stay model of care. AOA President Dr Andrew Ellis said his organisation remained "deeply suspicious of for-profit private health insurers who wish to enter the ownership of private surgical facilities or hospitals. They do this for business development reasons but under the guise of enhancing care in 'doctor-led' models. Out-of-pocket expenses are the smallest element in this move, as the majority of fees are paid by the commonwealth through the MBS. The real reason is to disrupt established hospital groups, and encourage alternative methods of care by offering fee incentives to surgeons to participate in managed care in health insurer-owned vertical business structures. To gain surgeons' and patients' trust, the health funds must act in transparent ways in developing business models such as these and declare incentives they offer participating doctors and hospitals. They seem to genuinely wish to contribute to health reform, and in this setting, we welcome collaborative discussion and action."
Problem with iron
A global study led by researchers at UWA has addressed the rising use of intravenous iron therapy in anaemic patients during major surgery and found there is little benefit. The RCT is the first to rigorously test a procedure, which has become routine practice. Up to half of patients undergoing major surgery have anaemia and over the past decade, hospitals around the world have given intravenous iron to these patients in advance of their operation. Professor Toby Richards said results of the PREVENTT trial showed that although iron therapy did produce a response there was no benefit in the patient's outcomes of blood transfusion, major complications or length of stay in hospital. However, one significant finding was that giving iron after surgery did improve anaemic patients' recovery.
Yet another UWA study with researchers and clinicians from Fiona Stanley Hospital have found that pre-screening patients before surgery to determine those with anaemia or low iron was vital in reducing surgery costs and improving patient outcomes. The research has been published in Anaesthesia. Adjunct Research Fellow Kevin Trentino said industry had been hesitant to use pre-clinics before surgery to identify low blood counts, because of a perception they were costly and required significant resources. "In this study we analysed the results of an anaemia screening clinic set up at Fiona Stanley Hospital in 2016 in which 441 patients having bowel cancer surgery received blood screening before surgery," he said. "We found, contrary to common belief, the benefits of pre-screening far outweighed the costs." Fiona Stanley Hospital Consultant Anaesthetist Dr Hamish Mace said while some blood loss in surgery was inevitable, minimising the resultant transfusion and the associated risks were important for clinicians. "By increasing the patient's haemoglobin before the operation, our patients were given a major boost going into surgery," Dr Mace said. "Pre-operative treatment with iron also led to an increase in patients' red cells after the operation, giving them a buffer to avoid transfusion. "
Case numbers down
The second comes from the Australian Institute of Health and Welfare (AIHW) with its Mesothelioma in Australia 2019 report showing that people are living longer with the disease. At 1 April 2020, 659 cases of mesothelioma were diagnosed in 2019. However, the death rate from mesothelioma has risen in recent years, from 1.9 deaths per 100,000 people in 2012, to 2.9 per 100,000 in 2019. The increased death rate in 2019 largely reflects changes in historical exposure to asbestos because the disease takes years to develop and cause symptoms. Between 1987 and 1991, 37% of people lived at least one year after their diagnosis, 10% lived at least three years after diagnosis, and 6% lived at least five years after diagnosis. After accounting for changes in the population's age structure over time, these rates had increased to 55%, 17% and 10% respectively between 2012 and 2016.
WA and opioid deaths
The new edition of Penington Institute's Australia's Annual Overdose Report is sobering reading for WA with 227 West Australians dying of unintentional overdoses in 2018 – an all-time high for the state. The rate of unintentional overdose deaths in WA increased from 6.4 per 100,000 people in 2012 to 8.8 per 100,000 in 2018 – close to double the mortality rate for melanoma across all of Australia in the same year. WA also had more overdose deaths from different types of drugs including stimulants, prescription opioids, heroin, benzodiazepines, and anti-depressants. The report also reveals that, for the first time, WA had the highest rate of heroin-induced overdose deaths per capita, overtaking Victoria. WA also saw the biggest increase in unintentional deaths involving benzodiazepines.
Coffee all round
Research led by the GenomALC Consortium at the Centenary Institute has found that susceptibility to cirrhosis among high-risk drinkers was affected by a family history of alcohol-induced liver disease, especially from fathers. Only a minority of high-risk drinkers, approximately 10-15% ended up developing alcohol-induced cirrhosis, but the survival time for those individuals could be as low as 1-2 years. The study also found that high-risk drinkers who consumed coffee were less likely to develop cirrhosis, while tea drinking only marginally lowered the risk. However, high-risk drinkers who had diabetes in middle age were particularly likely to progress to cirrhosis.