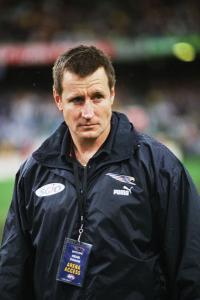 In his third year as Coach of the West Coast Eagles, Australian Rules Football veteran and pharmacist John Worsfold doesn't fool around with his players' physical and mental health. His approach is based on his 12 years playing with the Eagles…
In his third year as Coach of the West Coast Eagles, Australian Rules Football veteran John Worsfold doesn't fool around with his players' physical and mental health. His approach is based on his 12 years playing with the Eagles, his two years as assistant coach at Carlton and his grounding as a pharmacist since graduation in 1990.
Reflecting over these years, John said with the high stakes, the Aussie Rules of today is more focused on injury prevention.
"Although AFL is still extremely physical, the rules are enforced a lot more strictly, so that any contact that may have been seen as incidental can now be seen as reckless – opening the door to free kicks and potential suspensions."
And sports science had revolutionised game preparation for footballers.
Each week the Eagles take part in three training and two weight sessions plus meet to review their previous game and discuss tactics for the next. It is rudimentary for injured players to take part in weekly Pilates sessions.
"When I used to play, training was more generalised and we did weights to cultivate more power and strength. But these days, weight work is more specialised and targets the particular movements used most in games."
This means shoulder and arm strength for marking, plus knee and foot exercises for strong kicking. Another method for injury prevention is body screening, where the running action and style, posture and over-all body strength of players is examined to identify key areas for improvement.
John said AFL footy now involves more challenges and commitments.
"We didn't have such strict post-game principles to stick to so, for example, we could decide to eat straight away or when we became hungry. Currently, after finishing any game, all my players must replace their lost energy through an intake of carbohydrates and protein, and replenish themselves with plenty of fluids."
This standard post-game recovery program includes a warm-down, climbing into ice bins and going for jogs or swims.
The Eagles are backed by a team of sports doctors, physiotherapists, trainers, masseurs, dieticians and a psychologist. John also relies on a dedicated group of orthopedic surgeons and a shoulder specialist, who advise on his players' injuries and requirements for surgery.
What about pressures to keep injured players on or off the field? John told Medical Forum the situations are never black and white.
"Every situation is different and we have to determine how much is at stake in the game and from the severity of the injury. Generally, the main rule is not to put players at additional risk."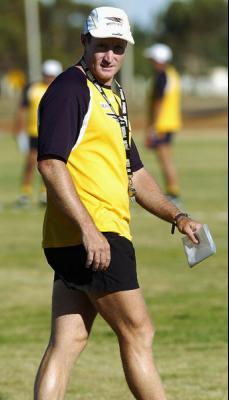 To speed recovery, players these days are operated on earlier than in past years. For example, clavicle fractures are usually plated immediately, mobilised early, and plates removed with full recovery.
He stressed that injury decisions are not made lightly. "Every Monday we go through the status of all of the rehabilitating and recently injured players, and work out effective training methods to accommodate their injuries," he explained.
Despite close attention to health and fitness, John says there has always been a problem with player burn-out, particularly those introduced into the game at an early age.
To combat this he has revised his coaching methods to keep players in the game longer.
"It really comes down to the amount of work you make new players carry out – whether 17 or 23-year-old recruits – because some body shapes can handle more work than others. It is paramount that new players not receive the same workload as the more established players, until we have measured where they are at and what kind of abilities they have to handle the pressure," he explained.
Mental wellbeing and focus is part of the Eagles program. While players are allowed alcohol in a responsible manner, each is independently screened for drugs about six times a year – both in and out of the AFL season.
"We don't tolerate any king of recreational drug use, and if we ever knew of players using them, we would talk to them in detail about the ramifications."
Come match time, a final weapon in the Eagles' arsenal is the extensive playing experience of the coach. Over the years, John has learned many tricks of the trade to give his team a competitive mind-edge before they run onto the field.
"Coaching just prior to a game is really instinctive. It's about getting a feel for how the players look and feel, because sometimes they need a spark and other times they need to be nursed into the match."
AFL Injury Scoreboard
Injuries overall, plus knee ACLs and groin injuries, occur more in dry and hot seasons.
Ground hardness correlates little with injury incidence. Shoe-surface traction is more important, the reason all AFL venues now predominantly use rye grass instead of couch, perhaps contributing to injury reduction in recent seasons.
The ?average' club with 42 players, in any given week, has 7 players missing through injury.
Recurrence of muscular injuries is high (e.g. hamstring strains 33%, groin strains and osteitis pubis 22%). Players returning from ACL injury have a 10-times greater risk of recurrence in the months after return, and a lifetime 4-times greater risk of re-injury of the same or opposite knee ACL.
Average missed games per club per season: shoulder sprains and dislocations 4.7 games, groin strains and osteitis pubis 12.9, hamstring strains 20.8, knee ACL 13.6, knee MCL 3.8, knee cartilage 7.0, concussion 0.7, all injuries 140.
Hamstring strains, calf strains, lumbar spine and knee cartilage injuries are much more prevalent in older players; stress fractures in younger players. Overall, injuries are more prevalent in players >24 years.
Retired AFL players have a fourfold increase in hip replacement and twofold increase in knee replacement. Injury is a factor in 29% of players delisted from their clubs.
Taken from the 2002 AFL Injury Report