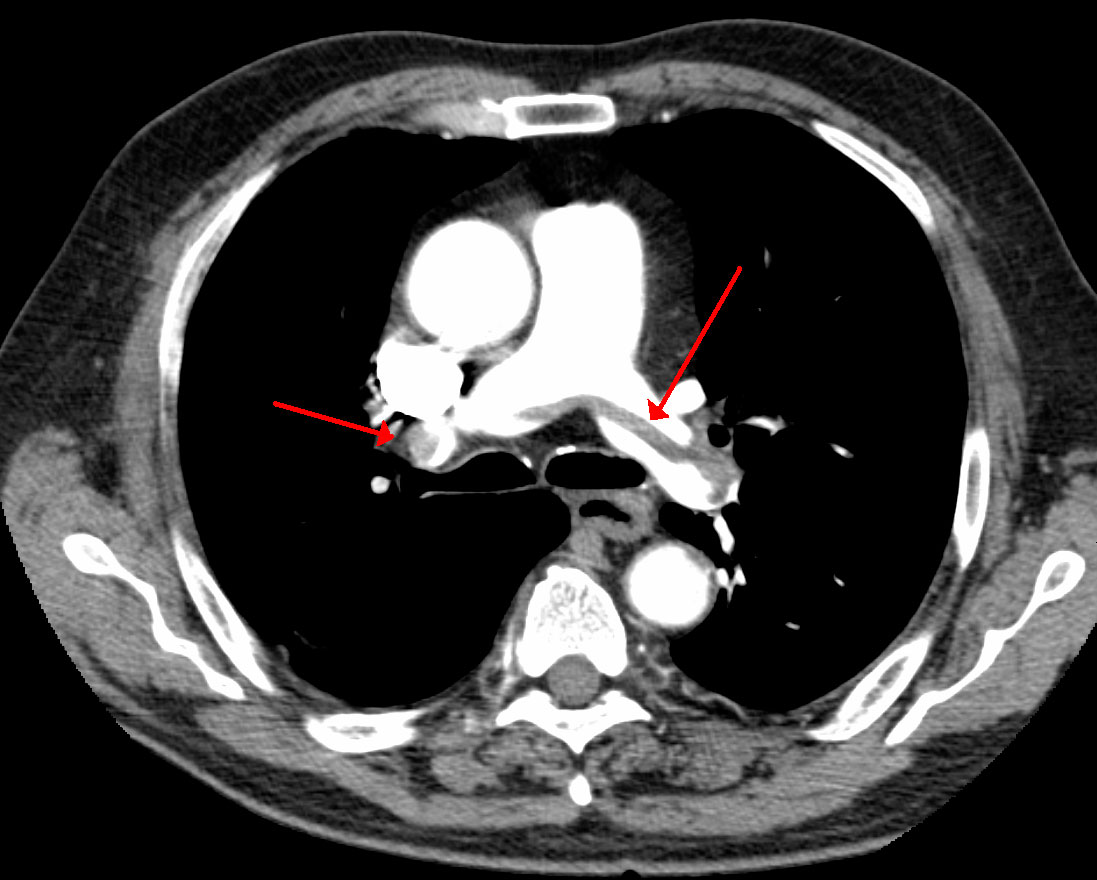 While initial management of Pulmonary Embolus (PE) focuses on short-term risk stratification and anticoagulation, long-term management decisions include relative benefits and harms of ongoing anticoagulation, being vigilant for complications and addressing comorbidities.
Most venous thromboembolic (VTE) events, including PE, require a minimum of three months of anticoagulation therapy. Indications for longer or indefinite anticoagulation relates primarily to the risk of recurrence.
Individuals with recurrent VTE events, active cancer or antiphospholipid syndrome have the highest recurrence risk. Indefinite anticoagulation is recommended.
Previously, in VTE with active cancer, enoxaparin was preferred over warfarin, but newer evidence reports that Direct Oral Anticoagulants (DOACs) have a lower risk of VTE recurrence than enoxaparin at the expense of increased bleeding, especially with gastrointestinal malignancies. In contrast, provoked PE in the context of transient risk factors (e.g. surgery, long-haul travel, oral contraception use) have the lowest recurrence risk and are unlikely to benefit from indefinite anticoagulation.
The most challenging situation is for those with an intermediate risk of VTE recurrence, typically after a first unprovoked PE. The risk of VTE recurrence following initial unprovoked PE is approximately 10% within the first year and 30% after five years. Risk factors for recurrence include male gender, younger age, 'high-risk' thrombophilia including protein S, C or antithrombin III deficiency, homozygous factor V Leiden or prothrombin mutations, and elevated d-dimers following initial anticoagulation.
Whether to continue indefinite anticoagulation becomes a shared patient-clinician decision based on risk factors for recurrence, bleeding risk and side effects from anticoagulation and patient preferences.
For those opting to continue indefinite anticoagulation, 'low-intensity' anticoagulation with either Apixaban 2.5mg BD or Rivaroxaban 10mg daily is effective at reducing recurrence with similar rates of bleeding and are PBS approved for this indication. If indefinite anticoagulation is used, re-evaluate relative benefits, harms and preferences annually.
Long-term complications of PE include Chronic Thromboembolic Pulmonary Hypertension (CTEPH) which occurs uncommonly (estimated incidence 1-5% within two years after a PE). CTEPH should be suspected if breathlessness persists despite adequate initial anticoagulation. Ventilation/Perfusion (V/Q) scans are the preferred investigation due to greater sensitivity than CT Pulmonary Angiography. If CTEPH is suspected, specialist respiratory referral is warranted for advanced diagnostic and management interventions, potentially including surgical thromboendarterectomy.
Up to 10% of people will be diagnosed with malignancy in the first year following an unprovoked VTE. Unfortunately, intensive cancer screening following an unprovoked PE does not reduce mortality nor reduce clinically-apparent cancers. Additional screening investigations on top of routine, age- and sex-appropriate cancer screening is not recommended.
Key messages
-Long term management after PE involves addressing risk of VTE reoccurrence
-Be vigilant for the uncommon complication of CTEPH
-Recently released VTE management guidelines from the Thrombosis and Haemostasis Society of Australia and New Zealand is a useful resource
Table 1. Estimated VTE reoccurrence rates and indefinite anticoagulation recommendations.
Type of VTE
Reoccurrence rate at one year after stopping anticoagulation
Reoccurrence rate at five years
Indefinite anticoagulation recommendations
First VTE provoked by major surgery or trauma
1%
3%
Not recommended
First VTE provoked by transient non-surgical risk factor
5%
15%

Not recommended
Frist unprovoked PE
10%
30%
Shared-decision based on individual risk factors, bleeding risk and patient preference
Provoked VTE with persistent risk factors e.g. active cancer
15%
45%
Recommended
Second episode of unprovoked VTE
15%
45%
Recommended
Adapted from Chest guidelines.
Acknowledgment: The author acknowledges the contribution of Dr Francesco Piccolo
References available on request.
Questions? Contact the editor.
Author competing interests: nil relevant disclosures.
Disclaimer: Please note, this website is not a substitute for independent professional advice. Nothing contained in this website is intended to be used as medical advice and it is not intended to be used to diagnose, treat, cure or prevent any disease, nor should it be used for therapeutic purposes or as a substitute for your own health professional's advice. Opinions expressed at this website do not necessarily reflect those of Medical Forum magazine. Medical Forum makes no warranties about any of the content of this website, nor any representations or undertakings about any content of any other website referred to, or accessible, through this website.
Image credit: James Heilman, MD [CC BY-SA 3.0 (https://creativecommons.org/licenses/by-sa/3.0)]