More than just a musical about two characters who are an antidote for each other, the stage production of Once reminds us of the power of vulnerability.
By Ara Jansen
---
They're known simply as Guy and Girl. Two lost souls who meet on a Dublin street. Discovering they are both musicians, their story charts a relationship which helps them both heal.
If you saw the 2007 hit movie Once, starring Glen Hansard, you'll recognise this story. Now turned into a stage show of the same name, it's being staged with Black Swan Theatre Company at the Regal Theatre.
Director Richard Carroll says the story is as simple as Guy meets Girl and the connection helps them both out of an emotionally stuck time.
"And yet there is so much more – in the detail," Carroll says in his production notes. "The deceptively spare dialogue, the tiny truths that provoke an unexpected laugh or quietly shatter our hearts. The catalyst for the lead characters' bond is, of course, music. 
"The songs are beautiful, painful, evocative, funny, truthful, original and unforgettable – and never merely functional. The music and lyrics of Glen Hansard and Markéta Irglová are the beating heart of this show." 
Guy is a guitar-playing Irish singer-songwriter while Girl is Czech and a pianist. They meet and connect musically and remind each other how to dream again while sharing a culture foreign to the other. 
The musical – which features the award-winning song Falling Slowly – is also slightly different from a traditional musical in that the actors all sing, dance and play instruments on stage, being their own band. There are 11 performers in the cast and often just about as many instruments on stage. One of Carroll's challenges in staging was to make sure the right instruments were in the right places at the right times.
While he's a fan of the movie and the Broadway cast recording, Carroll hadn't previously seen the production live and decided to work directly from the script to create a production unique to this cast and would balance with the incredible collection of songs.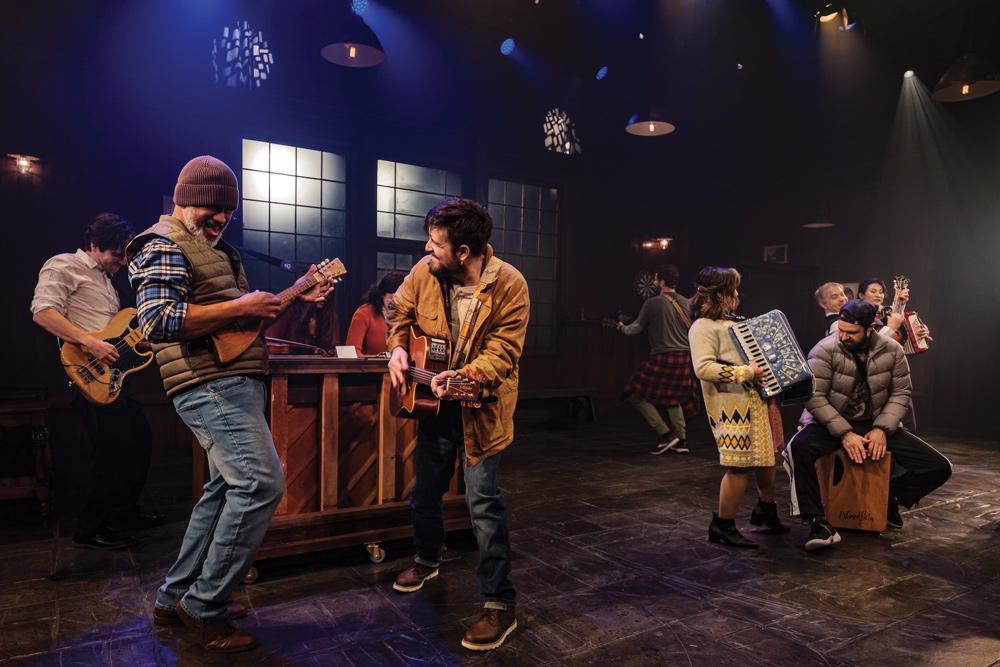 "I think we've created something that is a very theatrical experience for the audience," he says. "It's about learning to be vulnerable and facing our pain and moving through it. I really believe we can change our emotions through music."
Like the isolation so much of the world is feeling, Carroll says the characters are experiencing a similar thing. There's a sense of difficulty and the characters just want to keep moving through it but they have to figure out how.
"I think the dynamic of Guy and Girl is relatable, the way they are drawn to each other and wanting to express something but not quite having the power to express it. They find that in each other."
Carroll says one of the topical messages in the show is understanding there's no shame in being vulnerable. Coming from an Irish family and not necessarily being comfortable in expressing emotions he says reminded him that it's not unique to his family and that people do sometimes feel shame when they want to open up. 
"With big subjects and bold ideas, it's one of the beautiful things about storytelling. You can tell those stories, and something resonates so people just don't feel alone. I think it's a wonderful thing if theatre can get people one step closer to helping them express their emotions."  
Once is at the Regal Theatre from May 28 – June 12. Tickets from Black Swan Theatre Company.