Earlier this year, Dr Jagadish Krishnan made the jump into State politics. As the longtime GP and businessman explains to Ara Jansen, it is another way to serve his community.
---
When Dr Jagadish Krishnan won the seat of Riverton in the State election earlier this year, something his father said echoed in his head: "The people of Riverton have now accepted you as their son. Do to them as you would do to me."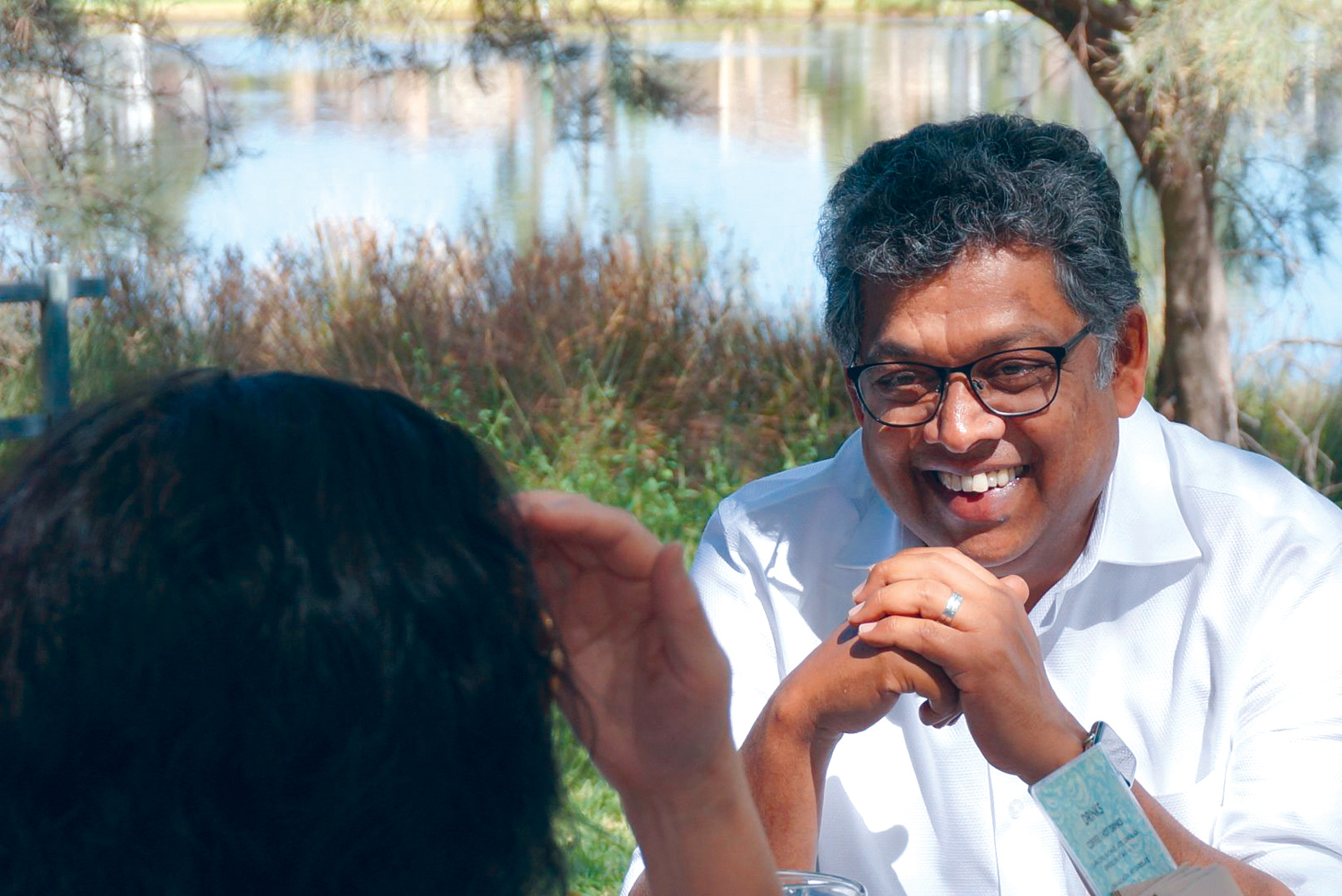 Known affectionately to his community simply as Dr Jags, the GP and practice owner contested the seat, which Liberal Mike Nahan had held for 13 years before he announced his retirement. Jags won with 59% of the vote in a
13.3% swing. 
Born in Tamil Nadu in India, Jags lived in the UK before moving to Perth. While in London he worked for the NHS and was on duty on July 7, 2005, the day of the London bombings. He was part of the management team, working as a senior health officer in charge of St George's Hospital and Mayday Hospital in the aftermath of the four attacks.
Jags says for some reason he woke unusually early that day and headed to work before his shift, escaping the bombing by a matter of minutes. 
The next year, Jags, his wife Dr Yaamini Jagadish and their two young children, moved to Perth. The pair worked as GPs in Byford, Jags did his fellowship and GP exams and the family looked for a practice to buy.
In 2010, Jags formed his company, Perth GP, and bought a practice in South Lake. Dubbed the biggest non-corporate medical business in WA, Perth GP now has 10 practices which the family own outright. He's also a founder and co-owner of Spectrum Health with several other GPs, which has 40 practices under their umbrella. 
"Owning my own practice was an opportunity that came along and I grabbed it with both hands. Then I thought I would be able to manage more than one practice," he said. "I started building a management team who could look after things. My aim was always to empower people."
Jags still works as a GP and was the first GP in the State to do COVID swabs in a private practice. Yaamini is a doctor working fulltime at the Willagee Medical Centre, with a special interest in women's health and children. 
Politics calls
So why go into politics? Jags says it's in his blood, with a grandfather and uncle in politics, but he also started early in leadership positions, in and out of medicine. Highly involved in his local community, Jags is a former president of both the Australian Indian Medical Association and the Hindu Association of Western Australia and still maintains a strong link with the association. 
He's also an adjunct associate professor at Curtin and a medical educator at Notre Dame and the Royal Australian College of General Practitioners.  
"This is a chance to contribute in a bigger way," he enthuses. "As a GP, my work involves dealing with people's problems. It is my duty to discover people's issues and help them find solutions to their problems. In this role, I will
be providing a holistic approach to finding solutions to problems in my electorate." 
"The trade-off going into politics is a pay cut and losing some of my freedom. As a politician, you are closely scrutinised. Most importantly to me, though, is a chance to use this platform to make a difference to the community."
Jags's first year as an MP has been watching and paying attention to how everything works. He doesn't rule out an interest in a ministerial portfolio but knows there's time to serve before that happens. 
On the ground
"I'm proud that in Riverton we've delivered 22 of the 29 election commitments to date. That's my focus. Being successful in business is one thing but being successful in politics is something else. It's about being present and sincere and working hard, and that will be recognised."
So far, he says, the workings of government are interesting and has felt welcomed by the other members, especially those more experienced. 
"People have been kind to explain things to me and it's helping give me a real understanding of the important role government has in driving change. 
"Working together is something I have always liked to do and promoted. I encourage people to support each other and learn from each other."
With added political duties Jags' days are full and busy and somehow even more so than when he was concentrating full time on medicine. Jags splits his time between living in Shelley (an election commitment he made to move to the area) and the family home in Mosman Park. 
Weekends that he can spend with Yaamini and catch up with their children, daughter Dheekshana and son Sridhar, are now a little rarer, as is the time to just quietly recharge. 
His children seem to be following in the family footsteps with Sridhar in second year medicine and Dheekshana stepping up to manage her father's businesses.
Nimble feet
While he hopes to get back to playing next year, one thing which has been temporarily sacrificed to the god of politics is playing soccer. Jags has a keen interest in soccer and used to coach the under-10 team at the Western Knights Soccer Club and pulled on the boots in the master's team, but politics has taken over that space. 
"It's important to have balance. I did a personality assessment and ticked all my boxes but I have utterly failed when it came to time spent on hobbies – so I need to incorporate some things for a bit of balance.
"Change needs to happen on a constant basis to make things happen. I believe my single mission – whether it's in management, clinical practice or politics – is to improve something every day, no matter how small. Even if you just clean your room, you have improved something. Every day you are alive is an opportunity to improve. 
"I hope I've given that to my whole team and not just my kids – improve something for someone else and make things better for someone every day. I realise I can't solve everyone's problems, but I believe doing something for others is a good thing. But I also believe in giving freedom to people and empower them to take responsibility." 
Jags' inspiration
During his maiden speech to the Legislative Assembly in May, Jags paid homage to four generations of women who have influenced, inspired and supported him. He named his wife as unashamedly being his better half, supporting him when he quit his job to do his medical exams and for standing by him in the difficult times. He thanked his daughter for stepping in and stepping up. 
He speaks lovingly of his grandmother for "teaching me the values of hard work, being humble and taking every opportunity to help people whenever I can" and his mother, who while spending much of her life illiterate, supported her son to have the best education possible. 
Much of his speech talked about the positive skills and attitudes he has learnt as a doctor and businessman or were instilled in him by family – the college where he graduated which "taught me the basic values of medicine, which were more valuable than the clinical skills that they taught me" – which he hopes to reflect in the way he serves his electorate and uses daily when dealing with his patients. 
Indeed, testament to his drive to succeed, Jags and his team door-knocked at more than 14,000 homes – twice – ahead of the polls.
One evening after a tiring day of doorknocking, Jag's son asked which door was the best one he had knocked on that day. While Jags paused to think of an answer, his son jumped in and proclaimed: "The door that is yet to be knocked, Dad, where Mum is going to be inviting us inside with a big smile and a hot plate of food on the table."