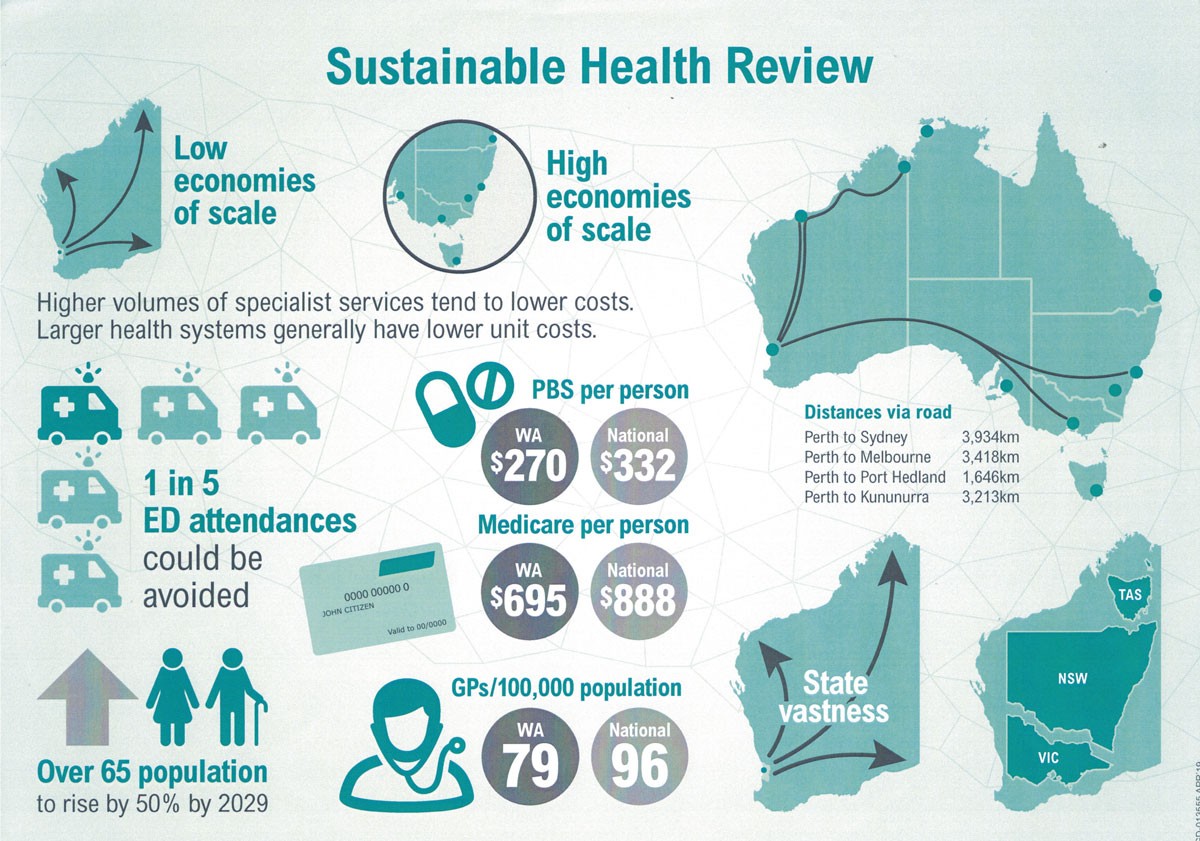 There are no quick fixes when it comes to health reform but one thing's for sure, working together is the first major step.
Just as Robyn Kruk can expect fewer transcontinental plane trips now her Sustainable Health Review (SHR) has been finalised, so too can we expect the hard work of implementation to gather pace.
At the launch, Ms Kruk lauded the importance of the WAPHA collaboration in the formulation of a number of the report's recommendations. This rankled the chair of the AMA (WA) Council of General Practice, Mt Lawley GP Dr Simon Torvaldsen, who voiced his view that the SHR did not consult enough with general practice, adding that many GPs did not believe that WAPHA represented them.
Medical Forum asked WAPHA's General Manager of Strategy and Health Planning, Chris Kane, to explain just what role WAPHA did play during the process.
On the question of who and what WAPHA represents, Chris said the organisation never put itself out there to represent general practice.
"There are other groups which do that – the RACGP WA and the AMA WA and the advocacy that goes on from both those organisations' at their state and national offices – and it's not WAPHA's role to duplicate their work. What WAPHA does do is provide support and advisory services for general practice.  We also consult with GPs across WA to develop local strategies that make primary health care more efficient and more effective.
"We were invited by the WA Department of Health to contribute to the SHR by way of ensuring that the voice of primary care was heard so the review didn't become a hospital-centric piece of work."
"I was seconded over a period of 18 months to provide some direction on primary care policy; the role of Primary Health Networks (PHNs) in integrating care across the health system, but specifically between the health service providers (HSPs), and to facilitate timely GP and primary care stakeholder engagement into the SHR."
One of the key thrusts of the SHR is collaborative care among multi-disciplines, which raises the difficulty of coordinating allied health – a blanket term for numerous professions that don't always have the same effective representative bodies in WA as medicine.
"WAPHA does fulfil some of that role and we have been working with the Australian Quality and Safety Commission to engage relevant allied health professionals in the development of standards for primary care. They are voluntary and obviously won't apply to GPs or pharmacists as they have their own standards," Chris said.
"Hopefully this work will help with alignment and consistency across the different allied professions because certainly allied care figures prominently in the SHR and in commonwealth policy where general practice team-based care is concerned, such as Health Care Homes, the workforce incentive program and some of the recommendations from the MBS taskforce reviews."
"The tricky bit, now we are in the implementation stage of the SHR, is how that will translate. We don't see our role confined to providing advice, position papers and engagement, We see ourselves as having a role in the implementation and will be having conversations with the Director General to this effect."
"There are some key recommendations we are already working on, such as the agreement with WA Health and the PHNs, which will support integrated care between the department, the HSPs, the PHNs and WAPHA. We have good models in Western Sydney and Queensland to reference for these kinds of agreements."
"WAPHA also ensured that the Joint Regional Mental Health Plan was embedded into the SHR – that is a COAG requirement for PHNs and HSPs to formulate a joint approach to mental health, particularly in the primary care space and that includes mental health treatment services, Alcohol and Other Drugs and suicide prevention.
With such an agreement, there is of course a cost sharing benefit between state and federal arms but perhaps more importantly – and sustainably – data access will be better shared to create more integrated services between primary and hospital sectors.
"The hospitals are really interested in how they can support better care in the community, so that means joint planning, joint funding, shared accountability and formalising that by way of agreement in these key areas. For us, those key areas are mental health, chronic heart failure [identified as an area of need in primary care with release of geographic hot spot data] and obesity."
"We are not looking at airy fairy agreements. We are looking at concrete integrated care initiatives."
The road ahead is far from smooth and Chris warns that progress will be confounded if funding models for primary and hospital care don't change.
"This is where political leadership must come in and, undoubtedly, it is being looked at. Whatever people want to say about the Health Care Homes policy, there's a lot to be said for considering different funding models, remuneration for GP appointment times and patient enrolment," she said.
"A lot of policy direction is going towards challenging fee-for-service and activity based funding."
"In the meantime PHNs need to keep looking for the opportunities and levers to break down divides by collaboration and to continue our work, individually and collectively, with the major health service providers to identify where things can scale across to combine our resources."