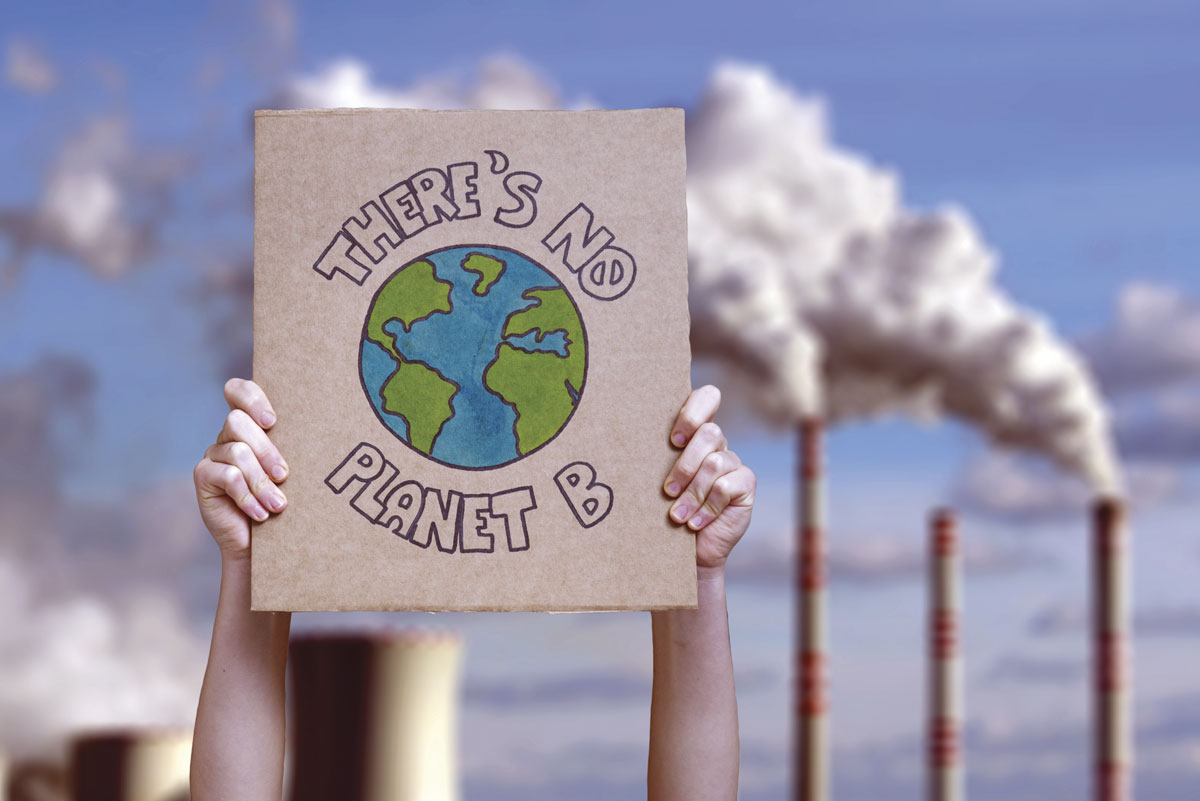 ED: Esperance GP Dr Toby Pearn helped organise the climate march in the town and believes doctors need to advocate loudly on this vital issue.
It is easy to blame oil and other fossil fuel companies for the climate crisis, but that is not true. I am to blame.
I am a doctor in a small rural town in Western Australia. I have known about global warming since I was at primary school. Even back then, the climate science was robust and easy to understand. But that didn't stop me taking a gap year between school and medical school, and flying around the world. I flew on holidays to a different corner of the globe most summer holidays.
I watched Al Gore's An Inconvenient Truth in 2006, though I already knew most of the information it contained. I've taken my family on holidays to Europe, Canada and Africa, and flew with mates on surf trips to Indonesia. I currently drive a diesel guzzling Mitsubishi Pajero.
I have no idea what my carbon footprint has been to date, or what it is. It would be a fallacy to try to calculate it, as I have no idea how far I've flown, how many miles I've driven or steaks I've eaten.
Oxfam states the wealthiest 10% are responsible for 50% of the global CO2 emissions. The super-wealthy, the top 0.1%, contribute the most, mostly due to jet travel. According to the global rich list, on an Australian GP income, I am in that top 0.1%. That makes me personally one of the world's largest consumers of fossil fuels.
I also work in healthcare, where C02 emission is not considered in the slightest, and is estimated to contribute between 3-10% of the national footprint. 
I like to think that overall I'm a good person, as is the prevailing human psychological assessment of oneself. So, the idea that it is actually me to blame for the climate crisis is rather confronting. 
I have benefited enormously from the proceeds of burning oil, but this has caused the climate to warm and now other people will suffer the consequences. These will include my two children, currently aged seven and nine years old. They will be in the prime of their life when temperatures are predicted to have risen 2-3 degrees Celsius.
However, the poorest billion of the world's population, who have hardly any CO2 emissions to count between them, will be the hardest hit by rising temperatures and extreme weather events.
Thinking about this climate crisis provokes a cocktail of negative emotions.
I may have elements of 'climate anxiety', a growing mental health phenomenon among those educated in climate science. I have guilt at my own carbon footprint and feel sadness for the world my children will inherit. I have a sense of my own hypocrisy in talking about the need for action, and helplessness in my being unable to fix it.
It is easy to understand why so many wealthy educated people still deny the climate crisis is happening, or simply don't want to talk about it. It is an assault on the positive opinion of oneself. Talking about the climate crisis at a dinner party is as popular as flatulence.
Personally, I would love to be able to live a sustainable, carbon neutral life, but I'm nowhere near that yet. I agonise about flying, given jet flight is the largest contribution to climate change per person. It is hard to give up. I am no Greta Thunberg. I have had so many great experiences and memories as a result of flights, and my parents reside in Europe.
I rationalise that becoming carbon neutral myself is not going to stop the climate crisis when the rest of the world just carries on burning fossil fuels, business as usual.
So, if I can't go carbon neutral, when I'm educated in the climate science and have finances at my disposal, how can I expect the less wealthy and educated 99.9% of the world's population do just that? So, am I selfish?
I just play by the rules of society around me, as do most of us. As the future Nobel prize winner Greta Thunberg has said, "We can't save the world by playing by the rules, the rules have to be changed". The millions of kids marching in the #ClimateStrike know it, with their placards reading "System change, not Climate change" and "Planet over Profit".
As doctors we need to recognise that the climate crisis is what the World Health Organisation says it is, the greatest threat to health this century, and then act accordingly.
We need to be brutally honest, and talk openly and realistically about this enormous challenge. It is no exaggeration to say the CO2 emissions as a result of our lives and work will cause death and suffering to others in the not too distant future.
It really is that simple. It is what the science tells us, and we believe in science, right? We are currently part of the problem, in both our personal and professional lives. We should be part of the solution.