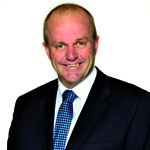 When former Health Minister Sussan Ley ignited a multifaceted review of the nation's health system two years ago, HBF CEO Rob Bransby became a warrior for reform. As president of Private Healthcare Australia – the private insurers' peak representative body – he was invited to the table in Canberra and made good his time there pushing the affordability agenda at every turn.
As of April 1, Rob has retired from the frontline and the CEO's office leaving HBF's COO Julie Keane the interim head. In his 11 years he has overseen the journey form vulnerable mutual ripe for takeover in 2005 to a sophisticated, successful digital health insurance business in 2017.
It is, he says, one of his proudest achievements.
Medical Forum spoke to Rob the day after the premium rises were announced. HBF had lifted its premiums by 1% from 2016; other funds were fractionally lower but their 2016 rates were higher. All grist for the premium mill (though it is interesting to note that Avant's health insurance business, Doctors Health Fund, decreased its premiums by .02% to 3.54%, see table).
While the tinkering at the premium edges goes on, the song remains the same: health costs are going up, premiums must respond.
New thinking, new era
However, Rob Bransby thinks it's time for a complete overhaul of the 20-year-old settings which rescued the health system back in the 1990s but hamper it today.
"We need to look at the entire system and do it better," he said.
"We understand that governments have constrained budgets. We understand why the rebates have been wound back and we don't put our hands out for more money. We accept that as a consequence, consumers are paying more. But what is hard to understand is there's not a better way of doing business. There is a $3b pool called health, we must discover how to use it better and differently. Making the consumer pay more is no longer the answer."
"The 4.8% industry weighted rise is still twice inflation, which can only be a challenge for consumers. On the current trajectory it's going to be the same next year and will continue to rise while the national health inflation runs into the 7s and 8s. The cost line continues to grow rapidly and the revenue line has to keep pace somehow."
That's why Rob has loudly advocated the necessity of reform – from preventative health to digital health.
Drive out waste
"I am still a great believer that there is a lot of duplication and waste to be driven out of the system – without compromising quality and safety. But the key issue is the settings. The Howard Government tinkered with them by introducing the rebate with the concept that it was patriotic for people to take out private insurance. Everything in the world has changed – except health."
"It's time to look at all those settings and collectively come up with a robust strategic plan to manage future population health and we have a great vehicle to do that with technology, or specifically the personal health record agenda."
Rob is retaining his seat on the board of the Australian Digital Health Agency because it is his belief that digital technology is the single most likely driver of change.
"It offers great leverage and opportunity for us to transform the sector – to implement robust accountabilities, eliminate duplication and introduce digital replacements for sound health care management so services can be provided to those who need it."
Politics and progress
Politics has an uncanny knack of disrupting progress and so it has been with the resignation of Sussan Ley and the installation of Greg Hunt as federal Health Minister.
Ley had mostly steered a steady course – the MBS Review swept into some neglected corners such as prosthesis pricing and obsolete item numbers but a close election, where politicking on health and specifically Medicare was a near-death experience for the Coalition Government, slowed the reform process.
However, Greg Hunt has impressed the stakeholders with his ability to pick up the baton. Rob told Medical Forum the new Minister was on the phone to him on the day of his appointment talking about the issues; AMA President Dr Michael Gannon was reported as saying he was similarly contacted that day – twice.
"I'm 100% confident he will pick up the pieces of this reform agenda. He specifically called out three areas, which I won't share with you, but he understands the levers," Rob said.
"It will take a brave government to deliver on the reforms we desperately need; to come up with a model that is sustainable but doesn't compromise safety, quality and outcome. I know that sounds easy to say but the thinking needs to start now because it won't happen overnight," he said.
SOS: Save our system
What is universally accepted is the need to maintain the 50:50 public/private health split, which has made Australia the envy of the world. But that balance is now precarious.
Rob is a great advocate for better funded primary care, which he spoke to us about at length back in June last year. He hasn't changed his view but private health funds are not invited into that space – yet – and private hospitals remain their core business and concern.
On Page 16, we speak to the new Executive Director of WA Hospitals for St John of God Health Care, Mr John Fogarty, who reflects on the worrying affordability gaps in private health funding.
For Rob, the solution lies in changing those health settings.
"The models of care and settings under which we operate allow us only to fund private hospital care and day surgery etc. We are in the same glove, like it or not. If the proposition that private health is becoming unaffordable and people are turning away, we both suffer."
"So we have to sit down, and this is where it may need some legislative intervention, and ask ourselves how we do this differently so we both win and, most importantly, the consumer wins. I think it is about delivering care in the right setting as distinct from the only setting. It is a big step."
Potential for growth
"We have this narrow view of the world that half the people are privately insured and that's the end of the world – a mature market. But the reality is, if it were more affordable and the hospital groups offered alternative services in various locations you may have a different proposition that is accessible to a bigger market. That's radical thinking but that's the next thing to go."
As a way of illustrating how consumers themselves are pulling away from traditional models, Rob says the private insurance sector has paid more than $1b for private patients in the public hospital system.
"That's $1b of private funds going into public revenue. Why is that? What has gone wrong there? If you are a private patient you should be in a private hospital, especially if you are elective."
In the February edition, cardiologist Dr Mark Hands was concerned that payment linked some way to outcomes was around the corner. It is the elephant in the room.
"I don't think the funder should ever interfere in the relationship with the patient in terms of best treatments and the best outcomes because we are not trained in that; practitioners are and we have complete faith in them," Rob said.
"However, we shouldn't have to fund never events, either, and right now we have to. Negligence shouldn't be rewarded but conversely funders should reward good outcomes. It shouldn't be either or, it should be both."
Outcomes for patients
"What determines a great outcome for a patient should be determined by the patient and not the funder and I have faith that doctors do the right thing by their patients. They don't want a substandard outcome either."
Consumers are at the heart of it all, yet Rob says the average consumer is pushing a stone uphill in a very complex landscape.
"How we make a consumer more system literate is a critical piece of the puzzle and we, who work in the system, must provide the answer. Consumers need a trusted adviser (and for many that's their GP) and the sector needs to be less complicated and more transparent."
"There are over 44,300 iterations of health insurance products in Australia and, frankly, that's ridiculous. But it goes deeper than that with general confusion about who funds what and how much. Consumers send their accounts off to everyone, hoping someone might pay something!"
Transparency is the key
"Consumers need an informed choice and that can't be informed if there's not education and transparency. The quicker people embrace the digital age, the better. My Health Record will help people to know more about themselves so they can have discussions with their health professionals on a completely different level."
Last month the MJA published an article highlighting just how opaque specialist fees were and it set feathers flying.
As far as Rob Bransby is concerned there should be global transparency of all prices throughout the health system.
"Consumers should be able to get quotes from specialists and be free to make an informed choice. I'm all for people making money. Doctors train and work hard and a fee structure based on quality, service and outcome is relevant but let the consumer decide."
"I don't make any assertion doctors charge too much or too little. Just let people know how much you charge. People don't make decisions on price alone but price visibility is essential."
By Jan Hallam
Health Fund Comparisons
Fund                                      2016        2017
HBF                                        4.94%      5.96%
Medibank Private                    5.64%      4.6%
Bupa                                       5.69%      4.46%
Doctors Health Fund               3.76%      3.54%
Industry weighted                   5.5%        4.84%
ED: Increases take place on April 1
Source: www.health.gov.au
AMA on Premium Rises
Reactions to the premium increases were mixed and marked mostly by relief that they were the lowest they had been for some time!
However, The AMA President Dr Michael Gannon told Sky News on February 10 that there was growing concern about costs leading consumers to question the value of the private system.
"Now this is a concern for all of us. The private system is an absolutely essential pillar of our health system. It offers patients choice. In many areas of health care, it's more efficient. In many areas of health care, it's safer; 70-75% of operations and procedures are done in private hospitals. There is at least publicly bipartisan support for that blended public and private system," he said.
"These increases year-on-year – greater than the increases in wages and other metrics of people's ability to pay the bills – are of a concern, because people might just walk away."
However, he thought health costs would inevitably rise and that's not necessarily a bad thing:
"The truth is that it will be almost impossible to limit these increases. The Health Minister today is…defending a rise in the cost of these premiums. But next week, the week after, he'll be in a hospital or in a clinic somewhere around Australia talking about an exciting new technology which is good for patients, but comes at a price."
[New procedures, drugs and technologies]… all cost money, and sometimes it's the case that you pay now to invest later. So it's not always bad news that the costs go up. A lot of these should be seen as investments in the health of Australians…"
"It's time to revisit grown-up conversations about how we fund what I believe will be inevitable increases in the cost of health care."
In retirement, Mr Bransby will divide his efforts between his property in the Swan Valley, where he breeds horses, and five non-executive largely community-focused directorships with Synergy, the Insurance Commission of WA, the Government's Australian Digital Health Agency, Commonwealth Bank's advice businesses and the listed Pioneer Credit.
"When you're a chief executive, it's like this tune is always playing in the background, no matter where you are, 24/7. I'm looking forward to the day when I can turn that off."