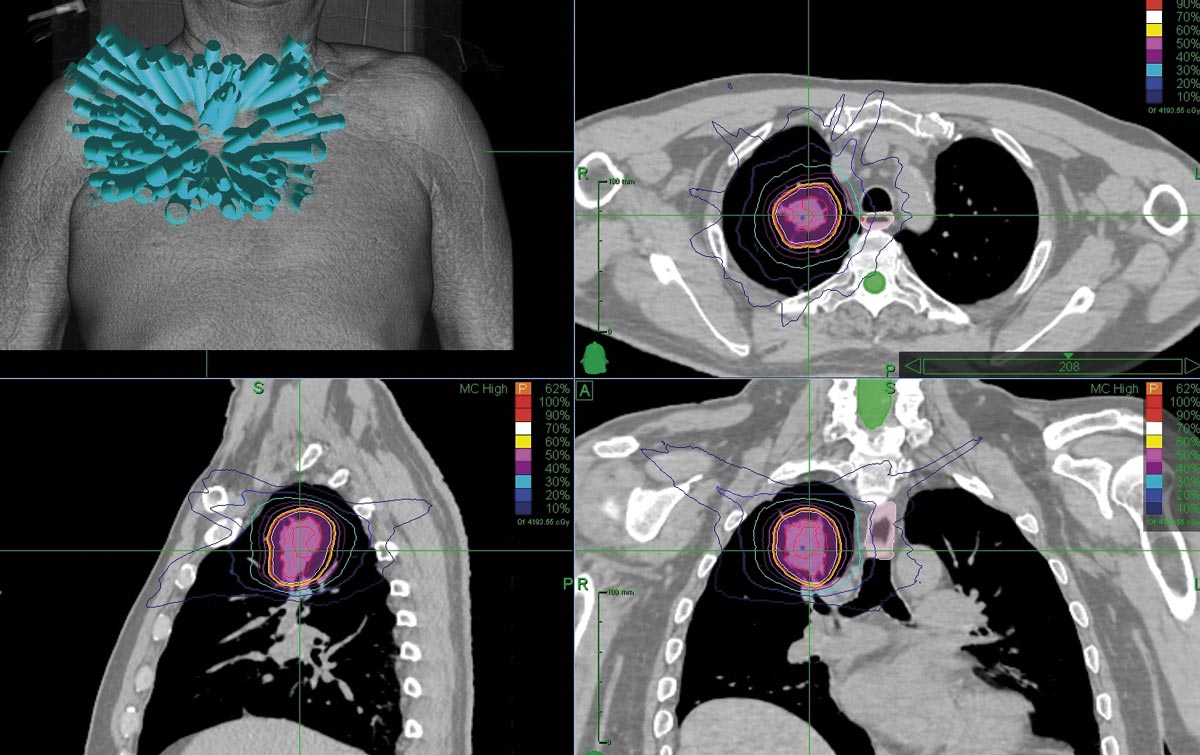 ED: Stereotactic Body Radiation Therapy (SBRT) is a major advance in radiation treatment. For some patients, this allows shorter treatment courses, fewer side effects, and better treatment outcomes.
Traditionally lung cancers unsuitable for surgery were treated with six to seven week courses of radiotherapy, while metastases to the lung unsuitable for surgery were often not treated.
As SBRT is highly accurate, it allows larger doses of radiotherapy to be given with each treatment (fraction). It can avoid normal tissues better than previously possible. Entire radiation courses can be given in three to four fractions. These courses are biologically equivalent to several times the previous treatment.
CyberKnife Stereotactic Robotic Radiosurgery System
SBRT can be given with the modern radiotherapy machines or purpose-built systems such as the CyberKnife. The CyberKnife system uses a linear accelerator mounted onto a robotic arm to deliver 100-200 separate precisely targeted radiation beams. CyberKnife is ideally suited to treating lung tumours as it tracks and automatically adjusts for respiratory movement (using a combination of infrared monitoring and x-rays). A gold marker seed may need to be inserted near the tumour a few weeks prior to treatment to allow X-ray tracking. SBRT is non-invasive and generally well tolerated.
A recent Australasian randomised trial compared SBRT with conventional radiation treatment for early but inoperable NSCLC. Patients treated with SBRT were less than one-third as likely to have local failure and half as likely to have died. Overseas, two randomised trials compared SBRT to surgery for operable NSCLC, but both failed to accrue enough patients. Overall there was a 95% three-year overall survival with radiotherapy – however with so few patients, it is wise to remain cautious.
SBRT might be especially beneficial to treat lung metastases (from lung or other cancers) where there are only a few metastases. Many non-randomised studies show local control rates of about 80%, with low toxicity.
Ideal patients for lung SBRT
Surgery is preferred but many cancer patients have COPD or other medical conditions. SBRT is the next best choice. The ideal SBRT patient has a small peripheral tumour. Central lung lesions may be treated but this requires a dose reduction and longer treatment courses.
SBRT is also indicated for carefully selected patients with medically inoperable liver cancer or liver metastases, pancreas cancer, adrenal metastases, kidney cancer, prostate cancer, nodal metastases, and vertebral metastases. The CyberKnife system is also ideal for giving intra-cranial Stereotactic Radiotherapy (e.g. to brain metastases). The only two CyberKnife units in Australia are both in Perth.
Key messages
SBRT using larger yet fewer, more accurate radiotherapy fractions is producing good results against cancer
It is now the gold standard treatment for suitable inoperable early lung cancer
Robotic radiosurgery systems can track lung tumour movement through respiration
Author competing interests- Dr Bydder declares a financial benefit from patients treated with Cyberknife stereotactic radiation. Questions? Contact the editor
Disclaimer: Please note, this website is not a substitute for independent professional advice. Nothing contained in this website is intended to be used as medical advice and it is not intended to be used to diagnose, treat, cure or prevent any disease, nor should it be used for therapeutic purposes or as a substitute for your own health professional's advice. Opinions expressed at this website do not necessarily reflect those of Medical Forum magazine. Medical Forum makes no warranties about any of the content of this website, nor any representations or undertakings about any content of any other website referred to, or accessible, through this website.