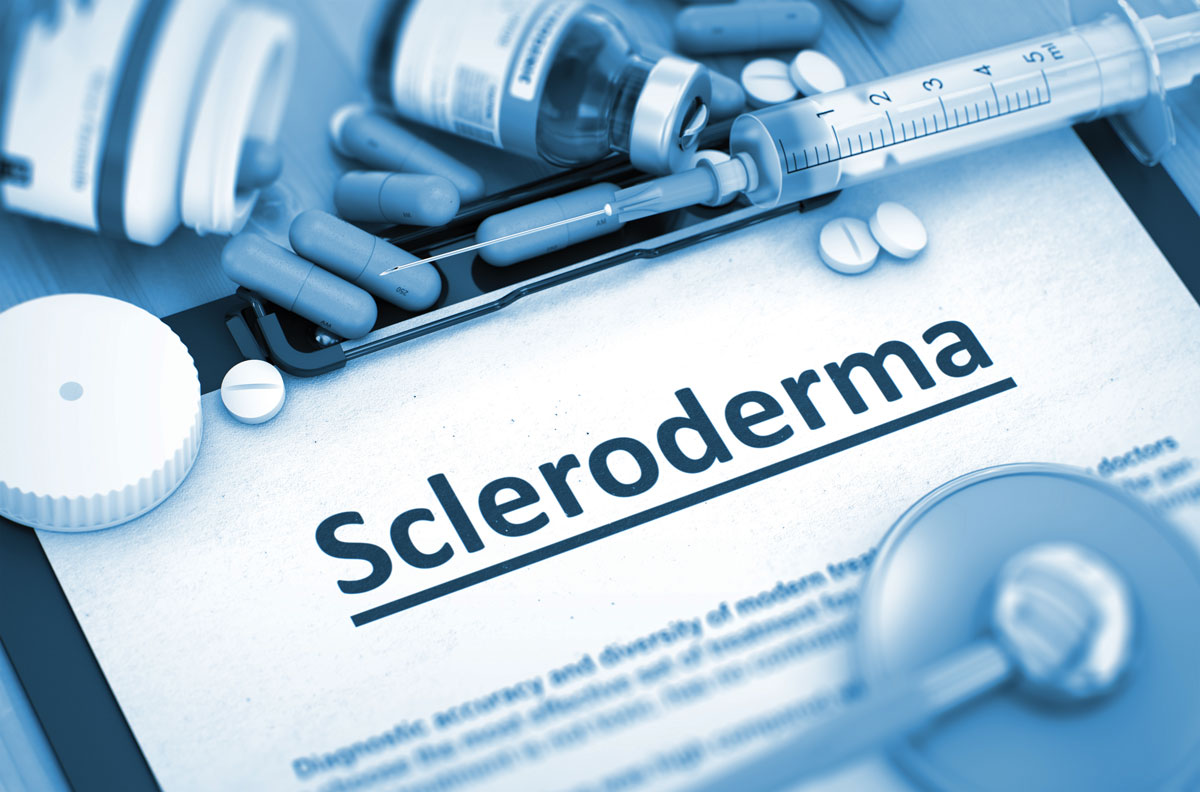 Systemic sclerosis, (scleroderma) is a multi-system, heterogeneous condition. The clinical manifestations are a result of vascular system and fibroblast pathology. Most existing therapies are vasoactive or immunomodulatory.
There are recognised associations between anti-centromere antibodies (ACA) and limited disease, anti-Scl-70 (anti-topo 1) with diffuse disease plus interstitial lung disease, anti-RNA polymerase III (RNAPIII) with diffuse disease plus renal cell crisis. Anti-PM/Scl is associated with myositis/scleroderma overlap. Correlations, such as the increased cancer risk seen in anti-RNA PMIII positive patients may be helpful clinically.
Raynaud's disease present in up to 90% of scleroderma patients, is often refractory to Nifedipine and may be complicated by digital ulcers. Therapy with PDE5 inhibitors (sildenafil or tadalafil) and intravenous iloprost is often required. Bosentan, an endothelial receptor antagonist (ERA), may prevent recurrence of severe digital ulcers.
Very few patients with isolated Raynaud's develop scleroderma, but look for finger pulp pitting, abnormal nailfold capillaries or scleroderma antibodies.
Skin thickening, the hallmark of systemic sclerosis, begins distally often with puffy fingers and progresses proximally. Skin thickening reaching above the elbows and knees defines diffuse disease. These patients are at risk of internal organ involvement especially during the first three to five years. Pulmonary arterial hypertension may occur at any time, often in patients with limited scleroderma.
Home blood pressure monitoring may detect an early scleroderma renal crisis. Rapid introduction of ACE inhibitor therapy markedly improves outcome in this medical emergency.
Pulmonary arterial hypertension (PAH) and interstitial lung disease accounts for most disease related mortality in scleroderma. The current approach for PAH screening is shown in figure 1. Treatment of PAH with ERAs alone or in combination with other therapies has reduced mortality.
Immunosuppressive agents (e.g. Methotrexate, mycophenolate, cyclophosphamide and rituximab) are used to treat early progressive disease depending on organ involvement, severity and progression.
Three randomised controlled trials found improved survival in select patients receiving autologous stem cell transplant compared to cyclophosphamide. Transplant-related mortality is significant, so patient selection and centre experience is crucial if considering this option.
The entire gastrointestinal tract may be involved in scleroderma. Oesophageal reflux disease often requires high-dose proton pump inhibitor, in combination with H2 receptor antagonists. Small intestinal bacterial overgrowth (SIBO) may respond to an empirical course of rotating antibiotics. Rectal sphincter incontinence is common. Endoscopy or colonoscopy is often required, especially in patients not responding to therapy.
Steroids may be necessary in some patients. However, be aware of the increased risk of renal cell crisis associated with prednisolone.
Key messages:
Scleroderma is a heterogeneous disease.
Careful monitoring and early treatment may prevent organ damage resulting in reduced morbidity and mortality.
Therapy is geared to the organ involved with early immunosuppression in rapidly progressive diffuse disease.
References available on request.
Questions? Contact the editor.
Author competing interests: None to disclose.
Disclaimer: Please note, this website is not a substitute for independent professional advice. Nothing contained in this website is intended to be used as medical advice and it is not intended to be used to diagnose, treat, cure or prevent any disease, nor should it be used for therapeutic purposes or as a substitute for your own health professional's advice. Opinions expressed at this website do not necessarily reflect those of Medical Forum magazine. Medical Forum makes no warranties about any of the content of this website, nor any representations or undertakings about any content of any other website referred to, or accessible, through this website.