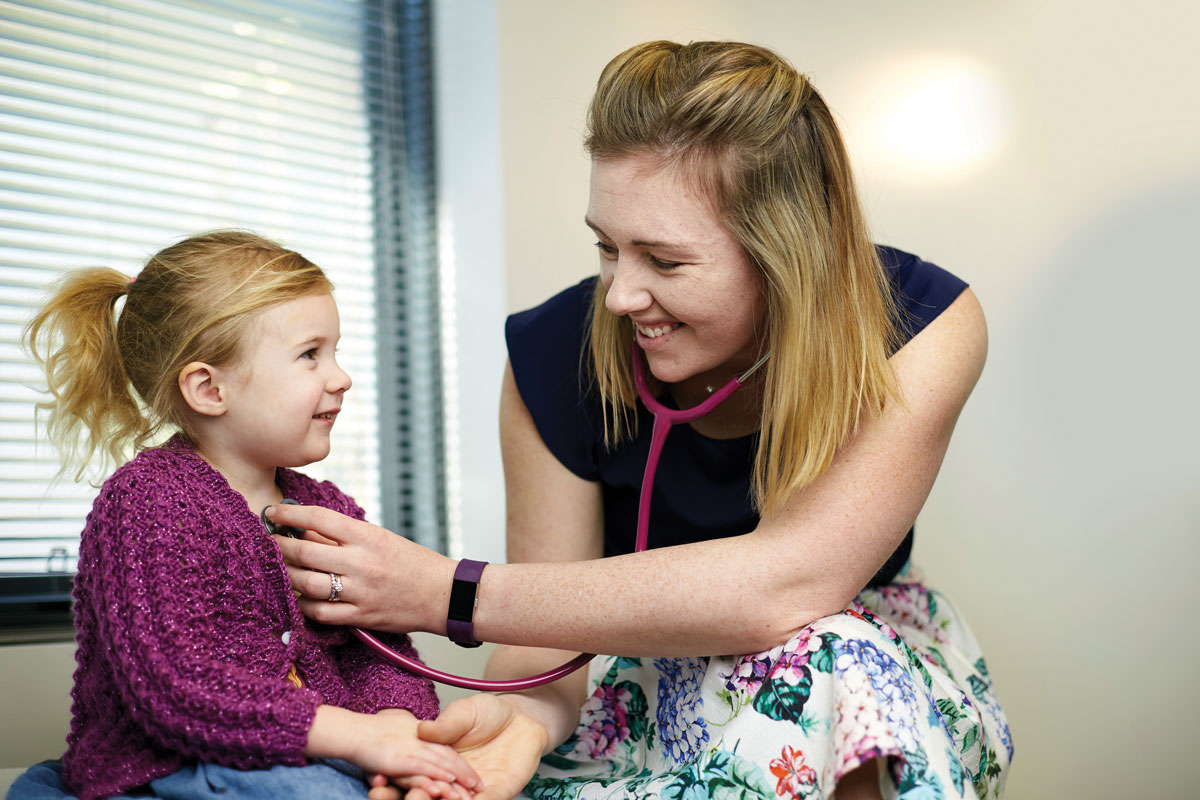 Advocacy is one of the toughest gigs in medicine – it's essential but resilience is required.
Just a few short weeks after the birth of her third baby last year, Mandurah GP Dr Alison Soerensen had her game-face on. Sitting at her desk at Murray Medical Centre, she had a young mother in front of her, fretting about how she, Alison, could be newly showered, neatly dressed, hair done and have coffee in hand, while she, patient, had struggled to get her baby ready and get out of her pyjamas in time for her appointment.
"I'll tell you what I told her – 'you didn't see me 30 minutes ago'. I can sit here calmly because I know my children are safe at home and they are not my sole responsibility at this moment. I only have clean clothes on because I stepped into them several minutes before I walked out the door," she told Medical Forum.
"I was glad my patient felt able to open up to me. I don't want you or her to think that I've got it all together because I don't. Nobody does. It's not good for anyone's mental health to think like that.
"This is why working in general practice is a privilege. I see people walk in the door at their most vulnerable but, in this safe space, they can be themselves, without fear of judgement. When they walk back out again, I hope they feel empowered and a somewhat better than when they arrived."
It also starts a conversation about her own insecurities as a busy GP and a young mother of two girls aged six and three and an eight-month baby boy, and the need for her to have a GP and a safe space where she can be a patient.
"I do have a GP but she is approaching retirement, so I am considering alternatives, but it is not as easy as it sounds. Some GPs feel uncomfortable being a doctor to another doctor. You want to be able to be a patient inside the consulting room, even if outside you are friends or colleagues," she said.
However, the importance of a doctor having a doctor of their own is without question.
"We know that doctors often present with medical problems quite late because they have ignored their symptoms or have been too busy or frightened to seek medical attention. Other times they may come in quite early because they fear the horrible things their symptoms might indicate.
"Then there's the embarrassment of either of those scenarios playing out in front of a peer. There's a whole mental health side of things that's important for us to be aware of as well – doctors being vulnerable but not necessarily wanting to admit that vulnerability.
Imposter syndrome
"It's something that's beaten out of us through hospital training, where it's stiff upper lip, and press on. But there's often a complex imposter syndrome afoot – thinking to yourself, people will think I'm completely stupid that I did OR didn't see my GP; that I didn't know the diagnosis.
"And that feeling extends to your own kids getting sick. You find yourself caught between catastrophising about missing a serious illness, over-reacting to a minor one and feeling stupid or silly for not 'knowing' what's wrong." Social media groups such as Medical Mums and Mums to Be (although welcoming of all parents!) have sprung up to offer connection and support for the increasing number of doctors juggling parenthood and medicine.
Children have a habit of constantly challenging you to be your better self and in Alison's case, also to be a better doctor. Indeed, Alison's children are one of the driving reasons why she became active with the RACGP and the AMA, most recently contesting the AMA WA presidency in 2019.
More pragmatically, it was the due date of the birth of her second daughter falling two weeks before her college fellowship exams several years ago that sent her on the road to medical politics.
Not wanting to, nor thinking she should have to delay her exams, she set about preparing the way for a breastfeeding infant to accompany her during the gruelling five-hour exam process.
"I applied to the college for special consideration to be allowed to breastfeed my baby during rest stations, given that she would have only been two weeks old at the time. I got a phone call out of the blue when I was about 10 or 11 weeks pregnant from the exam department delivering the news that I wouldn't be allowed to have a baby in the exam venue, nor could they accommodate breastfeeding breaks," she said.
"They would allow me to pull out up to a couple of days before the exam without financial penalty if I decided it was all too hard. I was flabbergasted. I said, 'No, you actually have to accommodate me'."
As far as Alison was concerned, it wasn't just a question about whether her individual application was accommodated or not, it spoke to far greater issues of equity and discrimination within the medical profession. Eventually a compromise was struck such that Alison was allowed to express milk between stations, whilst her husband cared for their daughter elsewhere.
Action to change
The story has a coda. Alison sat (and passed) her exam and in the months that followed, spurred on by a mentor, she set about writing a draft policy for the college so that no other person in the same boat would have to go through the hoops and hurdles that she had experienced.
"I shared my ideas with the Medical Mums group and used their feedback to refine the policy before submitting it to the college," she said.
The college did indeed release a policy, independently of Alison's, though it seems it was inspired by much of the work she had put into hers.
"There were some things that were absent, which I challenged the college on, but ultimately it was fantastic to have a policy where there hadn't been one before."
During the process, her mentors were quizzed by the college hierarchy about this young Dr Soerensen from WA but were quickly reassured that Alison was not a troublemaker, simply someone on a mission. It began a passion for advocacy for just causes.
When it comes to her involvement with the AMA WA, Alison said she had been a member since internship but felt that, as a young, female GP in outer metro with small children, the AMA didn't represent doctors like her. However, a mentor encouraged her to engage with the organisation before disengaging.
"I heeded that advice and applied to be a GP delegate at the national conference (in a non-election year). I had many interesting conversations at the conference with well-connected WA female GPs. I got up at a few sessions to have a say, but I wasn't quite prepared for the soapbox session at the end of the conference, which I was encouraged to participate in," she said.
Soapbox start
"I had no idea that putting in a topic (hers was "the AMA is an old boys club – does it really want to change and if so, how?) meant I was required to speak to it for three minutes in front of the entire delegation."
When she twigged, with a couple of hours before the start of the session, she jumped onto her social media sites and got feedback and ideas for what her arguments might be.
"I asked the Medical Mums network, then around 7000 members, 'help me understand why, if you are an AMA member, how you feel it represents you; if you're not a member, why not' and I had about 200 responses in less than an hour," Alison said.
"The session began with the chair of the Federal Council and the AMA CEO, both of whom were women, in front and everyone else behind me. About 70% of the audience were middle-aged white men in suits. I remember feeling nervous; I could hear some muttering behind me as I was talking. I spoke about the strengths of the organisation but shared my concerns that its leaders weren't representative of the broader membership, let alone the changing face of medicine as a whole. I challenged the organisation to identify the barriers to a more equitable and diverse AMA and actively remove them.
"There was a standing ovation of sorts, some remained seated, and that was OK. Afterwards it was clear by personal feedback, that other people in the organisation felt the same way. I was encouraged to become more actively involved.
"A couple of months later, I was selected to be the DiT representative on the Council of General Practice. The invitation came at short notice and whilst it wasn't easy with two small children and working in private practice, I dropped everything and flew to Canberra. It was the start of two great years on that Council, meeting and collaborating with passionate GPs from around the country. A few months after that, AMA WA reached out and ask if I was interested in being co-opted to the local State council.
"It's been an interesting experience being involved and not having followed the usual pathway starting with student advocacy. It's a pathway that nobody speaks about, but it's 10 or 20 years long, and you become a leader in the AMA because you followed that path."
Her non-traditional rise within the organisation has been met by both encouragement and scepticism.
Outsider wariness
"I remember being asked by a senior member what my intentions were. I admit I was a bit taken aback by that. I said I was here to ask questions and to learn.  Perhaps I was naïve and didn't know the history of the organisation, or how things were done. And maybe it's lucky that I didn't," Alison said.
"As we approached the AMA WA elections early last year, I was considering putting my hand up for the vice presidency. I hadn't been tapped on the shoulder and as such I expected it would be a contested election.
"I spoke to a couple of close colleagues about my intention to nominate for the vice president position and one of them flippantly said, I would've thought you'd put your hand up for the presidency instead!
"I laughed it off at first but then reflected on the suggestion. Of all the AMA branches, there appeared to be a specific pathway to leadership in WA. As in medicine, this hierarchical structure disadvantages those who are unable to get and stay on the path – parents having children, doctors from overseas, doctors in training who nowadays have to invest increasing amounts of time and energy into securing and maintaining fellowship positions etc.
"This really bothered me because not only does it disadvantage individuals, but it also disadvantages the organisation because we end up with a fairly homogenous group of people sitting around the table. Whilst there have been moves towards increasing our diversity, at times it still feels that certain voices and opinions matter more than others.
"These issues were the impetus that led me to run for president. I knew that Andrew [Miller] was running and I made it clear, my candidacy wasn't a personal judgement on his abilities to be president. Ultimately it was about giving the membership a choice whilst putting the organisation on notice."
"It was a really fascinating experience because there hadn't been an election for a long time. Social media became a significant campaign arena. Members who'd never voted before were suddenly sharing their thoughts and feedback.
"I published my piece about who I am and why I wanted to do this. I was humbled by the emails and phone calls of support. There were those who worried about how I'd cope if I lost, but my self-worth wasn't tied to selection. As the saying goes, life is about the journey, not the destination.
Takes a village
"I admit the timing wasn't ideal for me. I was heavily pregnant with my third child and knew that if I did get up, I'd have to upskill rapidly. I'd probably have been at meetings breastfeeding a small human wondering, what on earth had I gotten myself into! Yet I knew I had something to bring to the table and that I wouldn't be doing it alone – I had an experienced group of peers ready and willing to walk beside me."
Politics can be a tricky business and Alison also experienced what it was like to have detractors.
Attending functions with an infant caused some to question her ability to do the job – and not necessarily just the presidency. Some thought she should be home raising her children.
"I didn't run on a platform of being a mother but suddenly my kids were being drawn into this election. The double standards were laughable. I was fortunate to have role models who'd juggled medicine, motherhood and medico-political advocacy. Like it or not, this is the changing face of medicine." she said.
Despite losing the election, Alison believes that the current leadership is committed to meaningful membership engagement. She was also pleased to see a number of female colleagues elected to State council but reiterates that the organisation must not limit itself to purely addressing gender diversity. It must also examine how to tackle intersectional disadvantage, internally and externally.
"As a white, able-bodied, heterosexual, cisgendered, Australian trained doctor, I benefit from significant privilege," she said.
"I am free to work wherever I wish unlike many of my international medical graduate colleagues. I have family living locally that provide childcare and other support so I can get involved and make sure my voice is heard.
Challenging the system
"I have medical colleagues who are married to fellow doctors, where once kids come along, there just isn't space for two careers to be full time let alone get involved in medical politics. Even when both parties want to work part time and share the domestic load, the system makes it incredibly challenging.
"How can the AMA support them better to juggle parenthood and career? How can we hear their voices even if they can't get to the table?"
So, is there a next political step, for Alison Soerensen?
"Are we talking on or off the record?" she laughed. "At the moment I think I've got enough on my plate between getting back into general practice, parenting three small humans and juggling my role on state council and a national college committee," she said.
"I must admit that I'm worried about the future of general practice in Australia. It is suffering the effects of chronic and deliberate underfunding and we are witnessing the erosion of the most cost-effective part of our health care system.
"The flow on effect is that my fellow general practitioners are experiencing moral injury. With inadequate Medicare funding, they are prevented from providing timely, affordable, effective care to their most disadvantaged patients. Perhaps this will be my next focus.
"I know from my experience with the breastfeeding advocacy, that although I will not sit my fellowship exams again (thank goodness), there are others who have and will benefit from that work. I hope the idea of planting trees whose shade I will never sit in, continues to be the theme of my future advocacy endeavours."