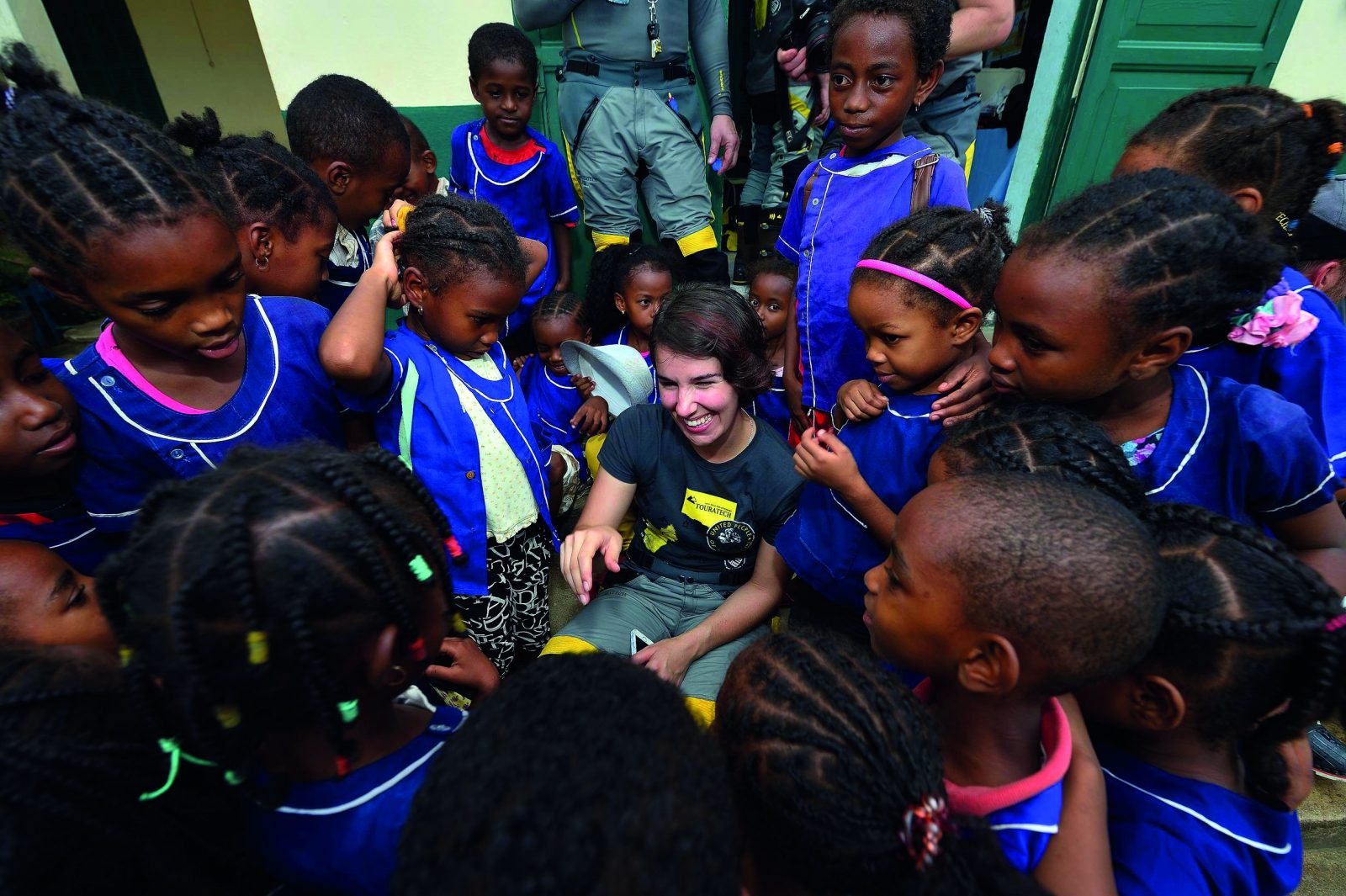 A dozen people on motorbikes, the heat, rain and mud of north-eastern Madagascar and throw in a few million mosquitoes. German motorcycle accessories company, Touratech, pulled the project together and, in April 2016, Dr Rob Davies went along for the ride.
"The selection process was surreal. A dozen of us from six different continents were flown to Touratech headquarters in Germany's Black Forest. Our only instructions were to take carry-on luggage and that we'd be met at Frankfurt airport."
"Over the next three days they sprung all sorts of surprises on us. We were interviewed on camera, scrutinised on team-building exercises and cooked group meals in one long psychological assessment. They gave us helmets and full riding suits, boots and a bag full of motorcycle gear. Then it was off to a motocross track to display our riding skills on large adventure bikes."
"End result? One broken ankle, not mine!"
Injury fallout
"The most serious injury was a broken fibula that ended the trip for the African rider, Omar Mansour. A rider from India ruptured his ACL but struggled on. Most of the medical issues were more mundane such as gastroenteritis, scrapes and sprains. There was plenty of immersion foot syndrome because our boots were constantly wet."
"I was ably assisted by an occupational physician from Iceland and a trauma nurse from Australia."
Rob's pitch to the selection panel was unusual, to say the least.
"My video application included footage of me extracting a loose tooth from our daughter, Annabella, using dental floss attached to my BMW 1200 GSA motorbike. It got me noticed!"
"Every person they picked was adventurous, adaptable and loved motorcycles. I'd have to say that I was probably selected as the trip doctor and photographer. We also had the Touratech CEO and his wife, a UK motorcycle journalist, a Hollywood actor and a documentary filmmaking team on the trip. And a small team of Malagasy riders on sensible, lightweight bikes."
The documentary film, United People of Adventure (UPOA), is riveting stuff. The scenery is stunning scenery and some wonderfully human moments where too much mud is never enough!
Adventure and good causes
"We were based initially in the town of Antalaha and spent some time at the local orphanage where we distributed new mattresses to the children. Some of the proceeds from a book of the trip and the film flow back to the orphanage [see below]."
"We were three days south of Antalaha as Cyclone Fantala bore down on the town, so it was pretty wet and muddy. And, sadly, the same area was hit by another cyclone earlier this year leaving half the population homeless."
"A lot of close friendships were forged on the trip and that was the highlight for me. The only way to get through the mud, the swollen rivers and dropped bikes was teamwork. You couldn't have managed on your own."
Rob, who has recently returned from climbing in the Dolomites, seems to possess a twist or two of the 'thrill-seeker' gene. So, are his surgeon hands insured?
"I did worry about injury on the trip, both to myself and others. We were riding fully loaded, powerful 250kg bikes in challenging, off-road conditions in an isolated and developing country. What could possibly go wrong?"
All about risk management
"It's true, I do seem to be pushing the limits more as I get older but it's really all about managing risk. I reckon you're a long time dead!"
"I asked my wife, Jenny about all this. She said she didn't mind as long as she can keep going to art classes."
"One thing I do have increasing respect for is the practice of surgery. Maybe that's a reflection of the fact that I've been around long enough to see more ways that things can go wrong. The decision-making that goes into preliminary investigation and whether a patient will benefit from surgery can be stressful."
"Again, it's all about risk management. You have to weigh up co-morbidities and surgical risk versus the natural history of the disease and the expected benefits of operating."
One year after the ride Rob shared in the glory, and a small amount of fame.
"They flew us all back to Germany for the release of the film. Thousands of people turned up and it was truly bizarre to be recognised by people who'd followed us online. Some asked for autographs and 'group-selfies', so I guess that was my 15 minutes worth!"
"Jenny painted portraits of Touratech's CEO and his wife in company colours as a way of saying 'thank you'. Everyone involved had been incredibly generous."
Rob was brief and succinct when asked to reflect on the two-wheeled adventure.
"When can I sign up for the next one?"
ED: A special screening of United People of Adventure will be held at the Conference Centre Auditorium at St John of God Hospital Subiaco on Friday 3rd of November at 6pm. Funds raised go to the the orphanage "Orphelinat D'Antalaha" and the town of Antalaha (Madagascar) devastated by cyclone Fantala. Bookings are now open at: https://www.trybooking.com/SCOX