Depending on jurisdiction, a person eligible for voluntary assisted dying (VAD) may have a choice from one of three possibilities:
Self-administration, oral

Self-administration, intravenous, by self-activation

Practitioner administration by intravenous injection
No overarching principle favours one route of administration over another. The choice is best left to the person, or to a combination of person and practitioner.
One possible advantage of oral self-administration is home storage in a locked box. A significant proportion of those keeping the medication at home never get to use it. Ready availability can reassure and reduce anxiety levels.
Occasional side-effects of oral administration are generally regarded as not significant if explained to family members. Though rapidly unconscious, the time to cessation of breathing is significantly longer than with intravenous administration.
Precautionary measures include fasting for three hours and early provision of anti-emetics before ingestion. The aim is to gulp the medicine down quickly and follow it with a strongly flavoured beverage, as the former has a bitter taste.
Occasional side effects of intravenous administration (e.g., discomfort on injection) are also regarded as not significant, if explained to the subject and family members.
With oral administration, it is prudent, in advance, to place a cannula in a forearm vein, and to explain to the subject, and to family members, the possibility of varying the plan in the unlikely event of mishap.
With the intravenous route, it is prudent, in advance, to place a second cannula in the opposite forearm, covering dislodgement of the primary cannula.
While we would consider these practices to be sound in principle, they do present some difficulties in the context of the Victorian and WA Acts, which treat oral and intravenous administrations as if they were mutually exclusive.
One advantage of intravenous self-activated administration is that it allows the patient to be completely in control both of timing and of conversation, without interruption caused by the process. A state of composure is promoted. Activation is a simple matter. Onset is quick and effective.
Important considerations
Any kit supplied by pharmacy services for assisted dying should be sufficiently comprehensive to cover all foreseeable clinical requirements and eventualities. The simplest way to meet this need is to have only one kit for all modes of administration. This allows for the full range of responses that may be required, depending on the case circumstances. Such a kit should be checked, cleaned, and refurbished after each return to pharmacy services.
During deep unconsciousness, airway obstruction may occur. It may be advisable to remedy this by means of a Guedel airway or laryngeal mask airway, a range of which should be available.
A three-lead ECG is recommended to give everyone attending a visual display of the heartbeat. Cessation of the heartbeat is easy for all to see and is a convincing way to determine the end of life.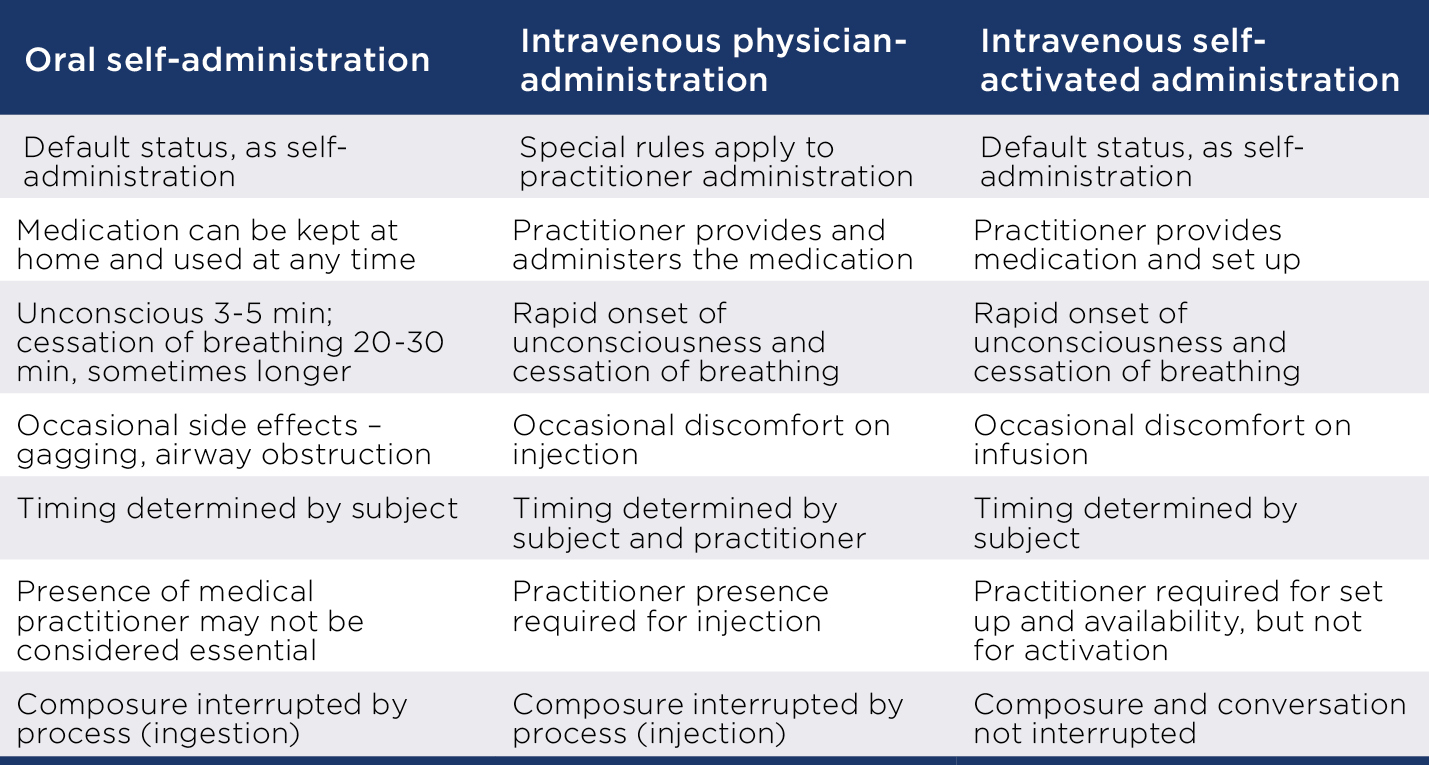 Once established, VAD will become a professional service provided by doctors who develop a special interest in it, as a branch of medical activity. Such a progression is facilitated by respecting the competence and integrity of those in the field. Doctors should be allowed to develop their work as they see fit, with access to the medications they choose, within the provisions of the law, and with guidance from the colleges – as in all other branches of medicine.  
Further reading, email peter.beahan@outlook.com
Author competing interests – nil