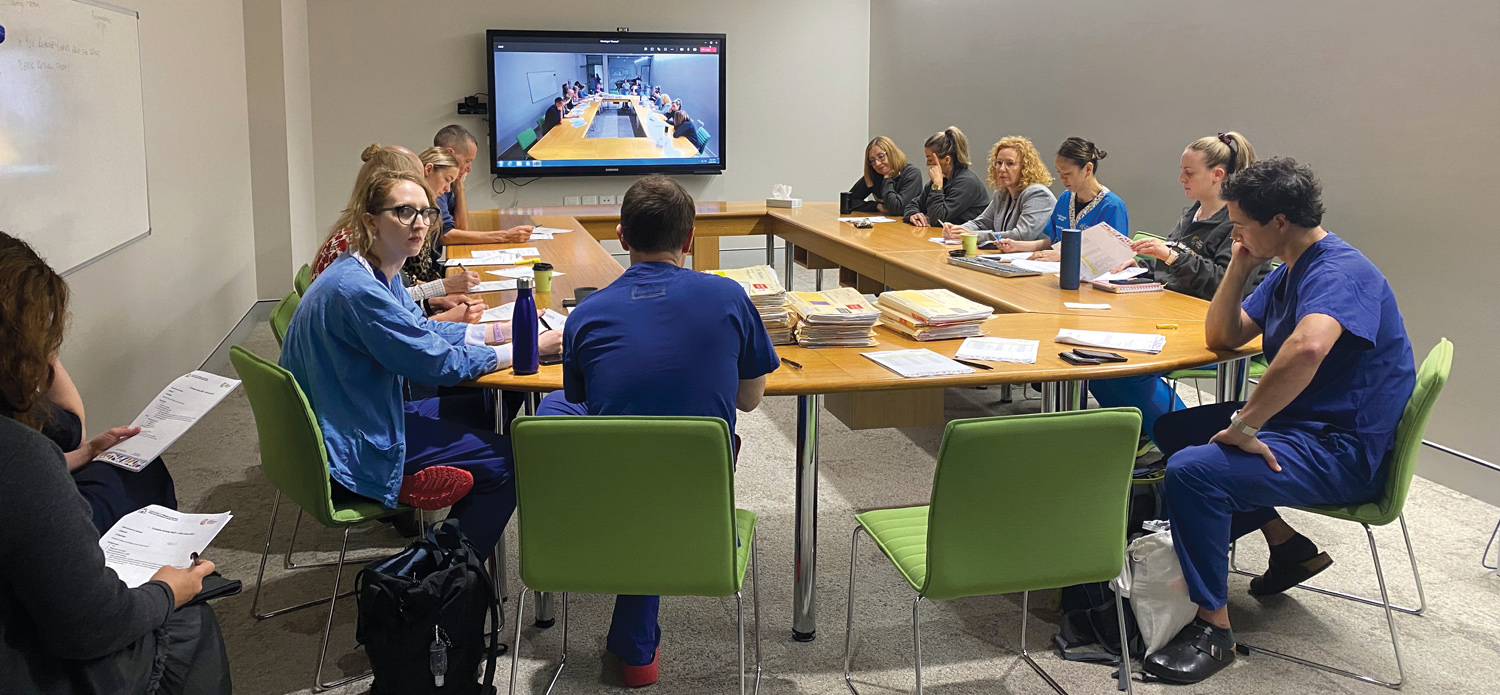 The Complex Airway Team at Perth Children's Hospital is the first and only team of its kind in Australasia. It commenced in 2006 bringing together a broad range of specialists to diagnose, treat and monitor children with complex airway problems modelled on the pioneering Airway Team at Cincinnati Children's Hospital.
The active multidisciplinary team draws on expertise and experience across different medical, surgical and allied health specialities aiming to formulate an individualised management plan for patients with complex issues who have generally been referred by a specialist looking after them.
Members of the team include ENT surgeons, respiratory physicians, plastic surgeons, oral maxillofacial surgeons, paediatric surgeons, gastroenterologists and paediatricians. Allied health practitioners including speech therapists, clinical nurse specialists from respiratory, ENT, tech dependent (tracheostomy), dietitians and administrative staff
Each fortnight about 15 complex babies and children with airway and swallow issues will be discussed in depth and a management plan will be agreed on.
Airway and swallow functions are closely related, especially in young babies who are dependent on an adequate airway to develop a suck, swallow, breathe (SSB) synchrony. This co-ordinated rhythmic pattern is required so that infants are able to eat and breathe without choking.
Swallowing in itself is a highly complex biomechanical function dependent on structural integrity and mature developed neuronal reflex and control of the oral, pharyngeal and oesophageal muscles. Safe swallowing is also dependent on protective sensorimotor reflexes around a patent airway.
Swallowing can be disordered as a result of malformations, central nervous system control, congenital or acquired infection, cardiovascular or respiratory compromise, prematurity, physiological or behavioural factors or a combination of these. In addition, paediatric swallowing assessment and management requires consideration of other health issues, parent-child interaction, and assessment of the child's environment.
The multifactorial aetiology of swallowing disorders means an interdisciplinary team is best for diagnosis and management of these problems.
To illustrate the utility of the team, consider the journey of a child with Robin (also called Pierre Robin) Sequence. These children have a triad of small jaw (micrognathia), posteriorly displaced tongue (glossoptosis) and airway obstruction (with or without a cleft palate).
Such children are frequently discussed at the meetings. Valuable input is sought from neonatologists who monitor the baby's progress – feeding, obstructive events and growth. They may intervene changing the baby's sleeping position to prone or placing a nasopharyngeal airway (NPA). ENT surgeons will assess and discuss the child's upper airway anatomy based on a flexible nasoendoscopy performed on all Robin Sequence infants. At this time, the NPA position may be assessed, and a Functional Endoscopic Evaluation of Swallow may be performed in conjunction with the speech therapy team.
Speech therapists use this in addition to clinical swallow assessments to adjust factors that may improve the swallow of the infants. They work in collaboration with dietitians to optimise the baby's growth.
Objective assessments of obstructive events may be quantified by a sleep study performed by respiratory physicians who are involved with the majority of patients discussed at this meeting.
Plastic surgeons also review the child in the neonatal intensive care unit. If the baby has significant obstructive episodes that cannot be remedied by a nasopharyngeal airway, they may consider a mandibular distraction to expand the lower jaw and in doing so improve the obstruction. CT scans of the child's jaw may be discussed at the meeting with a radiologist who also regularly attends. If the child has a cleft palate the plastic surgery team will plan repair.
Rarely, if the baby's airway is obstructed at multiple levels, the team may recommend the ENT surgeons perform a tracheostomy.
The highly effective collaboration and cohesive decision-making of this multidisciplinary meeting allows for world-class care for these fragile children with diverse and complex needs.
Key messages
The PCH Complex Airway Team was the first of its kind in Australasia
The team approach allows inconsistencies to be reduced and communication enhanced
Outcomes are thus optimised.
Author competing interests – nil