The pandemic might prove to be the catalyst for our own national control room to manage diseases and emerging infections.
Cathy O'Leary  reports
---
Long before COVID, RATs and 'iso' became part of the local vernacular, doctors and other health professionals had been calling for Australia to have its own Centre for Disease Control, or CDC.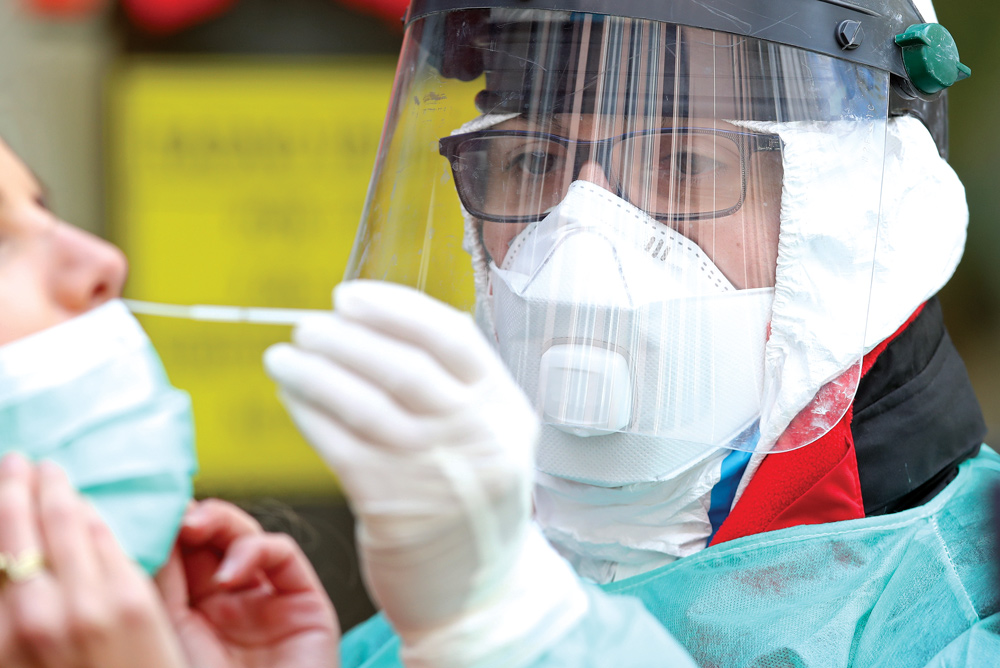 In principle, it was to be modelled on existing groups around the world including the Centers for Disease Control in the US, a high-profile, multi-pronged organisation that provides key advice in the management of infection and disease.
However, a lack of commitment from successive federal governments has meant calls for an Australian CDC had been languishing for years, but the arrival of COVID looks to have changed that. In its pre-election push, the now Albanese Labor Government gave an undertaking it would establish the expert group, if elected.
It claimed Australia's COVID response had been undermined by 'tragic failures', with the country badly unprepared, including not having run a national pandemic drill since 2008.
Labor claimed that Australia's response was undermined by breakdowns in the federal system, with unhelpful attacks on some states, particularly over school and border closures.
Pledge welcomed
Such endorsement for a CDC has been welcomed by many health groups, including the Public Health Association of Australia, the Australian Medical Association, and the Australian Healthcare and Hospitals Association (AHHA). They argue the centre can improve the country's response to future infectious diseases outbreaks.
The AHHA said a standing committee on health and ageing recommended back in 2013 that the Commonwealth commission an independent review to assess the case for a national centre. Instead, the Government decided to work with the states and territories to develop and endorse a national communicable disease framework, without changing the responsibilities of governments.
The AHHA says the threat of new and re-emerging communicable diseases will continue to be a global challenge and public health services need to be more strategic, coordinated and nimble.
Five years ago, the AMA also released a position statement calling for the "immediate" establishment of a CDC, with a focus on current and emerging communicable disease threats using global health surveillance, epidemiology, and research.
It said Australia was the only country in the OECD that did not have a national authority to combat infectious diseases, ominously warning that "diseases and health threats do not respect borders".
"A CDC is urgently needed to provide national leadership and to coordinate rapid and effective public health responses to manage communicable diseases and outbreaks," the AMA said at the time.
"The current approach to disease threats and control of infectious diseases relies on disjointed state and commonwealth formal structures, informal networks, collaborations, and the goodwill of public health and infectious disease physicians."
Dr Omar Khorshid, who recently stepped down after two years as AMA national president, told Medical Forum that while federal and state governments had mostly done a good job in managing the pandemic, they could have been more responsive. 
"If we'd had a Centre for Disease Control, with a more nationally consistent approach, we wouldn't have seen the state border issues and fighting among the premiers," he said.
Prevention is better
The Public Health Association of Australia (PHAA) wants to go a step further by giving such a new centre a clear prevention focus, to become the Australian Centre for Disease Control and Prevention.
Its chief executive officer, Adjunct Professor Terry Slevin, said that for decades the PHAA had lobbied for, and written about, the need for such a centre, including running a recent webinar to discuss how it could be designed.
"There have been calls for a national centre for disease control and prevention for more than 30 years, and the pandemic has simply been the catalyst to gain commitment from the ALP while they were in opposition," he told Medical Forum. "Now in government we believe it will, and must, happen.
"It is still the case that less than 2% of health funding goes into public and preventive health, and that makes no sense in 2022."
Prof Slevin said the centre would bring together public health work across communicable and non-communicable diseases, improve consistency, efficiency and data sharing, and inject vitally needed resources into public health.
"The establishment of such a centre is a once-in-a-generation opportunity to improve the public health architecture of Australia," he said.
"It is essential that it is properly thought through, structured and funded. If done well, it can bring together and better support the essential public health efforts at state and territory level." 
Doing a CDC better
While there is no single definition of a CDC, broadly it is a national agency that promotes public health through the control and prevention of disease and disability.
The US-CDC employs more than 10,000 staff, focusing on infectious diseases, food-borne diseases, environmental health, injury prevention, health promotion, and non-communicable diseases such as obesity and diabetes.
But it has been criticised for being overly bureaucratic, lacking innovation and being missing in action during the COVID pandemic, as well as being subject to potential political interference.
Proponents argue that the Australian centre needs to do better and improve how data is collated and shared between states and territories.
The PHAA wants a taskforce set up and given six months to work out governance issues and resourcing to give the new public health entity the best possible chance of success. The association has even set up a specific advocacy arm – a blog called CDC Corner – to encourage discussion among its members.
"We hope CDC Corner will be a valuable hub for expression and exchange of views, as well as creating a resource that may be of use to those who make the key decisions about how a centre will be designed and established," Prof Slevin said.
Among the first to take up the offer is OzSAGE, a network of Australian experts from a broad range of sectors, which formed in response to the pandemic and has convened an independent expert panel to report on a CDC. It has foreshadowed the undertaking will present many challenges.
"Although public health is primarily a state and territory responsibility, a national approach can bring effectiveness and efficiencies, especially when faced with threats that cross domestic and international borders," it said.
"In principle it should support governments – a state, territory and Commonwealth, and this requires a management system in which all governments have confidence."
OzSAGE said that ideally the centre would operate 24/7 and be responsible for responses on the ground. It would support programs such as immunisation, screening, disease surveillance and anti-tobacco measures, as well as short-term responses to emerging threats including response to cross-border or international emergencies. 
And while it would form some type of public sector agency, most public health functions would need to remain the responsibility of states and territories.