In 1992 Georges Charpak won a Nobel Prize for the development of the Xenon Multiwire Proportional Chamber whilst working as a physicist at the European Organization for Nuclear Research in Geneva (CERN). This technology was then developed for clinical use as highly sensitive x-ray detector by French company EOS. It was introduced for imaging in clinical care in Europe in 2007 and has subsequently gained widespread acceptance in other parts of the world including Australia.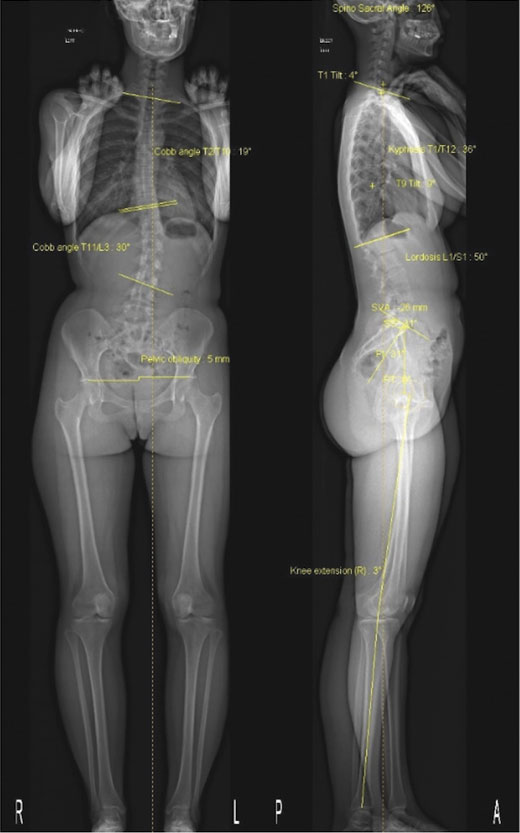 EOS imaging offers very low dose image acquisition (up to 85% less radiation) and produces minimal magnification error, when compared to conventional x-rays. EOS takes simultaneous AP and Lateral images of the whole body and can be used to create 3D reconstructions where clinically applicable. Low radiation dose is of particular value in children and adolescents who may require multiple spinal x-rays for diagnosis and follow up of scoliosis, as this can result in significant radiation exposure over time. The open unit design increases patient comfort for adults and children. The patient stands in unit and is in direct visual and verbal contact with the radiographer. Generally, less than two minutes is required to obtain whole spine and lower limb imaging at high resolution
The technology is validated for the study of spinal, pelvic and lower limb deformity in children and adults
Principal Applications
These commonly include spine imaging for the diagnosis and follow up of scoliosis in children and young adults and pre and post-operative assessment of sagittal and coronal balance to optimise outcomes in spinal surgery. In the lower limb setting, EOS is the most accurate modality for leg length and alignment measurements pre and post operatively as well as spinopelvic mobility assessment prior to primary hip and knee arthroplasty and revision arthroplasty.
In the general practice and allied health setting its primary utility is for assessment and follow up of suspected spinal deformities and limb length discrepancies in children and adults. It is not a substitute for standard radiographs of joints.
Key messages
EOS allows simultaneous AP and Lateral image acquisition of the spine and lower limbs in the standing position.
Its key applications relate to spine, pelvis and lower limb imaging, including sagittal and coronal balance assessment, and accurate lower limb alignment and leg length measurements.
It is not a substitute for conventional joint radiography
References available on request.
Questions? Contact the editor.
Author competing interests: The author works in a practice using EOS technology
Disclaimer: Please note, this website is not a substitute for independent professional advice. Nothing contained in this website is intended to be used as medical advice and it is not intended to be used to diagnose, treat, cure or prevent any disease, nor should it be used for therapeutic purposes or as a substitute for your own health professional's advice. Opinions expressed at this website do not necessarily reflect those of Medical Forum magazine. Medical Forum makes no warranties about any of the content of this website, nor any representations or undertakings about any content of any other website referred to, or accessible, through this website.