Disappointment over new Dengue vaccine?
Dengue is a Flavivirus infection transmitted by the Aedes aegypti and Aedes albopictus species of mosquito – four serotypes (DEN-1, DEN-2, DEN-3 and DEN-4) circulate globally. Although most do not, a person who contracts Dengue can develop symptoms. Infected individuals become immune to that serotype but are susceptible to others and at higher risk of severe disease if they contract a different serotype.
Over 400 million people worldwide acquire Dengue with an estimated 500,000 developing severe Dengue-shock-syndrome that causes 25,000 deaths each year. Australia reports >2000 cases of Dengue every year with most being acquired overseas. Outbreaks occur in Queensland with 385 cases reported in 2016.
Overall, Dengue remains a risk for Australians who travel overseas and mosquito avoidance is the mainstay for the prevention (see Table).
Appraisal of the vaccine.
Dengvaxia® is a live attenuated recombinant tetravalent Dengue vaccine. It has been approved in 19 countries but only extensively used in the Philippines and Brazil. The vaccine is administered as 3 doses of 0.5mL, given every 6-months. This induces neutralising antibodies against all 4 serotypes but titres are highest in individuals previously infected with Dengue. Pooled vaccine efficacy in seropositive individuals is reported at 78.2%, whereas only 38% of seronegative people respond to the vaccine. The youngest age group aged 2-5 years reported only 33% vaccine efficacy.
There has been significant concern regarding vaccine safety with high numbers of seronegative individuals, especially young children, developing more severe disease when infected with Dengue post Dengvaxia® vaccination. This led to revised product labelling (December 2017) and the recommendation that Dengvaxia® be restricted to those >9 years who live in a Dengue-endemic area or those who have serologic evidence of prior Dengue infection.
Opinion
Why is it unlikely Dengvaxia® will take off in Australia (TGA registered in 2017 but currently not available for prescribing.)
Most Australians travelling to Dengue endemic areas are seronegative and the vaccine is contraindicated for them.
Vaccination schedule (3 injections over 12 months) is impractical for one-off Bali holiday makers.
Children below 5 years, at highest risk of severe Dengue disease, are not able to be vaccinated with Dengvaxia® due to poor efficacy in this age group and a higher risk of severe Dengue post vaccination.
There is no data on vaccination in immunocompromised individuals. As a live-attenuated vaccine, the usual contraindications apply.
Table: Dengue Fever Profile
Incubation period
3-14 days
Symptoms
Fever, headache, retro-orbital pain, myalgia and arthralgia, rash
Laboratory confirmation
Positive Dengue virus and NS1 antigen by RT-PCR within 1-3 days of onset

Positive IgM (ELISA)

Leucopaenia and thrombocytopaenia common

Management
Supportive
Prevention
Vector control, mosquito avoidance (long sleeved clothing/DEET mosquito repellent/mosquito nets and coils)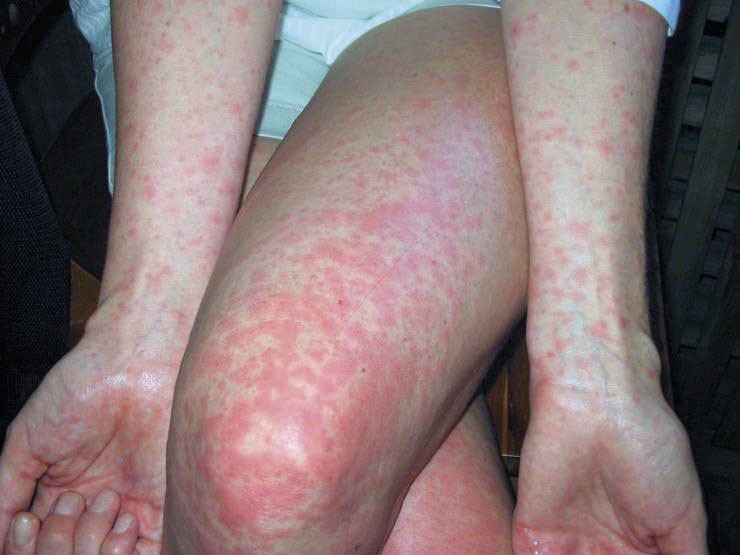 Fig.1 Maculopapular rash of Dengue
References:
Dengue vaccine: WHO position paper July 2016
Vaccines and Global Health: The Week in Review, 2 December 2017, Centre for Vaccine Ethics and Policy
WHO Updated Q&A related to information presented in the Sanofi Pasteur press release on dengue vaccine Dengvaxia® (30 Nov 2017)
Author competing interests: nil relevant. Questions? Contact the editor.
Disclaimer: Please note, this website is not a substitute for independent professional advice. Nothing contained in this website is intended to be used as medical advice and it is not intended to be used to diagnose, treat, cure or prevent any disease, nor should it be used for therapeutic purposes or as a substitute for your own health professional's advice. Opinions expressed at this website do not necessarily reflect those of Medical Forum magazine. Medical Forum makes no warranties about any of the content of this website, nor any representations or undertakings about any content of any other website referred to, or accessible, through this website.