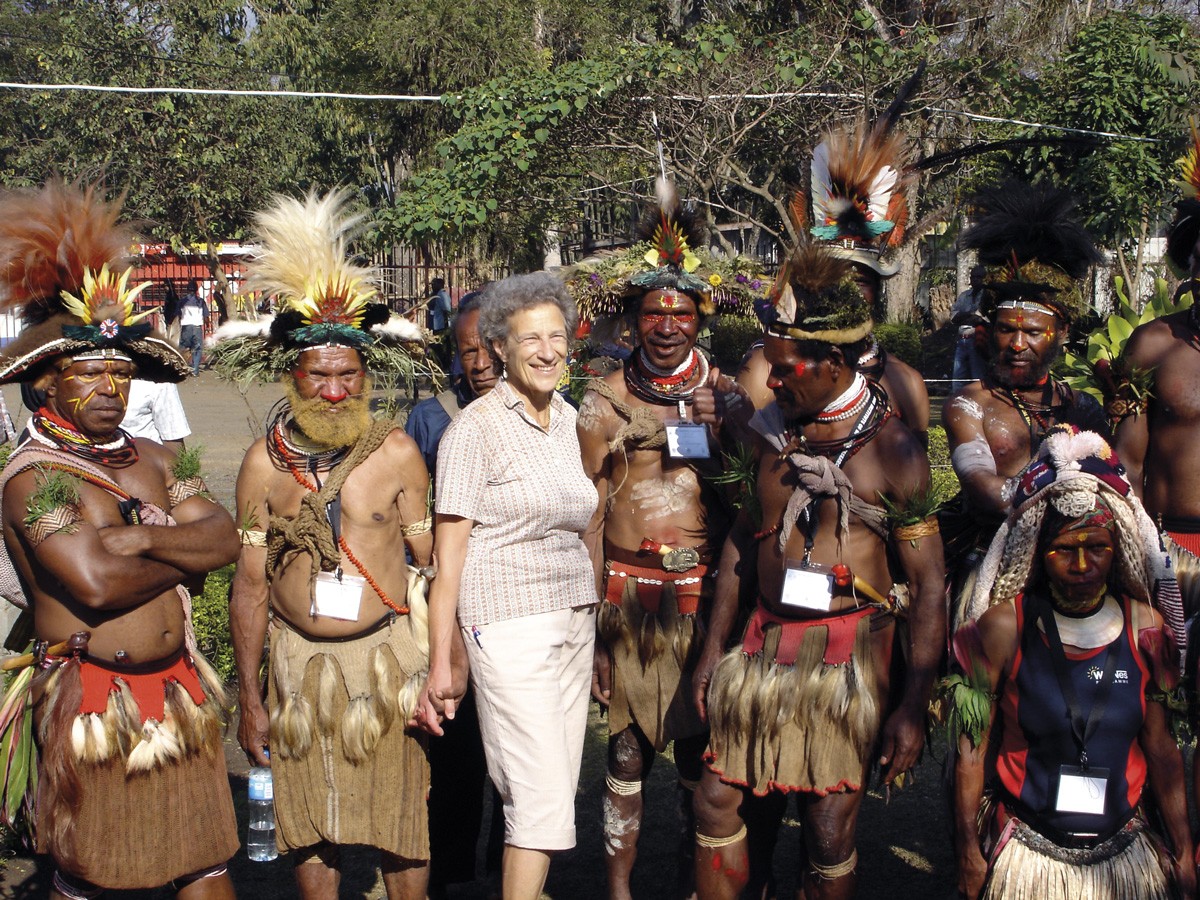 Working to give heath care access to the world's most disadvantage has been the driving force behind A/Prof Deborah Lehmann's long career.
A/Prof Deborah Lehmann learnt from an early age about different life opportunities. Whether her experiences of growing up in New York and Geneva as a daughter of a United Nations translator, or working from Nepal and PNG to the Goldfields of Western Australia and among disadvantaged in the Perth metropolitan area, the head of ear health at Telethon Kids Institute has a deep understanding how social determinants can brutally affect health outcomes.
It has formed the basis of her four-decade career which has sought to alleviate that disadvantage through early detection and treatment of infectious disease and prevention by way of vaccination.
However, It may have been very different if Deborah had pursued her passion for music and her considerable talent as a harpsichordist.
"I did my final music exams in Geneva and went off to London thinking there wasn't much scope for harpsichordists in Geneva and planned to do medicine but continue playing and perhaps do general practice on the side," she told Medical Forum.
"Somehow, I moved on from music and focused on medicine. I think I took the easy option. There's not much work around for a harpsichordist, though I still love to play. For my 70th birthday we put on a concert at home. I haven't had much time to practise but I'm planning on more concerts in retirement."
After graduation, Deborah went off to Nepal where she ended up staying 2 1/2 years working on TB control.
"It entailed walking around the hills and checking people and their sputum slides and training locals. I became very interested in infectious diseases so returned to the London School of Hygiene and Tropical Medicine to do a Masters," she said.
Driven to help
"I'm not sure I was very good at the science but I did want to help people. There are high rates of infectious diseases in Nepal and I began looking at its relationship to people's nutrition."
"Then I was attracted by an advertisement for a job in PNG because I was unsure whether to stay in England. I dropped my application into a letterbox in Oxford and almost immediately returned to Nepal to a remote part of the country. It took so long for the message to get through, I learnt only several months later that I had scored an interview … and then the job."
Deborah was bound for Tari in the Southern Highlands of PNG, which has recently been in the news for a devastating earthquake and social problems related to mining.
"I arrived in 1981 and was asked to do a pneumococcal vaccine trial and an evaluation of oral rehydration for diarrhoea and stayed in Tari until 1984 doing population-based studies, before taking up the position of head of the pneumonia research program at the PNG Institute of Medical Research (PNGIMR) in Goroka in the Eastern Highlands," she said.
"Pneumonia is the most common cause of death in children worldwide and by far the most common in PNG. Diarrhoea and malaria continue to be a problem and there are also health issues around climate change."
"I met my partner, Michael Alpers, who was director of the PNGIMR in Goroka for 22 years. He has studied kuru, a very rare disease, for more than 50 years. Meeting Michael gave me another reason for staying."
Help from the ground up
"We looked at the burden of disease, causes, risk factors and evaluations of interventions, then made policy recommendations. We were very multidisciplinary and that as continued to the present day. I transferred these PNG teachings to my work here with Otitis Media (OM) in Aboriginal populations."
A meeting with Fiona Stanley precipitated Deborah's and Michael's move to Perth in 1998 when she was awarded a Healthway grant to study OM using similar designs as in PNG.
"I started a cohort study in Kalgoorlie looking at risk factors for OM in Aboriginal and non-Aboriginal children including carriage of bacteria in the nose," she said.
" Aboriginal children have a high carriage rate and it can start within days of birth which puts them at higher risk of both OM and pneumonia. We have also looked at the epidemiology of OM and pneumonia through data linkage."
"After the Kalgoorlie study we had a health promotion program for hand washing, avoiding smoke and regular ear checks. The implementation of the program has caught up recently with the involvement of WACHS, Bega Garnbirringu Aboriginal Health Services and Telethon Kids. Children's ears are checked routinely when they come for immunisation."
Deborah says there is more awareness of the dangers of runny ears now at the community level and more action at the national level.
Political will
"We currently have a Centre of Research Excellence with all the key players across Australia and the Federal Minister Ken Wyatt is very committed to addressing ear disease. We've had a roundtable and a road map has been laid out and we now need funding for research from the Future Fund. Certainly, there is more money going into ear disease now," she said.
"Those things are positive but it's still actually hard to assess. I am involved in the WA Ear Health Strategy and we have working groups looking at workforce development, health promotion, and determining minimum data sets to evaluate programs. That's quite tricky to do."
"The Pilbara and Kimberley both have their strategic plans but there are a lot of players in the field in WA, so coordination is difficult. But I think there is real impetus now and that is encouraging."
Deborah stressed the importance of community involvement in the design and implementation of health strategies.
"There are certainly more ear surgeons going to communities but for sustainable progress you need buy-in from the communities. There is no point detecting disease unless there is a program behind it. Linked data suggests that there is now more surgery in the remote areas. There is also evidence that the most underprivileged are the most unlikely to get the ear surgery. We need to work on that."
Most recently, Deborah has been working in metropolitan areas where she says access is as bad if not worse than in regional areas.
Disadvantage in the city
"The urban ear health project is following children from birth and training Aboriginal health workers to examine children's ears. They will soon be able to refer children through a new telehealth program. It's a tricky business to diagnose and manage ear disease but it's crucial for individuals and their families because chronic ear disease is damaging."
Training the next generation of researchers is never far from Deborah's thoughts. She has mentored a number of Indigenous students and students from PNG who are working on ear health and vaccine projects.
In September, Wesfarmers Centre announced it would support a Deborah Lehmann Research Award in Paediatric Infectious Disease Research to support the training and development of early career researchers from the Western Pacific region. The announcement coincided with the 50th anniversary of PNG's Institute of Medical Research, which had been so seminal in developing Deborah's own career.
Deborah says she plans to step down from her position at Telethon Kids in April but adds that not many people are taking that seriously. While she may be stepping away from active research she intends to continue mentoring researchers both here and in PNG.
Future positive
She is excited about the work being developed by colleagues at TKI –a new study on OM's impact on language development, work on biofilm and probiotics and a rethinking of vaccine schedules at maternal and neonatal stages of development.
"Sadly, one of the key barriers for Aboriginal people is racism, which is so entrenched. We have to improve opportunities for education, ensure appropriate food and housing in remote areas and involve people in improving their own lives."