I get it. I was hesitant too. We work our whole lives for our reputations. Heck, I didn't want to be known as 'Dr Pot'. But the overwhelming initial anecdotal evidence is what motivated me to do what I am doing today. And believe me, my patients are better for it.

Here is my journey and why you may want to consider medicinal cannabis, at least for your chronic pain patients.
Having watched industry developments in North America for many years before moving to Australia, when cannabis became legal to prescribe here in 2016, I was paying attention. 
My first patient had post-surgical abdominal pain from both adhesions and a neuropathic aetiology. He was in a bad way, on substantial doses of both opiates and benzodiazepines, and tanking both physically and mentally. His current status was the driving force behind overcoming my discomfort with prescribing. 
Honestly, I am open-minded and had every intention of doing so 'one day', but he was desperate. He was a father and husband, just like me, and was losing hope. I bit the bullet and applied for approval and wrote my first medicinal cannabis prescription.
Medicinal cannabis worked well in this case. And with frequent consultations, while titrating up his cannabis oil and slowly decreasing his opiates and benzos, he was able to cease both, control his pain and improve his quality of life.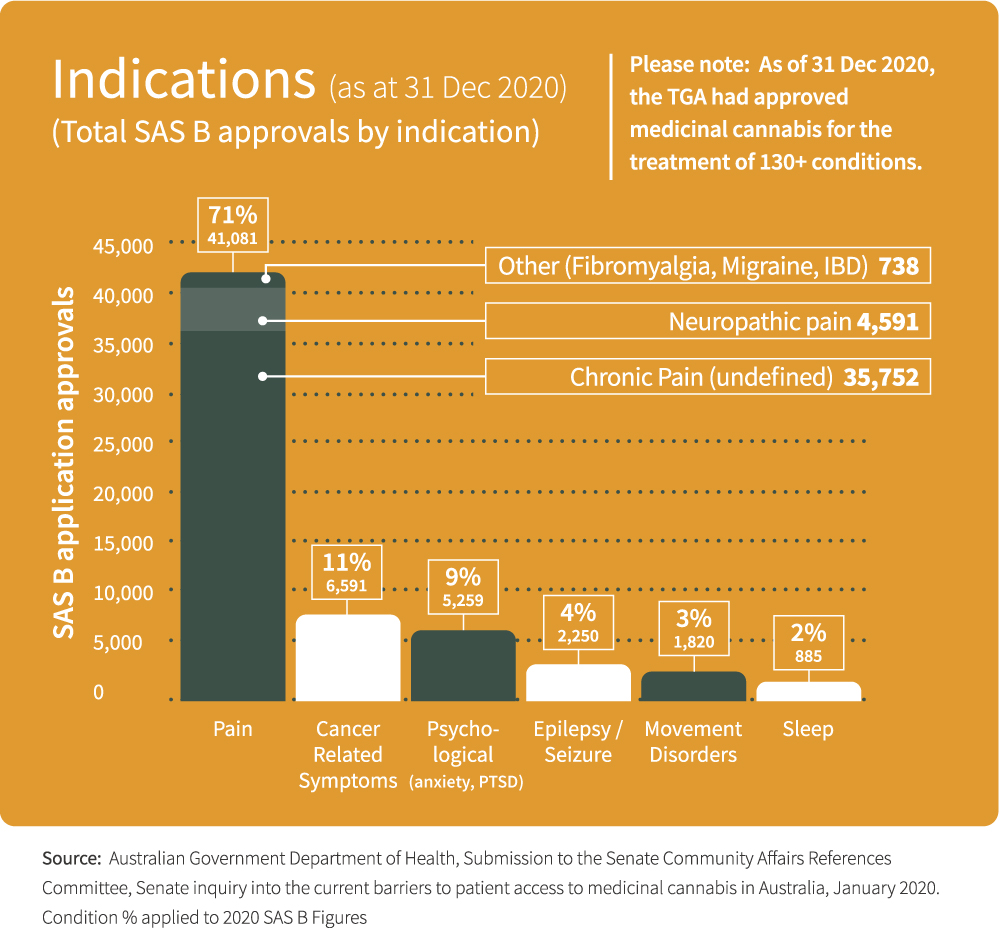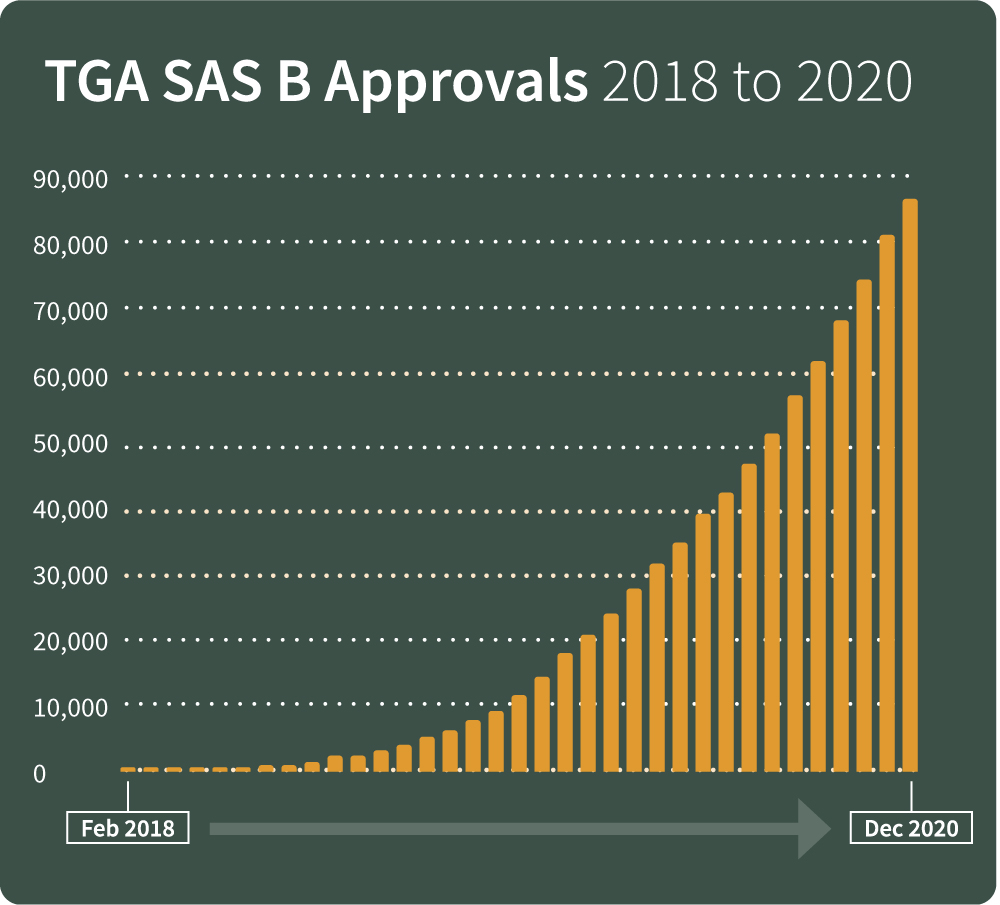 We, as practitioners, commonly deal with the frustration of reaching the ceiling of medication management with the down-regulation of receptors and subsequent drug tolerance. But the frustration is mostly for our patients as they see their dosages rise while their quality of life plummets. 
In seeing this 'end of the road' in their treatment, life can get hard. Hope is lost and it's a slippery slope as depression sets in. We shouldn't blame our patients. We'd probably be the same if we had to live with significant pain despite maximal doses of conventional therapies. 
Of the 6000-plus monthly SAS-B approvals now in Australia, 70-80% are for chronic pain. From December 2019 to December 2020, there had been an increase in SAS-B approvals of nearly 60,000 bringing the total since 2016 to more than 85,000 medicinal cannabis approvals. There are now more than 180 authorised prescribers. This increase is mainly due to public and medical education that shows that it is a viable option, and not dangerous. 
More clinicians are having success with this alternative treatment.
The same as you, I follow guidelines based on research. When people state that there isn't enough data, that's simply not true. There is. No, not to the extent that we need in order to use cannabis as a first-line therapy. But enough to show that it's safe and that more research is needed. 
Recent decisions worldwide, including the UN removing cannabis from the list of dangerous drugs, will see the cannabis research space expand. 
Whether you agree with its use or not, it is relatively safe, has minimal side effects and increases the chance that you may actually get your dependent patients off their opiates and benzodiazepines. This has real value.
We must continue to educate ourselves as clinicians. The body of knowledge in and around cannabis as a medicine is increasing. We need to know how to navigate this space for our patient population. Reading is what we do, right? And it may give you the confidence needed to accept the risk and talk to your patients about the potential option of medicinal cannabis.
Key messages
There is research to underpin use of medicinal cannabis

It is safe to use, but not first line

Quality of life can be significantly improved.
Author competing interests – nil
Graphic source: Australian Government Department of Health, Submission to the Senate Community Affairs References Committee, Senate inquiry into the current barriers to patient access to medicinal cannabis in Australia, January 2020. Condition % applied to 2020 SAS B Figures.