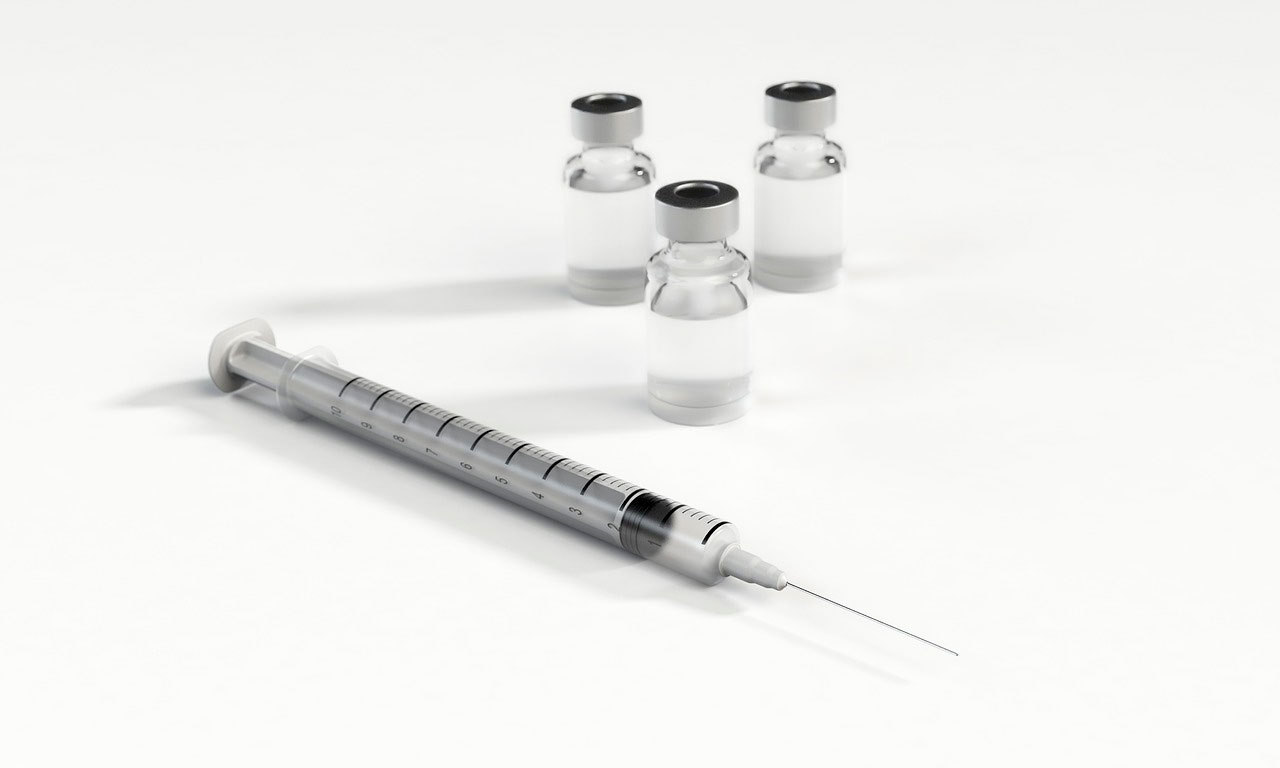 Children under five have more than double the rate of meningococcal W infections of any age group, and Aboriginal children under 12 months of age have 40 times higher rates of invasive meningococcal disease than non-Aboriginal children.
The national target for childhood vaccinations is 95% but MenACWY coverage in WA for >13 months to <5 years falls short at 79.4%.
The number of meningococcal infections in WA doubled (from 23 to 43 cases) between 2016 and 2017 and have remained steady in 2018 and 2019. Children under five years are the main affected age group (see Fig.1).
The WA childhood MenACWY immunisation program provides the quadrivalent conjugate meningococcal ACWY vaccine for children at 12 months of age as part of the schedule. Catch-up vaccination is available for children aged 13 months to less than five years old but this program ends on December 31, 2019. Aboriginal children receive MenACWY at six weeks, four, six and 12 months of age within the Aboriginal vaccination schedule.
Adolescents (15-19-year-olds) are the second at-risk group (Fig.1). MenACWY is given to Year 10 students in schools and adolescents aged 15-19 years who miss the school-based programs, or 15-19-year-olds not in school can access the vaccine until further notice via general practice. The vaccine coverage in this age group, however, is only 61%, which drops off with increasing age. Nineteen-year olds are less likely to be immune than 15-year olds.
Targeted meningococcal outbreak response in the Pilbara
There has been a significant increase in invasive meningococcal disease in the Pilbara with four cases clustered around the Roebourne/South Hedland region of WA since January 2019. Therefore MenACWY Nimenrix® vaccine is being provided until December 2019 to all Aboriginal people aged six weeks or over living in at-risk-Pilbara towns (Port Hedland, South Hedland, Karratha, Wickham, Roebourne, Onslow, Nullagine, Warralong, Yandeyarra and Marble Bar) who have not previously received ACWY meningococcal vaccine.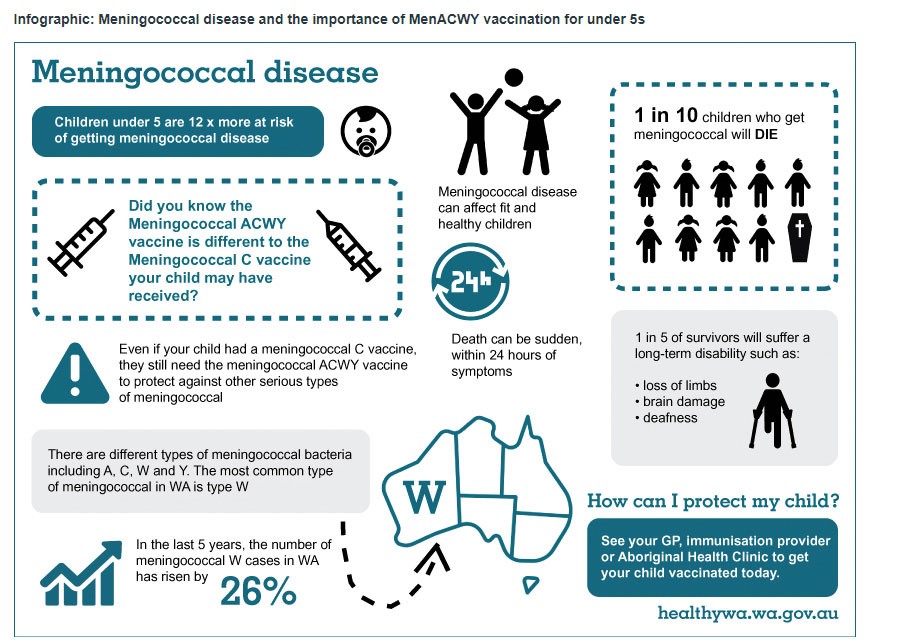 MenACWY vaccines and vaccine shortage
There are three meningococcal ACWY vaccines available. Menveo®, Nimenrix® and Menactra®. Menveo® was in short supply in 2018 and therefore Nimenrix® is the vaccine in the immunisation schedule but Menveo® and Nimenrix® are both equally immunogenic.
There is evidence that antibody responses after Menveo® and Nimenrix® are modestly higher than a dose of Menactra® and immunity decreases more rapidly with this vaccine. However, if Menveo® and Nimenrix® are not available Menactra® is acceptable and much more preferable than no vaccination.
Asymptomatic meningococcus carriage in the community is 10% with invasive meningococcal disease occurring uncommonly but causing life-threatening disease. Vaccination is safe, effective and freely available for all at-risk-age groups in WA until December 2019. Beyond that date, MenACWY vaccine will be part of the immunisation schedule for 12-month olds and Year 10/15-19-year-olds. Age groups from six weeks of age are covered by the Aboriginal schedule.
Vaccine coverage is lower than required for herd immunity and the free program has not reached as many children as is required. GPs need to keep in mind to opportunistically vaccinate against MenACWY especially in <five-year olds and teenagers.
References available on request.
Questions? Contact the editor.
Author competing interests: nil relevant disclosures.
Disclaimer: Please note, this website is not a substitute for independent professional advice. Nothing contained in this website is intended to be used as medical advice and it is not intended to be used to diagnose, treat, cure or prevent any disease, nor should it be used for therapeutic purposes or as a substitute for your own health professional's advice. Opinions expressed at this website do not necessarily reflect those of Medical Forum magazine. Medical Forum makes no warranties about any of the content of this website, nor any representations or undertakings about any content of any other website referred to, or accessible, through this website.