Baby steps for IVF
WA women are trialing world-first IVF technology that allows them to monitor their hormone levels at home and could give better access to IVF for regional women.
---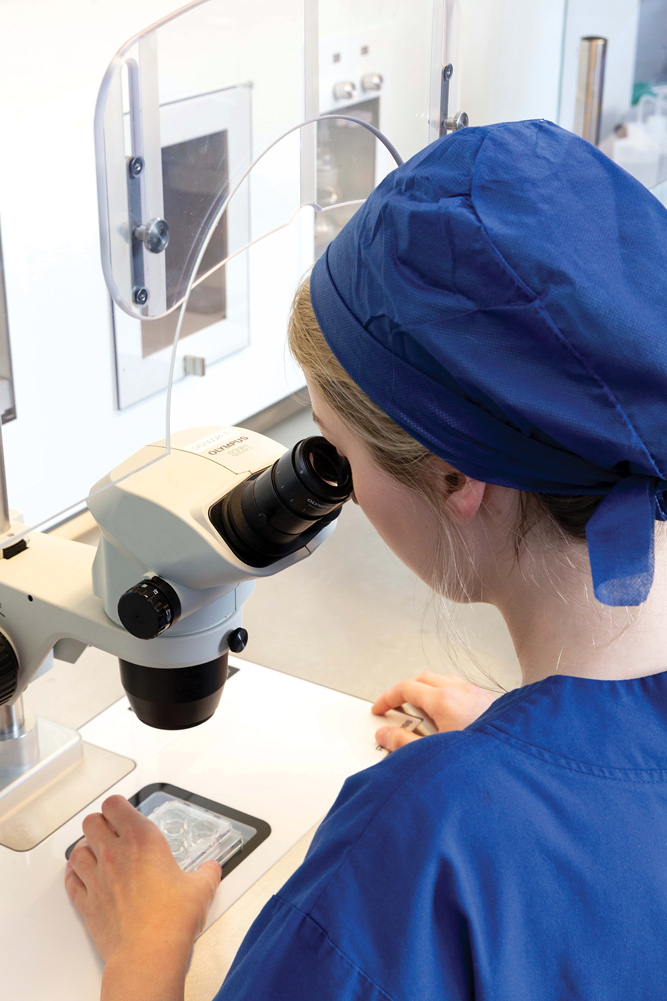 The women are participating in a feasibility study by City Fertility Group's national medical director Professor Roger Hart and specialists at Fertility Specialists of WA.
Professor Hart, who is also head of the reproductive medicine service at King Edward Memorial Hospital and Professor of Reproductive Medicine at UWA, said they were recruiting 25 patients to monitor hormone levels in an IVF cycle via urine samples that can be done at home.
If effective, this part of the IVF process, which currently requires patients to visit a clinic for regular blood tests, will save time and stress, and for some will overcome logistical challenges to undergo monitoring in an IVF cycle.
"If this at-home device proves feasible it will open IVF up to regional patients, fly-in fly-out workers and those in rural locations, lessening the burden of having to travel long distances to a clinic for blood tests in between juggling work," Professor Hart said.
---
Diabetes grants up for grabs
WA researchers are being offered the chance to secure a grant to channel into a diabetes-related research project through Diabetes Research WA's annual grants program for 2023.
The charity, which runs on the generosity of its donors, is offering one $60,000 research grant to a WA-based medical researcher, but more than one grant could be offered.
The winner will be announced around World Diabetes Day on November 14 and application details can be found at www.diabetesresearchwa.com.au. Submissions close on August 15.
---
Smarter referrals
WA Health is moving to replace its current process for handling external referrals to its public hospitals, with a new system known as Smart Referrals WA. It is designed to streamline the referral process and improve the accuracy of referrals received from GPs and other external service providers.
Referrals to metropolitan WA public hospitals are currently processed by the Central Referral Service, which is staffed by nurses and clerical staff. While electronic referral forms are available through GP practice management systems, only about 26% are sent via secure messaging.
About half of referrals submitted to CRS need additional work because of missing information, faxed referrals missing pages, referrals not meeting required criteria and illegible handwriting.
---
Pulling on the heart strings
Cancer Council WA's Make Smoking History Program has launched a new emotive campaign, in a bid to prompt people who smoke to quit. 
'Worried About You' is a narrative campaign that focuses on a daughter's concern about her father becoming ill from smoking. 
Cancer Council WA's cancer prevention and research director Melissa Ledger said the campaign aims to remind people who smoke about the worry that it causes their loved ones, and to motivate people to quit smoking.
---
DNA clues under focus
Findings of a new Parkinson's disease study in WA have opened up a new avenue for developing therapeutics to intervene in the progression of this common movement disorder. A recent article in Experimental Biology and Medicine looked at genetic processes underlying nerve cell degeneration in people with Parkinson's.  
The study, led by Professor Sulev Koks at WA's Perron Institute for Neurological and Translational Science and Murdoch University, found that alterations in the nascent transcription of introns (pertaining to DNA sequencing) may be indicators of risk and progression of Parkinson's.  
"Better understanding of the mechanisms underlying the degeneration of nerve cells can help in developing targeted therapies for people with Parkinson's," Professor Koks said. 
"For many years the search for DNA risk factors for specific diseases such as Parkinson's has focused on exons – the 2% of our genome that encodes the information for proteins. The bulk of the DNA risk resides in the other 98% of the genome that determines where, when and for how long exons are produced to generate these proteins.  
"Similarly, previous research has focused on the measurement of exons in specific cells, ignoring the bulk of non-exon material that can affect their function."  
In other news, a team led by Professor Koks is trying to identify potential gene therapy for aggressive bone cancer.
Malignant osteosarcoma begins typically in the long bones of the legs and arms and can spread to other areas. It occurs disproportionately in teenagers and young adults.
---
Silica dust threat
As many as 10,000 Australians are predicted to develop lung cancer in their lifetime from being exposed to silica dust, new Curtin University modelling has found. It comes amid warnings more than half a million workers are currently exposed to the harmful dust.
Engineered stone – used mainly for kitchen benchtops – is a potent source of silica dust. The dust is also found naturally in many building and construction products including sand, soil, stone, concrete and mortar, as well as being used in the manufacture of building products such as bricks, tiles and glass.
For the past 60 years, silicosis had been rare in Australia but the increased use of engineered stone in kitchen benchtops is driving a re-emergence of the disease, prompting the Australian Government to set up the National Dust Diseases Taskforce.
In June, Safe Work Australia also released a consultation regulation impact statement that proposes options for managing the risks of exposure and is open for public submissions.
---
Making a beeline for pain relief
A Perth Children's Hospital research team is buzzing following their success in the recent Australian Clinical Trials Alliance Awards 2022. 
The anaesthesia research team won the runner-up award in the consumer involvement category for their Bee Pain Free trial. It evaluated the effectiveness of honey as a natural pain management treatment for children after tonsillectomy. 
The team developed a randomised control trial to investigate the pain management properties of different types of local honey taken for seven days after the operation. 
The trial involved 400 children across PCH, Fiona Stanley Hospital and St John of God Subiaco. All children were followed up for two weeks post-surgery. 
Research began with clinical care audits of hundreds of families after one of the most common childhood surgeries. The ongoing post-operative pain issues of children, combined with many parents' reluctance to use strong pain relief medications at home, prompted the search for effective, natural solutions.
Professor Britta Regli-von Ungern-Sternberg said the burden of pain management was falling on parents.
"We knew that honey has been a valued medication since ancient Egypt, known for its anti-inflammatory, analgesic, antioxidant properties, and we thought it would be a good topical treatment for children," she said. "It also coats the back of the throat and makes swallowing easier."
---
Don't forget this test
New research from Edith Cowan University has revealed a simple, common test can reveal if people are at increased risk of developing dementia late in life.
About 600,000 bone density tests are performed in Australia each year to screen for osteoporosis but they can also show whether plaques have built up in the abdominal aorta.
The ECU team found that abdominal aortic calcification was a reliable marker for late-life dementia. This meant doctors could use an already-common test for early detection of a person's dementia risk and try to delay the onset.
---
Tweaking steroid use in pre-term bubs
A WA research program aimed at optimising steroid use in pregnancy has generated important preclinical data showing how the gold-standard antenatal steroid treatment regime for preterm infants could be improved. 
Researchers from the Women and Infants Research Foundation, the National University of Singapore, Cincinnati Children's Hospital and Tohoku University Hospital have been working to improve the lung maturation of preterm infants and minimise potential side effects to both mother and baby. 
They have found that in preterm lambs, using just one-third of the current steroid dose was highly effective in improving lung function, while having significantly fewer side effects for neonates. 
The use of steroid therapy in pregnancy to rapidly mature the fetal lung, making breathing easier and safer for preterm babies, has been responsible for saving the lives of thousands of preterm babies. WIRF acting chief scientific director Professor Matt Kemp (above) said the findings represented a major breakthrough in the field of obstetrics. 
"While we eagerly await the clinical trial data, the findings of this study strongly indicate that a low-dose betamethasone treatment regimen will likely perform better than the current, higher-dose dexamethasone phosphate regimen," he said.
---
Letter to the Editor
Dear Editor,
I am writing in response to the article "Restrictive practices and government over-reach" published in the May 2022 edition of Medical Forum, to correct several inaccuracies. 
First, the examples of restrictive practices cited by Dr Roberts are not regulated restrictive practices as they relate to children and as such, this misinformation is unhelpful to NDIS participants and their families, and to providers. Secondly, Dr Roberts' views regarding behaviour support practitioners and AHPRA, and the proposal to amend the 'Act (the Children Rules)' are incorrect. 
The National Disability Insurance Scheme Act 2013 (NDIS Act) and the NDIS (Restrictive Practices and Behaviour Support) Rules 2018 are intended to provide safeguards for all NDIS participants and to work towards the reduction and elimination of restrictive practices which have a significant impact on a person's human rights. There is, of course, no proposal to change that. 
Importantly, the regulatory role of the NDIS Commission applies to NDIS providers, not in the context of families. As such, there is no government overreach as suggested by Dr Roberts. We have published practice guides on what constitutes a regulated restrictive practice, including for children and young people, which can be found on our website – Resources |NDIS Quality and Safeguards Commission (ndiscommission.gov.au). 
For the first time in Australia, we have put in place the regulation for behaviour support providers. It is useful to highlight that behaviour support providers engage practitioners who come from diverse professional disciplines, such as psychology, speech pathology, occupational therapy, developmental education, social work and applied behaviour analysts.
Many of them have undergraduate and or post-graduate qualifications. The NDIS Commission has practice standards and obligations that behaviour support providers are required to meet, including the NDIS Code of Conduct. 
It is important that we collaborate with relevant professionals to ensure the wellbeing and safety of NDIS participants. Central to this is that they have accurate and sound information. 
Dr Jeffrey Chan
Senior Practitioner, NDIS Quality and Safeguards Commission