HBF hits pause on gap plans
A planned overhaul of payments to doctors by WA's biggest health insurer has been put on hold after a strong backlash from the profession.
As revealed in Medical Forum last month, HBF recently announced changes to its gap payment arrangements, with the net result being that some doctors would receive lower fees for their services.
Under the changes – which were due to take effect from July 1 – HBF's Known Gap arrangements were to be scrapped as well as its excluded items list, which allows a doctor who is a no-gap provider to charge a gap for procedures on that list.
Payments under HBF's Full Cover arrangements were also due to change, meaning doctors would be paid more for some items and less for others, with anaesthetists, in particular, facing reduced fees.
Since the changes were announced, HBF has been in talks with medical groups and doctors who are affected by payment decreases, including the Australian Society of Anaesthetists and the Australian Medical Association WA.
HBF's director of medical services, Dr Daniel Heredia, has now confirmed to Medical Forum that based on feedback from doctors and their professional associations, it was pausing the proposed changes
to its medical gap arrangements. 
"This means that the Full Cover fee schedule will be unchanged on July 1 and the excluded items list will remain in its current form," he said.
"In addition, the Known Gap arrangement will continue for existing doctors. HBF will continue to consult with the medical profession to find an outcome that best meets the needs of our members and providers."
---
More home visits
Silver Chain is working to reduce pressure on GPs and hospitals during the pandemic by providing extra health care services for COVID patients living in residential aged care facilities and private psychiatric hostels in Perth. 
Under an agreement with the WA Primary Health Alliance and in consultation with local GPs, Silver Chain will provide face-to-face visits and telehealth services.
Registered nurses will provide care for a range of health conditions including chronic disease care, minor injuries, wound care, and catheter management.
Silver Chain's Executive Director in WA Renae Lavell said the program would bring care directly to COVID 19-positive patients in residential aged care and private psychiatric hostels and prevent unnecessary hospitalisations due to worsening health conditions.
"By helping to manage the health concerns of a COVID-positive West Australians at the place they live, we can not only relieve some of the pressure on GPs as COVID-19 cases rise, but also help community members avoid unnecessary hospital admissions," Ms Lavell said.
---
New cancer hub for WA
A new $750 million comprehensive WA Cancer Centre for cancer treatment, care and research has moved a step closer after receiving a $375 million boost from the Commonwealth Government.
The new centre, which will be developed by the Harry Perkins Institute on the QEII site, will ensure world-first cancer medicines and clinical trials, holistic therapies, an integrated intensive care unit and hospital beds solely for cancer patients will be at the one location.
Perkins director Professor Peter Leedman said the new centre would put WA on the same footing as Victoria with the Peter MacCallum Cancer Centre and New South Wales with the Chris O'Brien Lifehouse. It will allow WA to be part of a national network of comprehensive cancer centres being developed by the Australian Government's Cancer Australia agency.
---
X-rays on the move
St John of God Subiaco Hospital has become the first private hospital in WA to install the O-arm system, an innovative orthopaedic surgical imaging device. 
The mobile x-ray system provides 360-degree 3D images in real time and can be used before, during and after spinal surgery. 
The enhanced imagery improves the surgeon's visibility of the patient's anatomy, allowing for better clinical decision-making and surgical accuracy, and ultimately improving patient outcomes. 
SJOG Subiaco CEO Professor Shirley Bowen said that by nature spinal surgeries were challenging and complex. The O-arm enabled surgeons to x-ray patients on-demand in theatre. 
"As the surgery is more precise, patients can experience less pain and a faster recovery, and the risk of a revision surgery is reduced," Prof Bowen said.
---
Heart service milestone
Hollywood Private Hospital has notched up more than 250 surgeries through its cardiothoracic service since it opened 18 months ago. 
The multi-million-dollar purpose-built theatre was unveiled at the Nedlands campus in October 2020.  Since then it has been able to offer potentially life-saving bypass and valve replacement surgeries. 
Cardiothoracic surgeon Pragnesh Joshi said the service offered all types of minimally-invasive cardiac and thoracic surgery and the latest technology, including beating heart coronary artery graft surgeries, minimally invasive surgeries for ablation of atrial fibrillation such as hybrid catheter and surgical ablation (HyCASA) and right anterior mini thoracotomy and aortic valve replacement (RAT AVR).
Mr Joshi is the only surgeon in WA performing RAT AVR, which enables patients to have their aortic valve replaced without an incision on their breastbone, often providing cosmetic benefits and a quicker recovery time.
Hollywood has also become the biggest centre in Australasia for HyCASA.
---
Yarning helps healing
In an Australian first, an Edith Cowan University research project has set up community stroke and brain injury support groups for Aboriginal people.  
The Brain Injury Yarning Circles project provides a culturally safe space and activities such as a local elders group, swap meets, art, dance, music, men's and women's days and excursions to culturally significant destinations. 
Project lead Professor Beth Armstrong said previous research identified a gap in the continuity of care of Aboriginal people after a stroke or traumatic brain injury caused by incidents such as a car accident, fall or assault. 
"We believe we've developed a model for brain injury support groups which can be used to create similar programs in other areas of the country," she said. 
KM Noongar Consultancy Services director and Noongar woman Kerri Colegate, who runs the Armadale Yarning Circle, said the service was important for participants, particularly those needing to move to Perth for treatment. 
"A lot of Aboriginal people have to come off-country for rehabilitation services – and a lot of those people can be alone without their family here," she said. 
"So Yarning Circle was a really good opportunity for those people to come along and connect culturally and help fill that void when they're missing their family."
Yarning Circle has weekly events in Armadale which aim to help Aboriginal brain injury survivors and their families.  Fortnightly groups in the Mid-West have just started in Mullewa, with Geraldton groups also planned.
---
Funding relief for allergies
Allergy experts have welcomed a $27 million Commonwealth investment into allergy prevention and management.
The funding will allow two organisations – the National Allergy Council and National Allergy Centre of Excellence – to work together to deliver new initiatives and research to improve consumer safety and prevent anaphylaxis deaths.
They will aim to cut wait times to see a specialist by at least 50% and improve access to quality allergy care for all Australians, especially those in rural and remote areas.
Dr Preeti Joshi from the Australasian Society of Clinical Immunology and Allergy said the funding would allow urgent research projects to move ahead.
Maria Said, co-chair of the National Allergy Strategy and CEO of Allergy and Anaphylaxis Australia, said Australia had often been termed the 'allergy capital of the world,' with more than 5 million people living with allergic disease.
"Allergy diagnoses and hospital admissions for life-threatening allergic reactions continue to rise, and this funding will revolutionise allergy research, clinical care, education and prevention, solidifying us as a world leader in this space," she said.
---
Hormones & dementia risk
Life events that influence levels of the female hormone oestrogen may be linked to a woman's risk of developing dementia in later life, according to new research.
The analysis found that some reproductive events such as early or late start to menstruation, early menopause and hysterectomy were linked to higher risk of dementia.
Having ever been pregnant, having had an abortion and later menopause were linked to lower risk.
Lead author Jessica Gong from Sydney's The George Institute for Global Health said that although it appeared reproductive events and related hormone changes may be involved in dementia risk in women, the exact relationship was still unknown.
"While the risk of developing dementia increases with age, we don't yet know whether the higher rates seen in women are simply because they live longer," Ms Gong said.
"But it's possible that female-specific reproductive factors may be able to explain some of the sex differences.
The use of oral contraceptive pills was associated with a lower risk of dementia, but the study did not find an association between HRT and dementia risk.
---
Family charity digs deep for research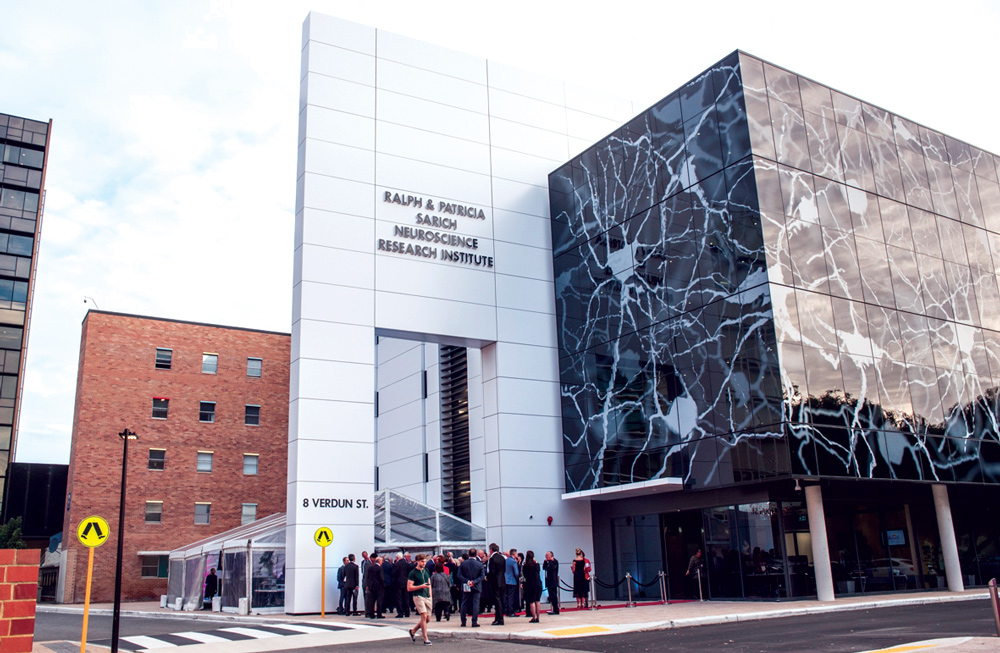 Support from the philanthropic Sarich family will fund important research at the Perron Institute for Neurological and Translational Science.
Perron CEO Steve Arnott said a generous commitment would help to deliver high quality research, with a focus on translating discoveries into new therapies and clinical processes.
"The funding will enable the institute to continue its research, bringing therapeutic benefits and hope to people with neurological disorders," he said. 
The main focus of the Sarich family support is the creation of a fund named in recognition of neurosurgeon Emeritus Professor Bryant Stokes for his contribution to the Perron Institute and advancement of neurosciences research.  
The Bryant Stokes Neurological Research Fund will support seven projects, up to $100,000 each.
Two other projects have been earmarked for funding from the Sarich family's contribution.  
Improving mental health outcomes in youth is one area targeted initially, with projects such as exploring the potential for tailoring antidepressant treatment based on genetic information about an individual's drug metabolism.  
Research to better understand the pathological relationship between bone and brain will also receive support.