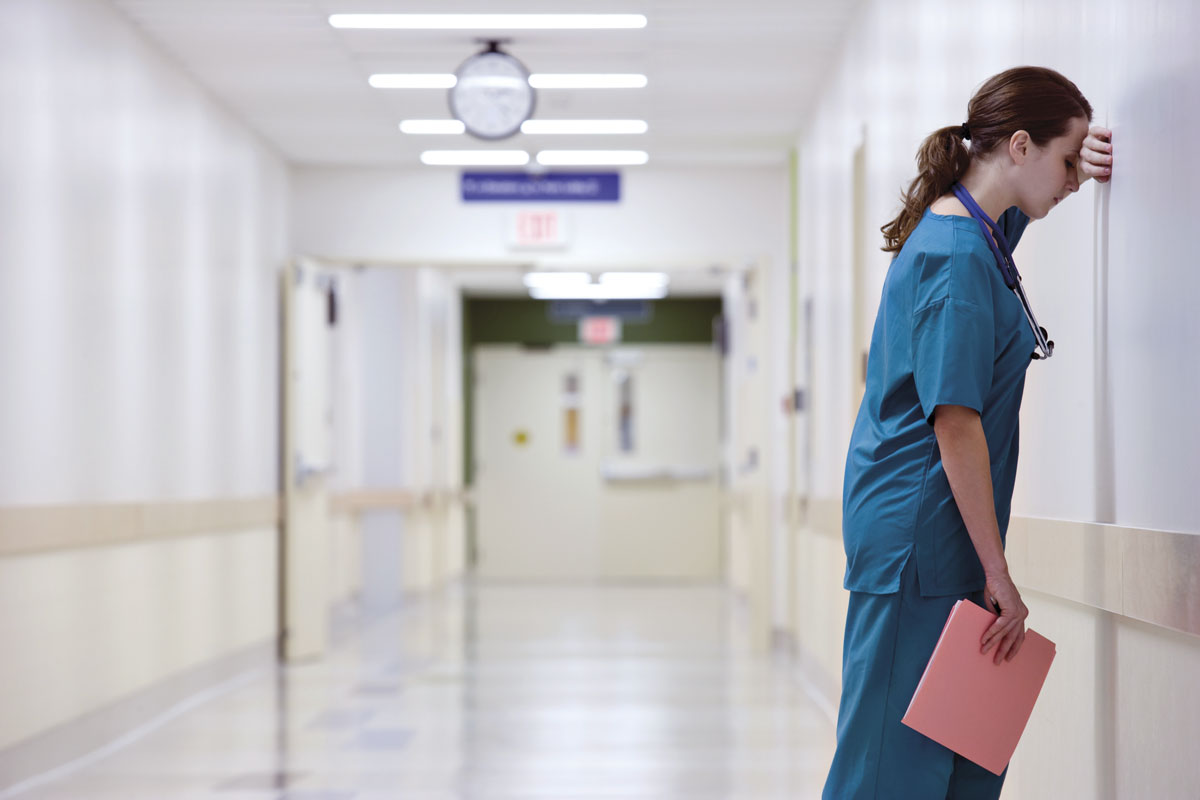 Service registrars are being identified as the most vulnerable of hospital doctors and yet the problem is often overlooked until they burnout.
In November, the Doctors Health Advisory Service WA will convene the biennial Australasian Health Doctors' Conference in Fremantle. It is its first international event since it became part of the national network of doctors' health services funded by the Medical Board of Australia, late in 2016.
DHASWA chair Dr David Oldham has devoted many hours in building up the service, which began life more than 15 years ago when Prof Geoff Riley, who is a keynote speaker at the conference, helped established WA's first doctor helpline, Colleague of First Contact.
The priority of DHASWA has been to establish a register of doctors for doctors. As the literature attests, the first big hurdle for medical practitioners to look after their health is getting their own doctor. It's other major focus is the theme of the conference – Creating Healthy Workplaces.
This year's AMA WA Hospital Health Check is a window into just how well the state-run health services are doing that. This year 750 doctors-in-training (DiTs) at the major tertiary teaching hospitals were surveyed on a wide range of criteria from morale and culture to rosters, bullying and accessibility of annual and parental leave.
The 2017 and 2018 surveys were horrors, reflecting an erosion in confidence in the health service providers, particular those which oversaw PMH and SCGH, with FSH nipping at the heels.
A new children's hospital and new wellbeing initiatives (with RPH leading the way) seem to have turned the tide as evidenced in the 2019 survey.
However, there is a long way to go. Morale among DiTs at SCGH is just 53% positive with KEMH peaking at 57%. Bullying seems highest at KEMH with 45% of DiTs reporting some form or other. When it comes to workplace culture, Charlies could muster only 54% approval.
When you factor in unexpected overtime (SCGH hit the heights with an average of 12.3 hours a fortnight), expectations of less than 2½ weeks annual leave (1.8 weeks at FSH), and about a quarter of DiTs fearing job security if they asked for parental leave, it would suggest systemic issues are still causing anxiety.
Medical Forum spoke to Dr Sarah Newman, secretary and assistant director of DHASWA and, since 2017, a GP in Lockridge. She is an energetic advocate for doctors' health and wellbeing and has been acknowledged by both the RACGP and the AMA WA for her services to doctor welfare.
We asked her specifically about the lot of service registrars, who have, anecdotally, been the group of doctors most disillusioned by being stuck in something of a no-man's land between internship and traineeship.
"These non-training registrars don't really have any identifiable person who is looking out for them whereas most registrars with problems can consult their training mentors to help them sort out work issues," she said.
Sarah added that compounding this was the difficulty in determining how many people fell into this category.
"until recently we did not know how many service registrars there are in WA because we don't count them yet they play an integral role in keeping our public health system afloat. This leaves them open to industrial manipulation with no one necessarily knowing or caring about it."
"The hospital, I don't think, is the ideal organisation to be looking after their welfare because the needs of the hospital are often opposed to the needs of registrars. It is a tricky situation for registrars because even though they may not be on a training program, it could well be they are hoping to be, so accept working hours outside of industrial contracts to be more visible to consultants."
"I have not been a service registrar myself but seeing it from the outside, you could feel very conflicted approaching a consultant to say, 'hey, this workload is excessive, I can't sustain this amount of on-call'. A registrar in training program would feel a lot more confident to put their hand up if there were a problem."
Sarah said the first line of help for service registrars around working conditions would be the AMA but they do need to firstly want to speak up.
Getting time off is one of the hardest issues of all.
"Leave is an incredibly difficult issue in our hospitals and that is not just for service registrars, it's all round. However, service registrars are probably going to be covering jobs of those who do get leave, the preference to which is most likely training registrars. The service registrars have no one fighting in their corner, so it's a very easy position to be used and abused," Sarah said.
"Like everything in the sphere of doctor health and welfare, systemic industrial changes are required, with health services having visible people whose job it is to look after staff's wellbeing. Hospitals also need to be more aware how vulnerable the position of service registrar is to abuse and have it come under regulation that is overseen, perhaps by the Post-graduate Medical Council (PMC)."
"The PMC oversees the education of interns and RMOs within the hospitals, and if they were to include service registrars in their remit, who may be doing all of the shift work and receive none of the professional development, it may shed more light on what's happening."
"It would be a lot of work to accredit all of the service registrar positions, but it would be worth it.
"These registrars are at a high risk of burnout, and burnout leads to higher patient risk. At the end of the day we want to make everyone safe – our patients, our doctors and our hospitals as well."
We asked the health services to respond to the concerns for the health and welfare of those registrars who are not college trainees at their tertiary hospitals. Here are the responses from their spokespeople.
North Metropolitan Health Service (SCGH, KEMH)
"There has not been an identified spike in the exit rates of junior doctors in the past 18 months. Our exit rate is consistent with previous years.
"Acknowledging that there is always room for improvement, NMHS continues to review and explore ways to further progress the educational experiences of our service registrars and all junior doctors.
"In addition to encouraging feedback and listening to our medical staff, we also proactively develop programs and action plans to ensure their needs are met. Examples include the following initiatives:
The establishment of the Medical Culture and Wellbeing Working Group to better engage with Junior Medical Officer (JMO) to improve communication and decision-making relating to JMO matters.
Establishing monthly open forums for discussion following term evaluations and feedback received via the Medical Executive Group.
Reviewing the current leave management and rostering processes and developing contemporary models of after-hours service provision."
South Metropolitan Health Service (FHS
Dr Paul Mark, Area Director Clinical Services
"All registrars treating patients are allocated to a clinical team which usually consists of a combination of consultants, fellows/senior registrars, registrars, RMOs and interns.
"When registrars are assigned to a clinical team they are supervised by the consultants in the team, which is overseen by the head of the specialty. This includes participation in multidisciplinary and other specialty meetings.
"Within the registrar group there are advanced trainees in a specialty and service registrars:
Advanced trainees are in the training program of one of the Learned Colleges who prescribe the educational syllabus and conduct work-based assessments (completed by supervising consultants), examinations and assess other tasks such as research.
Service registrars are in a variety of specialties including emergency medicine and are recruited by the specialty and partake in their educational activities and performance management.
"Surgical service registrars are recruited via a centralised process and rotate every six months, often between Health Service Providers (HSPs).
"Service medical registrars are recruited through a state-wide process and are allocated to a HSP for a full year. They rotate teams every three months to positions not accredited for training. If a training position is vacant, they fill the position for up to 12 months.
"The largest group of medical service registrars are Basic Physician Trainees who have a designated Director of Training and Education Registrar to provide support and a structured training program. Following success at the college exams they usually progress to advanced trainee status.
"Service medical registrars who are not a part of the Basic Physician Training program do not have a structured educational program, recruitment is difficult and attrition is high. Currently there are 15.4 FTE in this group. Fiona Stanley Fremantle Hospitals Group (FSFHG) has used the recruitment of international medical graduates as a short-term solution. Consideration is being given to recruiting a small number of supervised medical officers on longer contracts to fill some of these non-training positions.
"There are a range of educational opportunities for all medical staff at FSFHG. All registered medical practitioners are required to meet the continuing medical education requirements of the Medical Board of Australia.
"FSFHG has a number of initiatives in place to support Doctors in Training:
Engagement of DiTs via Regular Medical Liaison Group meeting between representatives of Fiona Stanley Medical Officers' Society, Executive, Medical Workforce, and the Medical Education Unit;
Raising awareness about mental health and wellbeing of doctors;
Addressing high risk groups from a welfare perspective such as IMGs, interns, and doctors sitting exams;
Fostering an anti-bullying and anti-harassment culture."
East Metropolitan Health Service (RPH, SJG Midland Public)
Liz MacLeod, EMHS Chief Executive
"At EMHS, we have actively sought feedback from our service registrars to help develop their skills to gain entry into a vocational training program. This includes access to a high-quality wellbeing program, mentoring, careers advice and interview skills training. Significantly, we also continually review what we are doing to assess if there is any way to further improve the educational experiences of our service registrars and indeed all junior doctors.
"We understand that there is a national review of training and the medical workforce, being led by the Federal government and commend that action. We have actively contributed to the discussions regarding the need to address service registrar/unaccredited registrar positions and training pipelines. In the interim, we will continue to listen to our service registrars, and continue to develop programs that help address their needs, in addition to that of all our junior doctors."