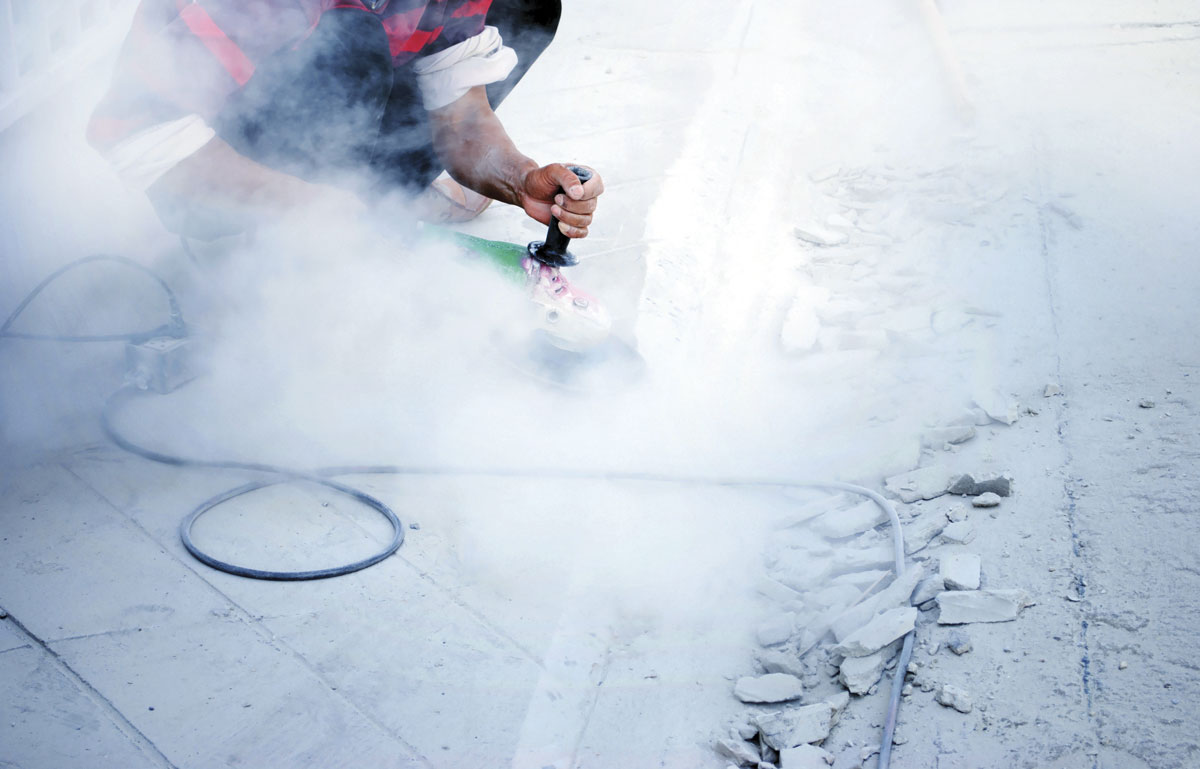 Introduction
Crystalline silica is present in many products including sand, rocks, concrete and more particularly synthetic composite or artificial/engineered stone used for kitchen and bathroom surfaces. The is a snapshot of the silica content of engineered stone compared with natural stone:
Marble typically < 5%, but can be more ; Granite 25-40%; Sandstone 65-70%; Engineered Stone > 90%
Exposure to silica dust can cause various diseases (Safe Work Australia, Crystalline silica and silicosis, 2020): Silicosis, chronic bronchitis, emphysema, lung cancer, kidney damage, and scleroderma
The WA Department of Mines, safety alert 11-2018 emphasises that:
Effective respiratory protective equipment must be provided in workplaces where there is risk from respirable crystalline silica (RCS).
Workers must be given information, training and instruction with regard to such risks
Employers must provide workers with health surveillance if there is risk to a worker's health as a result of exposure to RCS
Work Health and Safety (WHS) Regulation 50 requires that air monitoring by an occupational hygienist be carried out if there is a risk that the exposure limit be exceeded; albeit it must also be realised that exposure levels at work sites continually change.
WHS Regulations also require that health monitoring/surveillance be an essential part of the control measures. Such surveillance includes a lung function test which, if performed repeatedly, can be a useful measure of progressive lung damage.
A well-planned health surveillance system consisting of chest CT scans and lung function tests should be carried out on workers before commencing employment and at least every three years thereafter (annually for high-risk jobs) (Cancer Council, 2019).
The largest trade union in the UK and Ireland, Unite, launched in August 2019, an online register for workers who have been exposed to silica dust to assist them with any future legal cases.
---
Medical Forum has extensively covered the silicosis situation in Australia, here's some of our previous coverage:
https://mforum.com.au/silicosis-when-will-we-ever-learn/ 
https://mforum.com.au/life-without-breath-silicosis-silica-dust/
https://mforum.com.au/silicosis-a-fatal-cut/
---
Workplace exposure standards
There's been considerable discussion recently regarding the adoption of an appropriate TWA standard for crystalline silica. In brief:
The mandatory limit for silica dust in Australia has long been a TWA of 0.1 mg/m3 for an eight-hour working day and five-day week. Safe Work Australia (SWA) has introduced a 0.05 mg/m3 standard, but this will not be fully introduced for three years.
Since this announcement, SWA has recommended a further reduction to 0.02mg/m3.
National Dust Disease Taskforce
Early in 2019, the Australian government established a national dust disease taskforce to develop a national approach for the prevention, early identification, control and management of dust diseases. Its interim advice was submitted to the Health Minister Greg Hunt in December 2019. The final report is due December 2020.
Following are some relevant extracts:
The taskforce noted being aware of more than 300 diagnosed silicosis cases across Australia since September 2018, due mainly to poor silica dust control in the engineered stone fabrication industry. It noted that further screening would inevitably reveal more cases.
WHS regulators must play an active role in enforcing the legal duty of employers to minimise the risks to worker health due to inhaling silica dust: this is a priority.
All workers at risk of developing silicosis need to be identified as early intervention is critical to minimising harm and maximising good health outcomes. Consequently, a National Dust Disease Registry should be implemented to capture disease notification data.
There is growing support for considering limiting the importation of engineered stone products containing the highest levels of silica.
WHS policy and regulatory practice could be enhanced by integrating epidemiology, occupational hygiene, occupational physician expertise and worker representation.
More communication needed to increase the awareness, knowledge and understanding of all the issues relating to accelerated silicosis amongst workers, SMEs, PCBUs and, in particular small family businesses.
Greater support is needed for those diagnosed with accelerated silicosis, including legal and financial support as well as oversight of their physical and mental health and possibility of future employment.
Future support is needed for respiratory and occupational physicians, occupational health nurses and GPs to understand better the increasing incidence of accelerated silicosis.
All jurisdictions need to have consistent and comprehensive health surveillance programs with screening available to all exposed workers.
Accelerated silicosis
This has become an emerging epidemic, primarily restricted to workers and stonemasons using manufactured artificial or engineered stone products. The illness is caused by the inhalation of large quantities of respirable crystalline silica (RCS), with particles in the size range < 4 microns. These very fine particles penetrate deep into the "alveolar gas exchange region" of the lungs where they can trigger nodular fibrosis (scarring) in the lung tissues. This reaction hardens and stiffens the alveolar lining thereby reducing its capacity to transfer oxygen into the bloodstream.
Unlike chronic silicosis, which manifests 10 -20 years after initial exposure (and possibly longer) accelerated silicosis develops within 5-10 years after initial exposure. However, the minimum total lung burden of RCS required to trigger either disease is unknown. The rate of change of lung function for those suffering accelerated silicosis is much worse, and even if there's no more exposure, silicotic nodules may continue to develop, giving rise to "progressive massive fibrosis", which is incurable without lung transplantation.
The Australasian Faculty of Occupational and Environmental Medicine (AFOEM) and the Thoracic Society of Australia and New Zealand (TSANZ) have both recommended the establishment of a national respiratory health surveillance program and a national occupationally acquired respiratory disease registry for notification of cases.
As recommended by both AFOEM and TSANZ, artificial stone workers should undergo spirometry lung function testing, diffusing capacity of the lungs for carbon monoxide (DLCO) testing (considered to be a sensitive biomarker of early disease), and an ILO chest X-ray or preferably a CT scan for early detection.
Australian Engineered Stone Advisory Group
The AESAG was established in 2018 by Australia's major suppliers of engineered quartz surfaces to respond to the occupational risk of silicosis for stonemasons fabricating their products without optimum safety measures in place. Its members currently supply about 77% of engineered stone products in Australia and its concern for the health and wellbeing of those workers is laudable.
AESAG is currently seeking authorisation by the ACCC, on behalf of itself, future members and other suppliers of engineered stone to:
Adopt industry accreditation standards for fabricators and stonemasons working with engineered stone.
Seek to require such fabricators to comply with work health and safety practices and laws prevailing in all relevant jurisdictions.
Consider refusing to supply engineered stone to fabricators if such practices and laws are not adhered to.
Whilst these requirements are well-meaning, there are a number of conflicting challenges:
This application will allow the AESAG to make a collective decision about compliance, rather than undertaking individual assessments.
It is common practice for such proposals to be discussed and approved by impacted stakeholders (i.e. fabricators and stonemasons) and/or their representative bodies. There is no evidence that such discussions have taken place.
Apparently, Victoria is considering introducing a scheme for licencing organisations that work with engineered stone. If this eventuates, it would be inappropriate for the AESAG to operate a separate scheme for accreditation.
It is possible, under the AESAG proposals, for a primary customer to be accredited without recognising the customer's right to outsource its fabrication work to other fabricators without the knowledge of the supplier.
Regardless of these concerns, AESAG's presence and commitment to improved industry safety practices and standards, is a major step forward. Due credit must also be given to the attempts of individual suppliers to inform their customers of the health hazards associated with fabricating engineered stone and the need to adopt well-known health and safety practices.
For example, one of the major suppliers, Caesarstone, has been issuing material safety data sheets, warning labels and relevant health and safety notices with their products to customers since 1996.
Finally, it would be highly beneficial to have a more transparent system, whereby regulators could inform AESAG suppliers of fabricators who do not comply with required health and safety standards. Surely, it is to everyone's advantage to work cooperatively in improving the health and safety standards of those working in the industry.
Urgent need for applied research
There is a need to better understand the disease pathway from the time of exposure, the type of stone dust causing harm, through to accurate diagnosis and treatment. Currently, there is very limited knowledge and research data available and no clearly defined treatment options. The taskforce's interim report proposes initial research priority areas that can be financed through a one-off request for grant applications.
The report also called for a strategic approach to research to better understand accelerated silicosis. More specifically:
The pathogenesis of accelerated silicosis, the exposure patterns to artificial stone, and the influence of particle size.
Identify factors such as biomarkers related to the disease severity and risk of progression.
Best practice to minimise exposure and minimise or eliminate risks.
The efficacy and sensitivity of radiological methods (especially CTs) to diagnose early evidence of the disease.
Conclusion
In a developed country such as Australia, with well-organised public health and regulatory systems and world-class research facilities, it should be possible to bring an end to the scourge of accelerated silicosis quickly. However, it can only be done through a national, integrated approach, involving the full cooperation of all concerned including product suppliers, fabricators, state and territory regulatory bodies, public health authorities and research organisations.