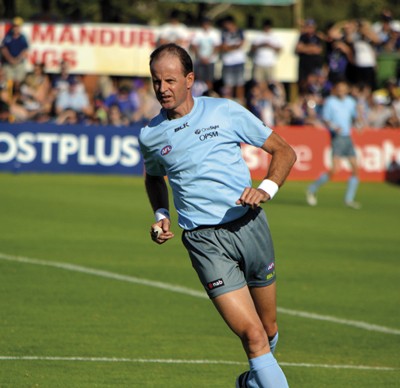 AFL umpire Dean Margetts during a game.It's not uncommon for medicos to attract some 'bad press' but nothing compares with the verbal tirade hurled at the 'White Maggot', aka an AFL umpire and Perth's Dean Margetts has heard it all. However, on a recent flight from Melbourne to Perth the flight attendant call button was very nearly the last thing he'd ever hear.
"I've never had a serious illness in my life. It seemed like one minute I was running around Etihad Stadium blowing a whistle and the next I was being off-loaded into an ambulance at Adelaide airport and rushed off to hospital."
"A ruptured ulcer caused a tear in my stomach and I was in a lot of pain. Luckily there was a doctor on board and he made the decision that an unplanned diversion to Adelaide would be a very good idea."
That medico was Dr Michael Livingston who, with his wife and daughter, was on his way to a country posting in Ravensthorpe, WA. Michael's decisiveness proved to be spot-on but he's obviously not an AFL aficionado.
Sticky wicket
"I was on my hands and knees at the back of the aeroplane and really wanted to be left alone. This guy came up and started asking questions about what I'd been doing and I told him I'd been umpiring in Melbourne. He told me that he 'didn't know much about cricket'!" Dean told Medical Forum.
"It turned out to be Michael, trying to get a handle on just what my problem might be. It wasn't until I spoke with some of the doctors in hospital that I realised how serious it could have been. I was very lucky that he was onboard."
Dean is one of four Perth-based umpires with 264 AFL games under his belt. He's easing back into work by officiating in the WAFL and hopes to return to the 'big top' by mid-season.
"I'm feeling a lot better now but still not at the peak of my powers. I'll get my confidence back and then do a block of a dozen games to finish the year. Finals are probably out of the question for me but I'm looking forward to a good pre-season in 2017."
"I've been really buoyed by the support I've received from both within the footy world and from complete strangers. Ross Lyon and Alistair Clarkson got in touch and people I've never met wished me well on social media. Although there were a couple of tongue-in-cheek messages from people who said I'd been giving them a stomach-ache for years!"
Scrutiny on umpires
One of the least understood aspects of umpiring at the top level is the close scrutiny umpires receive of their on-field performance.
"It's a misconception that we're not accountable for what occurs out on the field. We're not just given games week after week and if our form isn't up to scratch we're back blowing the whistle in the WAFL pretty quickly."
"The full gamut of our performance is closely watched and continual assessment is an important part of who gets the big games. There are 33 contracted AFL umpires and only three will be out there for the Grand Final."
"It's always nice to be drafted in but you can just as easily be drafted out. It's a challenging environment."
They're called 'stadiums' for a reason, 36 young men full of testosterone and up to 100,000 'experts' only too willing to scream helpful suggestions at the man in charge.
"It does feel like a cauldron at times. Any umpire who says they don't hear the abuse from fans is kidding themselves and once you get a bit of a profile they'll actually start abusing you by name! But if you worry too much about what's being said then you're not focusing on the game."
"If you retaliate and start engaging with the crowd, it's a win for them. A teflon coating comes in handy."
Protect junior umps
When it comes to inappropriate behaviour by people on the sidelines, one area that concerns Dean is officiating at junior level.
"This sort of thing can actually stop young umpires remaining in the game and we don't want that to happen. We lose some every year and you can't really blame them when you've got some idiot swearing at them. They think to themselves, 'do I really need this?'."
"If I see it happening I'll say to the person concerned, 'here's a whistle, next weekend you can umpire a game anywhere you like'. They back down pretty quickly after that. And when it comes down to it, try having a game of footy without an umpire. It'll descend into anarchy pretty quickly."
It can be both a lonely place and a highly public stage out on the centre-square says Dean, and even more so when you make a real 'clanger'.
"I'll always remember a particular incident between Mark LeCras and Sean McManus in the 2005 Western Derby. It was a high tackle on Mark, a bigger decapitation you've never seen! I think his head is still bobbling down Hay St. I just didn't see it. I was blocked by other players, called Play On and glanced up at the replay. All you can do is explain the situation and apologise but even now, 10 years later, people still ask me 'how Mark's head's going?'."
"The 'four-umpire' system is coming in next year and that will ease the physical component of the game. I love the game and I think our best umpires come from the senior ranks. As long as I'm performing well at this level I'll go on as long as I can."