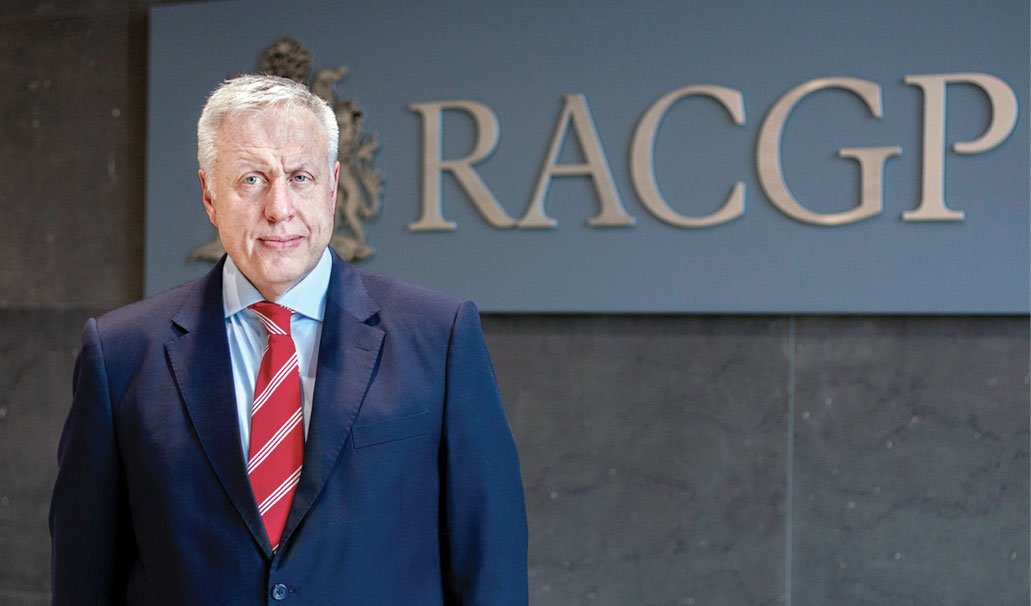 Something about Harry
Last month, RACGP President Dr Harry Nespolon passed away, aged 57, following a battle with pancreatic cancer. In his tenure he earned the respect of all who worked with him. Here is what they have said about Harry.
Dr Sean Stevens, Victoria Park GP and Chair of the WA faculty of the RACGP
Harry's work ethic was amazing. Early in his presidency I invited him to attend a WA council strategic planning day, which he accepted without hesitation. What I didn't know is that the day before he was in Townsville and flew on the red-eye to attend the meeting. He was a strong contributor to our meeting that day. If you asked him to do something, it was done, even during the late stages of his illness. He insisted that he didn't want people to know about his illness because he didn't want anyone going easy on him. He wanted people to keep treating him the same.
He will be sorely missed. He was an amazing advocate for general practice. He never shied away from the difficult issues. He never took a backward step and he made no apologies. If you need somebody to represent general practice in these difficult times, I can't think of anyone better than Harry.
Hon Greg Hunt, Minister for Health

Dr Nespolon worked very closely with myself and the Government. He was a passionate but also reasoned advocate for GPs and, above all, for their patients. His tenure as president coincided with a period of reform and then, of emergency – both the bushfire emergency and more recently the ongoing COVID-19 pandemic.
Throughout these challenges, and his own personal battle with cancer over the past nine months, he remained tireless, eloquent and cogent in his leadership and drive for positive change. He will long be remembered for his intellect, passion, dedication and professionalism.
Above all, Harry was partner to Lindy, and a father to two beautiful young girls. They should be immensely proud of him. He will be irreplaceable. His passing is a great loss to the RACGP, to general practice, and to all Australians.
Christine Nixon, Chair of the RACGP board
A Sydney-based GP and practice owner, Dr Nespolon was elected RACGP President in July 2018. Dr Nespolon promised to affect genuine change as president, and he delivered. He displayed extraordinary leadership during the unprecedented COVID-19 pandemic, advocating on behalf of GPs and the general practice profession to ensure Australia's primary health clinicians can deliver patients the best possible care.
He was fundamental to the college's successful efforts in securing $500m for general practice to fight coronavirus, helping to expand telehealth for all patients and bring about the most far-reaching change for general practice in a generation.
Despite his deteriorating health, Dr Nespolon was able to achieve a remarkable amount during the COVID-19 pandemic, and leaves an exceptional legacy. The board is in awe of everything Harry has been able to achieve, particularly over the past seven months. The RACGP and general practice was such a big part of his life, and he gave so much of himself to advocating for the central role of general practice to the health of Australians.
Dr John Deery, Chair of the Australian GP Alliance
Harry lead the RACGP and represented the interests of general practice with energy and commitment, and was particularly inspirational during the last six months. General practice is the cornerstone of primary health care in Australia, and Dr Harry Nespolon understood the critical importance for it to be both vibrant and viable to deliver the high quality of primary healthcare that Australians expect.
He worked hard to maintain funding at a critical time and to ensure that the small businesses that are GP practices are viable business entities. Harry was well aware that unless these businesses were viable, the platform to deliver high quality primary healthcare would not exist, and the health of Australians will suffer accordingly.
General practice has lost a committed leader, and while the profession will continue to deliver the healthcare that Australians need, for this moment we pause in reflection of a life well lived in support of Australia and the profession.
Dr Joe Kosterich, Clinical Editor of  Medical Forum
Although diagnosed with pancreatic cancer in October 2019, Harry Nespolon continued to live life as normally as possible. This captures the essence of the man. His passion for general practice, his family and life in general was unabated. He was a man of absolute integrity with a razor-sharp mind, remarkable work ethic, but above all – a great guy.
First meeting in 1995, we were mates from day one. Maybe it was a common heritage – both being sons of post-war European migrants, a love of footy (AFL) or a love of red wine – who knows. I remain grateful that our paths crossed.
The ability to see issues from different angles and think laterally set him apart and enabled him to see solutions where others saw problems. This was applied in all his varied roles in medicine, both at the practice, organisation and policy level.
His engaging manner and brilliant mind enabled him to succeed where others failed.
True to his Italian ancestry, Harry loved a good meal and we shared many at a multitude of restaurants, generally with a bottle of red – South Australian shiraz being his preference. We would laugh ourselves silly at some of the antics of those who take themselves too seriously.
A passionate Carlton fan, Harry saw the glory days of the 1980s and longed to see the Blues rise again. He enjoyed travel including trips back to the north of Italy and long lunches with relatives. Later in life, one would not find a more devoted father to his two girls or loving partner.
Harry's life was full, and he touched the lives of thousands. His legacy will live on. In show biz they say you should leave them wanting more. Harry, I speak for us all in saying we wanted you to have more years. Rest in peace.