A childhood desire to help people turned Dr Darcy Smith away from a career in mining to become an advocate for regional people's healthcare rights.
By Ara Jansen
---
A champion of positive mental health, supporting HIV patients and a tireless advocate for causes he believes in, Dr Darcy Smith grew up in Albany and returned with experiences that have informed his practice as a GP.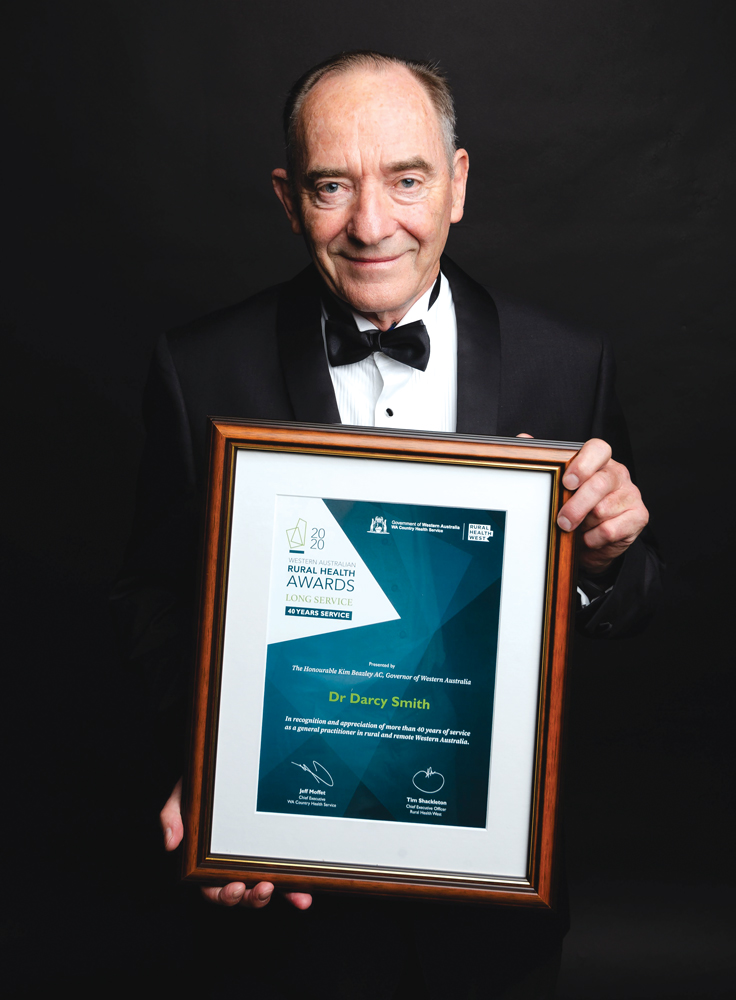 Growing up in a mining family based in Albany, it was expected that Darcy would follow into the business. Instead, his work as a St John Ambulance cadet, something he'd done since he was 11, was what really grabbed his interest. 
During holidays he would sometimes ride with the local ambulance driver. With Darcy assisting, they delivered someone to the hospital who had appendicitis. It was this specific diagnostic challenge which turned on a light for the young student.
"My family were really cross that I didn't go into mining," he remembers. "They used to say rocks don't talk, implying that was better.
"As there was no rural training that anyone could do as part of their course at the time, in my second term of being an intern I was sent to Kalgoorlie for four months. That was hair-raising. There were only four GPs in town in 1975. We were expected to do an awful lot. 
"I remember someone taking a barbiturate overdose and I intubated her overnight by myself. Not something an intern would do these days! I used to work every second day on call for 24 hours and as it turns out, all my life I have worked or been on call for quite long hours."
GP activism
Darcy preferred Kalgoorlie to the city lifestyle and made his home there for the best part of a decade. In the 1980s, he was vocal about the relationship of the high number of paediatric asthmatic patient admissions and the relationship to late afternoon high sulphur dioxide emissions from the smelter south of the city. The smelter location was moved, for many reasons, including Darcy's constant badgering and local asthma cases decreased. 
While he's spent most of his career as a GP, Darcy left Kalgoorlie to come to Perth for a while to take up the position of Deputy Medical Director at King Edward Memorial Hospital. At the time of moving he was delivering about 170 babies a year. Obstetrics and the intrapartum care of women has been a 40-year constant in his career.
Then a dad of four young kids, the doctor felt he wanted to bring his kids up in the country. This led him to become a country Regional Director of Health for the WA Health Department until the mid-1990s, overseeing 30 to 40 hospitals in the Great Southern from Narrogin southwards.
"In 1993, I had divorced and there was an agreement that the children would spend a week about with me. Wanting to be home with them I went back to being a GP in Albany. I ended up being on-call for every weeknight and on-call for obstetrics 24/7. I also worked every second weekend on-call at A&E. I was terribly busy!"
A life-long triathlete and cross-country runner, it was clocking up the miles in his sneakers that Darcy says kept him balanced. He instilled a passion for running in his children, whom he says all still run.  
In 1995 he opened his own practice and initially was a solo GP and cared for HIV patients when, at that time, many health professionals hesitated to. There were often daily home visits, some in the middle of the night, and back then, unlike today, some sad outcomes. 
No to discrimination
"When I first opened as a GP in Albany, for whatever reason, the needs of HIV patients were not being met. Sometimes I would get called out in the middle of the night and occasionally I would have to bundle the kids in the car and drive 20km." 
While times have changed, Darcy saw that HIV patients weren't being treated as well as other patients. Some of those late-night trips would include doing things like helping someone get out of a bath because they weren't strong enough to do it for themselves. 
"There was a lot of prejudice at the time and in rural Australia there was a lack of understanding of how you got HIV and a general fear. At one place, which I had asked to take an HIV patient, they had used 50 aprons in the first night. They decided not to admit any more HIV patients because the husbands of the volunteers were complaining.
"I saw a need and here was a disenfranchised group of people. While HIV patients have a similar life expectancy now (about 70 years), in the '90s people were dying slowly and meeting miserable ends and with a life expectancy of about 40. Plus, people thought of it as a gay disease rather than a sexual disease. 
"I think it's wonderful to have seen a change, not only in people's perceptions and acceptance but in doctors' attitudes too."
Throughout his career, Darcy has been active in promoting positive mental health in general practice. He's worked on the National Working Party into Mental Health Prevention, Promotion and Early Intervention and chaired the national GP Mental Health Standards Collaboration. He strongly feels GPs must be integral to patient mental health care.
"If we can prevent mental health issues and diagnose them early, individuals and the community will be better off. The mental health issue is getting bigger and I think that the focus of programs needs to be constantly reviewed.
"I used to work every second day on call for 24 hours and as it turns out, all my life I have worked or been on call for quite long hours."


---
GPs and mental health
"When a 14-year-old girl comes to the ED having self-harmed, she needs help and specialised help. Groups like headspace (the National Youth Mental Health Foundation) are doing a lot of good work around Australia. Having a phoneline which offers help is powerful, but not as powerful as personal contact for some people, particularly young people."
Sexually abused as a child by a teacher, Darcy's abuser was jailed two years ago at the age of 84. Darcy used therapy to help heal the wounds of his past and keenly understands the power of keeping your mental health in check, which is one of the reasons he keeps physically active. 
"I think I do attract some patients who are coming to terms with past sexual abuse. I'm thinking of one man who was 64 and had never told anyone of his sexual abuse – and he told me. His mental outlook improved after counselling. I can relate to that. I'd like to think all doctors should be getting training in mental health to offer their patients help with all mental health issues, including sexual abuse."  
Darcy was a long-time mentor for John Flynn Placement Program students, the only national rural placement program connecting medical students, doctors and communities across the country. It was unfortunately defunded in the 2021 Federal Budget.
A keen teacher, Darcy encourages teaching in rural locations because he feels this offers the greatest chance of students returning to regional Australia to live and work for longer than just a placement. He says students' questions and challenges encourage his own learning. 
Darcy was honoured earlier this year at the WA Rural Health Awards for his 40 years of service. At the ceremony he was described as an advocate for patients whose greatest joy is "developing a therapeutic relationship with patients and building on that relationship for the benefit of the patient". 
Knowing patients
He told the attendees he strongly felt community members needed a designated GP who knew the patient history well and knew the patient's hopes and aspirations.
"A GP should be friendly and warm," he says. "I'd like to see more interpersonal skills taught in secondary schools. If someone is angry, they need to know how to handle that. To have good interpersonal skills is to also know oneself better."
He says a key factor to being a doctor, especially in the country is to have the support, patience and understanding of a partner – in his case Paul – especially when he's rushing off in the middle of a meal or the middle of the night to deliver a baby.
Darcy works three days a week at The Surgery and two days in A&E at Albany Health Campus. 
He considers Albany the best place in the world to live, where he and Paul keep active by walking their dog, gardening and growing veggies.