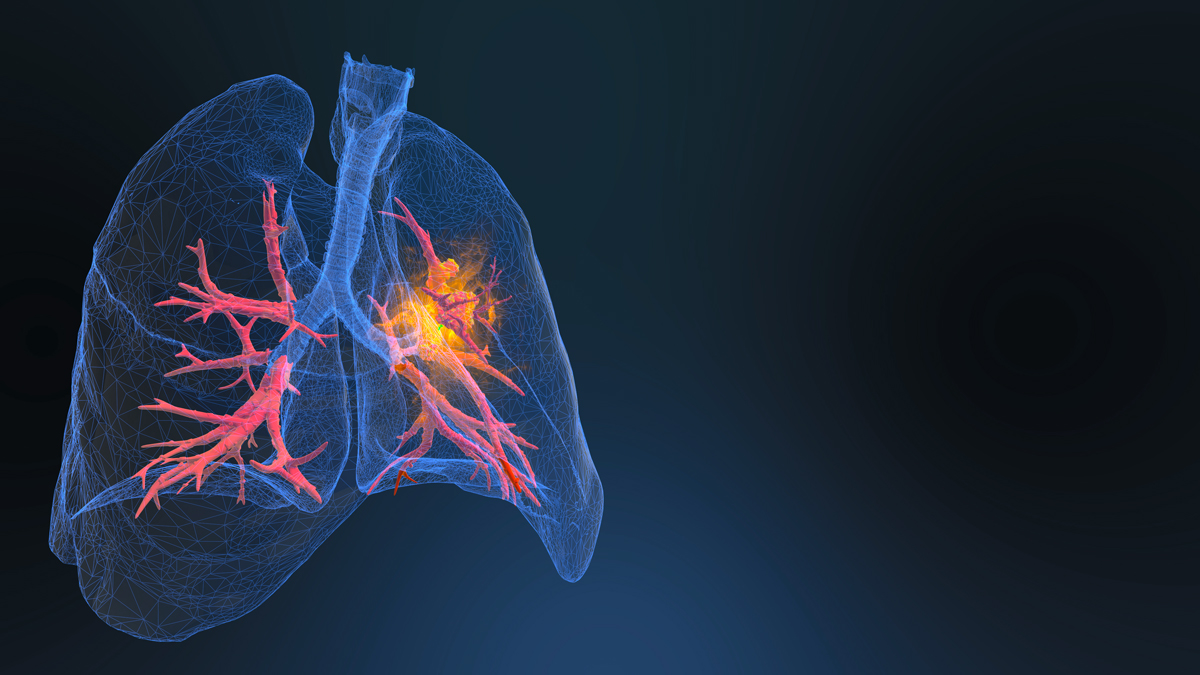 Lung cancer remains the leading cause of cancer death in Australia with the five-year survival rate remaining at a disappointing 18%.
Morbidity and survival outcomes are highly dependent on early diagnosis. The National Lung Cancer Optimal Pathway endorsed by state and federal governments recommend six weeks as the time from initial identification of potential lung cancer to complete staging and diagnosis and receiving first treatment. It can be challenging to meet this.
The current recommended staging pathway (see below) is a stepwise approach. First step is a whole-body 18F-fluorodeoxyglucose (FDG) PET scan (can be omitted if baseline CT has already identified metastatic disease) to identify whether the patient has locally advanced disease (stage I-III) or systemic disease (stage IV).
If stage IV disease is identified (approximately 40% incidence), it is generally advised that histopathological tissue diagnosis is obtained from distant metastatic sites (where most accessible and least invasive to obtain), either via ultrasound or CT-guided biopsy.
A positive biopsy of the primary lung lesion on its own will not answer the question of whether the distant metastatic deposits are from lung origin or in the off-chance, might have arisen from a separate synchronous malignancy. Whereas tissue diagnosis from other metastatic sites can be traced back to lung where it exhibits typical immunohistochemical markers (i.e. TTF-1).
If no distant metastatic disease site is identified on staging scan and the disease is found to be stage IA (primary tumour size <3cm and no suspicious node was identified on FDG-PET scan – approximately 10% incidence), it is generally advised that the histopathological tissue diagnosed is obtained directly from the primary site via navigational bronchoscopy or CT-guided biopsy.
Where a larger tumour or suspicious node is identified on staging scan, a diagnostic bronchoscopy with linear endobronchial ultrasound (EBUS) transbronchial needle aspirate (TBNA) is recommended. This is a minimally invasive technique to biopsy mediastinal lymph node.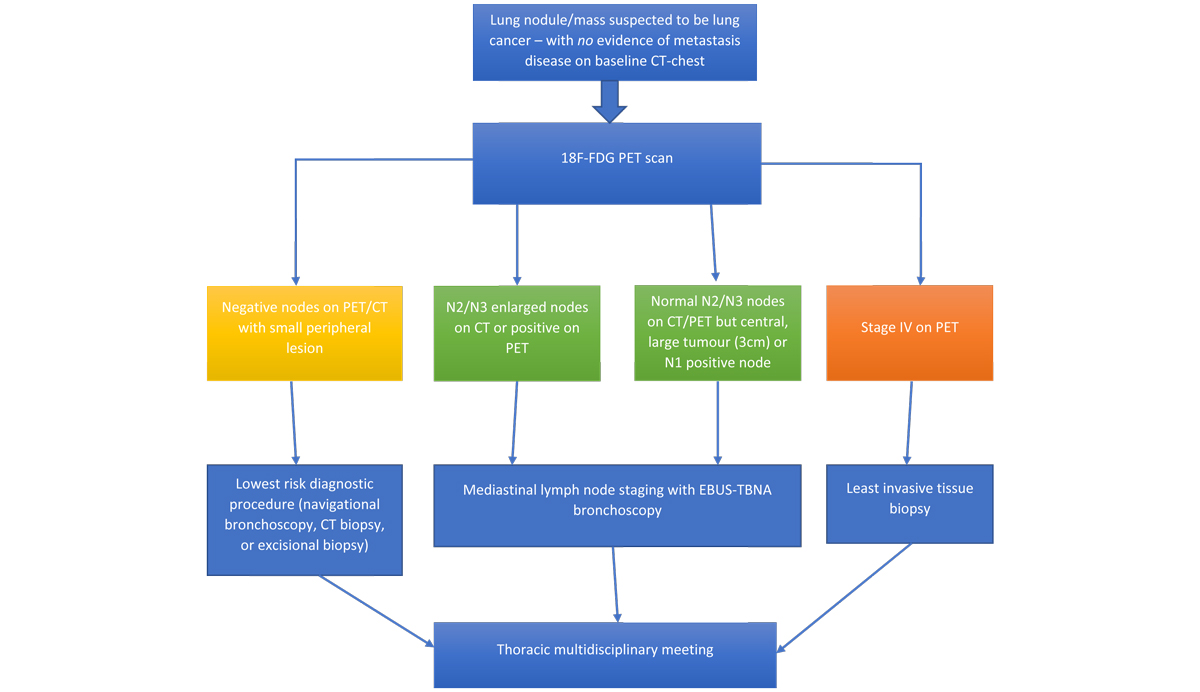 Staging scan alone cannot accurately stage the disease, given associated high false positive (FP) and false negative (FN) rates. In radiographically identified N2/N3 nodal disease (metastasis involving lymph nodes beyond mediastinal or subcarinal in location), 40% FP rate is associated with CT and 15% FP and 25% FN with PET.
Conversely, in cases of large central tumours (>3cm) with only radiographical positive N1 nodal disease and negative N2/N3 disease, a 25% FN rate of lymph node metastasis is associated with CT and PET; and 15% FP with PET. EBUS-TBNA significantly increases the accuracy of mediastinal lymph node staging (specificity 100%, sensitivity 93%).
Once appropriate staging has been performed, each lung cancer case should be referred to a lung cancer multidisciplinary meeting for complete optimal discussion on staging and treatment options.
Key messages
Lung cancer survival outcomes highly depend on early diagnosis
First step is a whole-body 18F-fluorodeoxyglucose (FDG) PET scan staging (unless metastatic disease identified on baseline CT chest)
EBUS-TBNA significantly increases mediastinal lymph node staging accuracy
References available on request.
Questions? Contact the editor.
Author competing interests: None to disclose.
Disclaimer: Please note, this website is not a substitute for independent professional advice. Nothing contained in this website is intended to be used as medical advice and it is not intended to be used to diagnose, treat, cure or prevent any disease, nor should it be used for therapeutic purposes or as a substitute for your own health professional's advice. Opinions expressed at this website do not necessarily reflect those of Medical Forum magazine. Medical Forum makes no warranties about any of the content of this website, nor any representations or undertakings about any content of any other website referred to, or accessible, through this website.