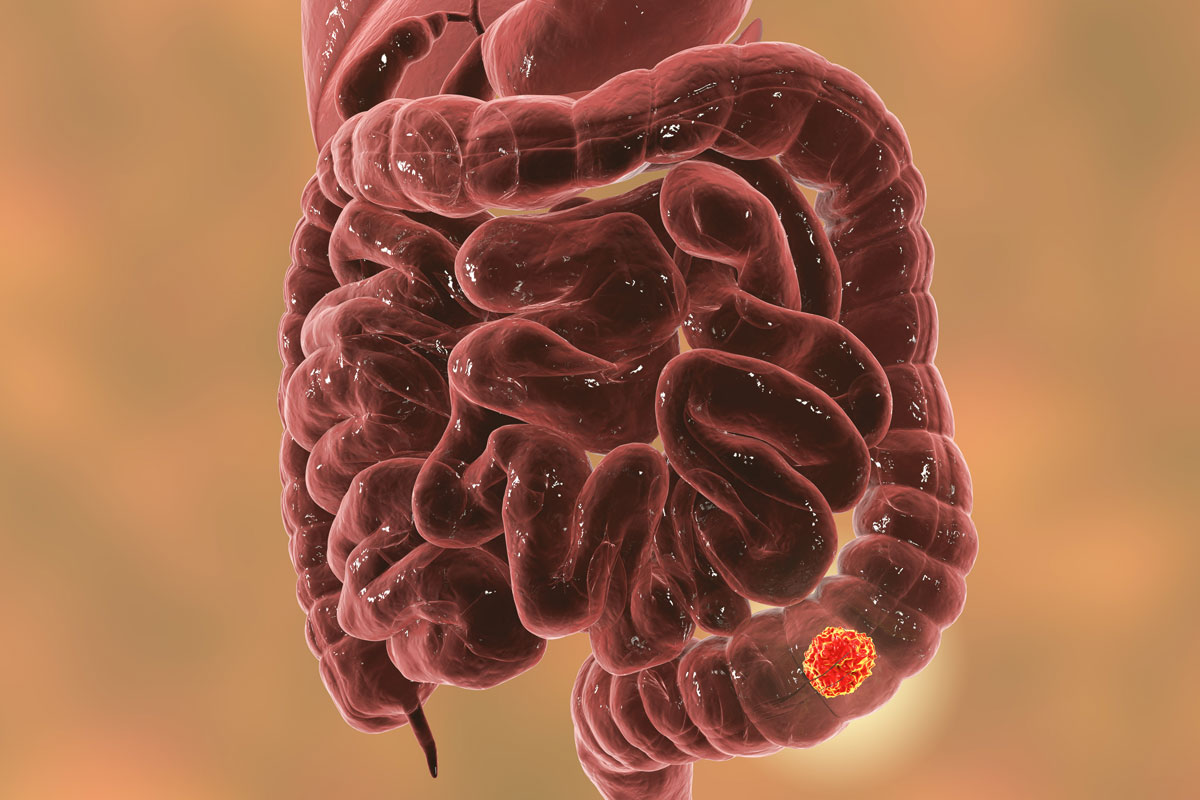 The five-year survival rate for colorectal cancer in Australia is currently over 70%, 10% higher than in the UK. WA has the world's best CRCa survival rate. Screening and early diagnosis by colonoscopy are critical.
Previously the patient was told how their cancer is best managed. We now incorporate the patient's desires regarding their treatment, which often differs from our recommendations (e.g. an elderly patient wishing to trade lower morbidity for less cancer control).
Local rectal cancer recurrence rates are now well under 5% (20-30% one generation ago) due to improved preoperative staging, selective adjuvant chemoradiotherapy and standardised total mesorectal excision (TME) surgery performed by colorectal subspecialists.
Preoperative staging involves CT and or PET scan for metastases and pelvic MRI for T stage, Node status, EMVI (extramural venous invasion) and MRF (Mesorectal fascia) status. Radiotherapy can often be given as short course (one week, low-dose) with surgery the following week. Patients may prefer this, and results are equivalent. Long course chemoradiotherapy is preferred for more advanced and lower third tumours.
Adjuvant chemotherapy was six months, but three months is now adequate for many. Locally advanced tumours threatening the resection margin can be down-staged preoperatively with TNT (Total Neoadjuvant Chemoradiotherapy – long course chemoradiotherapy plus Folfox chemotherapy). T4 or recurrent rectal cancers are often referred to pelvic exenteration units for extended resections with clear margins the aim.
Highly selected patients with a complete response to chemoradiotherapy may be offered 'watch and wait' (intensive follow up with resection only if tumour regrows). Metastases are resected where possible for cure. If not, palliative chemotherapy offers a median survival around three years and the primary usually isn't resected.
The acceptable distal margin is now up to 10mm. Resections can involve small parts of the upper sphincter complex in selected patients so very few need a permanent stoma. Early polyp cancers may be manageable by colonoscopic resection, or surgical wide transanal wide local excision.
Minimally invasive rectal resection (Laparoscopic, robotic and Transanal TME) require a very high level of expertise and specific credentialing and should be used selectively only by experts. Most rectal resections in Australia are open. Hybrid resections e.g. colon mobilisation lap + pelvis open are a good alternative.
Our patient population is becoming more diverse with more under 40 (reasons unknown), and over 80 patients fit for full treatment. No two patients or rectal cancers are the same. Different treatment options exist for each patient, making the decision-making process highly complex.
Multidisciplinary team (MDT) discussion is mandatory. Multiple appointments with the colorectal surgeon and where needed radiotherapist, oncologist, stomal therapist. A specialist colorectal nurse is a key team member responsible for coordinating the MDT, educating and assisting the patient end to end along their cancer journey. Nurses often hear a different perspective to cancer specialists and can provide critical information for optimising rectal cancer treatment.
Key messages
Colorectal cancer survival is strongly stage dependent. Early investigation is critical.
Rectal cancers must be discussed at a dedicated colorectal MDT, and treated by subspecialists with high caseload and a dedicated specialist colorectal nurse
Optimal rectal cancer management is a highly complex decision-making process
References available on request.
Questions? Contact the editor.
Author competing interests: None to disclose.
Disclaimer: Please note, this website is not a substitute for independent professional advice. Nothing contained in this website is intended to be used as medical advice and it is not intended to be used to diagnose, treat, cure or prevent any disease, nor should it be used for therapeutic purposes or as a substitute for your own health professional's advice. Opinions expressed at this website do not necessarily reflect those of Medical Forum magazine. Medical Forum makes no warranties about any of the content of this website, nor any representations or undertakings about any content of any other website referred to, or accessible, through this website.