Unless COVID sneaks into WA in the meantime, early next year is when we will face our first real test of managing pandemic casualties. Cathy O'Leary looks at the year that was and what we can expect in 2022.
---
For months, the question on the minds of many West Australians has been not 'if' COVID will finally penetrate our bubble, but when.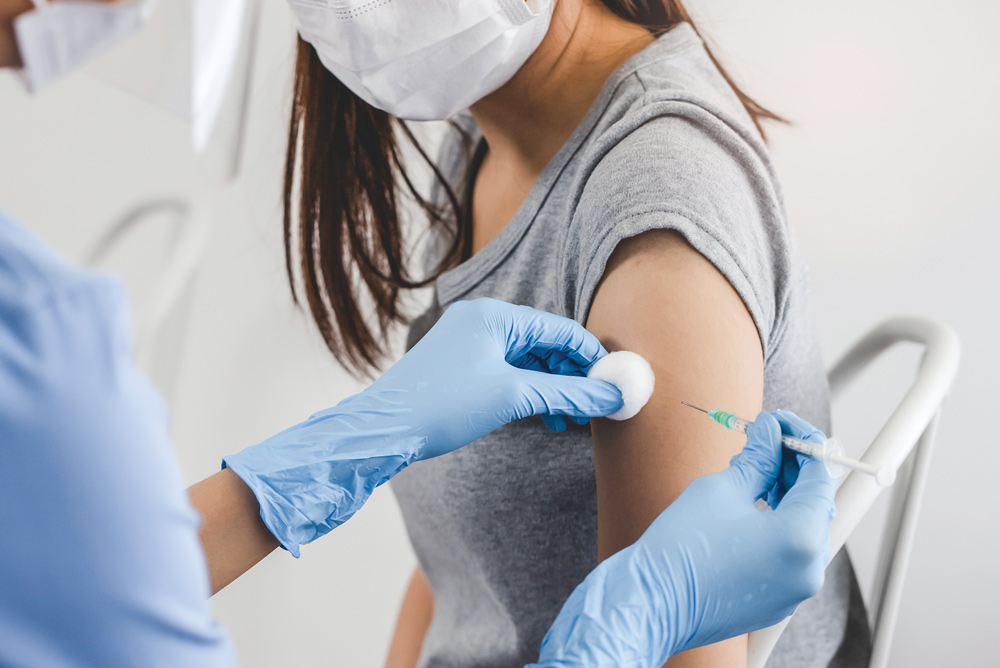 Many jurisdictions around the world have already felt the pain of the pandemic and are now moving to a new-normal, using phrases such as 'living with COVID' and 'endemic COVID'.
In WA, the past 12 months has been bitter-sweet. The State has managed to avoid hospitalisations and deaths, but the price has been its residents being cut off from much of the world and even our own country, with tough border restrictions becoming routine rather than exceptional.
Now the State Government has revealed its road map out of closed borders, with a predicted opening up in late January or early February.
This is a daunting prospect for some, including health bureaucrats, given public hospitals are running over-capacity and have ambulances regularly ramped at their doors even without COVID.
But it will not be a moment too soon for many people desperate to be reunited with family or travel the world.
Ambitious target
But how the reopening will play out hinges on improving WA's sluggish vaccination progress, and meeting the ambitious target of 90% of 12-year-olds and over being double-dosed.
By mid-November, around 70% were fully vaccinated, meaning more than 200,000 West Australians adults still need to roll up their sleeves over the next few months. 
In his long-awaited announcement, Premier Mark McGowan committed to setting a firm date for reopening once the State reaches 80% fully vaccinated, which is expected to be early this month.
Under the plan, with the exception of unvaccinated overseas arrivals, travellers entering WA will not face any isolation requirements. International and interstate visitors will have to return a negative PCR test 72 hours prior to departure and be tested within 48 hours of arrival.
Face masks will be needed in high-risk indoor settings such as public transport and in hospitals and aged care facilities, while those without vaccination passports will be denied access to premises such as nightclubs and events with big crowds.
Casual contacts of COVID cases will no longer be required to self-isolate but will need to test negative, and close contacts will have their quarantine period halved to a week.
Mr McGowan added a caveat – if the 90% vaccine rate is not achieved by the prescribed date, the border would still reopen, but with additional restrictions.
More is better
At a recent Perth forum, provocatively entitled Fortress Australia and organised by the University of WA's Public Policy Unit, Australian Medical Association national president Dr Omar Khorshid threw his support behind a higher than 80% vaccination rate in order for the State to safely open.
"I'd like to say we should open up at 80% vaccination but it may well be that WA needs 90% or even 95%, otherwise all we do is go back into lockdown," he told the meeting. "Opening up is not Freedom Day, opening up the borders does not keep WA safe – it means we go back to restrictions.
"And if we need to tighten those restrictions because the health system is failing, we'll go back into tighter restrictions, including lockdowns. That is the future, and I think we need to be honest and prepare West Australians, otherwise it's going to be very, very difficult.
"We're not COVID-zero, we're not ever going to be safe from this virus, and I think that's the big political challenge for all our leaders – how to go from "we are safe, we're looking after you" to saying, "people are going to die from this virus, and that's okay as long as we've done everything we can to prepare."
Dr Khorshid questioned whether enough had been done to prepare not just the public hospital sector, but GP and specialist clinics, including protocols for personal protective equipment if there was a big influx of potential COVID cases coming through their doors.
"PPE might seem a bit ridiculous, but if you don't you're exposing your staff, and we know the vaccine is not 100% effective, so what does that look like, who pays for the additional cost of slowing things down so a whole system is highly efficient most of the time," he said.
Vaccine policy researcher Dr Katie Attwell from UWA's School of Social Sciences told the forum that having the pandemic spreading in New South Wales and Victoria had been an enormous driver of people getting vaccinated.
"The question of how that translates to WA is an interesting one, given the political capital that our State Government currently enjoys and its immense popularity, and while we're going out for dinner and hugging our families, we should be thankful for that," she said.
"But what are we going to need to reopen our borders and be able to face down that pandemic which is coming for us? We have not had the pandemic yet – we've had little tiny outbreak fires that get put out and then we're back to this kind of wonderful life that we enjoy.
"And what we've seen in the eastern states is that when the virus does come, people will die."
Dr Attwell said that with no COVID in the State, the vaccination status of each person did not matter, but down the track it would matter enormously. More was needed to be done, including more mandates and incentives, particularly for disengaged communities.
The Royal Australian College of General Practitioners shares those concerns, particularly about Aboriginal and Torres Strait Islander people who are at increased risk as Australia opens up, due to dangerously lagging COVID vaccination rates.
While about 81% per cent of all Australians aged 16 and older are fully vaccinated and 90% have had one dose, that figure sits at 55% fully vaccinated and 67% one dose for Aboriginal and Torres Strait Islander peoples.
The Aboriginal and Torres Strait Islander Health Chair, Professor Peter O'Mara, said the gap in vaccination coverage compared to the general population was worse in jurisdictions less affected by COVID outbreaks, including WA where the rate of first dose is below 55%.
"We urgently need to ramp up vaccine access and education for Aboriginal and Torres Strait Islander communities, particularly for younger community members and certain jurisdictions such as WA, which we know is really lagging behind," he said.
Professor Jaya Dantas, from Curtin University's School of Population Health, told Medical Forum she was disappointed there was still no clear date for the State's reopening, and she believed the 90% target was unnecessarily high.
But she was confident WA could manage any COVID cases when the border opened.
"If we open up our borders and take people who double-vaccinated and had a negative test just before coming, I don't think that we'll have a huge increase in case numbers," she said.
"There will be small numbers, but many could be managed carefully in home isolation, so I think this fear that we'll have large numbers of cases really needs to be tested.
"There seems to be this constant worry that when we open the border, we'll have this surge and our hospitals won't be able to cope, when other countries which saw big numbers early on have managed."
Professor Dantas said with vaccination mandates for more than 70% of the workforce, she expected rates to increase over the next few months.
"You will still have vaccine objectors – and that will sit at about 5-6% – but the rest will get vaccinated, except for children and those unable to. But we really need to look at pockets where rates are low.
"Personally, I think mandates are good because they serve the purpose of saying we are in the midst of a global pandemic, and this is about community good. And with mandates among those people who have been hesitant or complacent, their vaccination increases."
Professor Dantas said, retrospectively, WA had really protected its citizens this past year. Its harsh border closures – one of the harshest in the world – had meant almost zero community transmission. But the State needed to move on, just as the world had, allowing families to reunite and Australians to return home.
"Many West Australians are very parochial, they've lived here and don't necessarily travel overseas very much, so it's been wonderful, but when families are separated or have lost parents and haven't been able to go and grieve for them, that shouldn't have happened," she said.
"We've done well in our freedoms here, but our State is not open, and we're still catching up. After 20 months, we need to move on."
Dr Khorshid told the UWA forum that COVID had impacted every Australian, not necessarily a health impact but a psychological, employment or financial impact.
"But when we get to the end of this year, or the middle of next year, or the end of next year, whenever it is, we can look back with pride at the fact that our leaders, our institutions, our medical professionals, our health workers, and everybody involved in the public health response have actually mobilised, and they've kept us safe," he said.