The widely accepted definition of chronic postsurgical pain (CPSP) is: Pain developing after a surgical procedure, of at least two months duration, where other causes of pain have been excluded and there is no pre-existing pain continuing from a previous pain problem.
While not well understood, pathophysiology of CPSP is thought to involve central sensitisation and chronic pain changes in the nervous system. It commonly presents with pain of neuropathic nature (sharp shooting pain associated with allodynia and dysaesthesia).
Preoperative pain in the affected area is a risk factor as are psychosocial factors. Patients with depression, anxiety, catastrophising traits and hypervigilance are at particular risk. Females are at an increased risk of chronic pain conditions including CPSP.
Inguinal hernia repair is one of the commonest causes of CPSP with recorded incidences of up to 63%. Hip arthroplasty, cholecystectomy, caesarean section, amputation, mastectomy and thoracotomy also carry a high risk of CPSP as do long duration, open approach, and repeat procedures. Adequate postoperative pain control is essential as the severity of postoperative pain is a strong predictor of development of CPSP.
Prevention and management
The most important preventative method for CPSP is judicious consideration of indications and risks when contemplating surgery. Use of minimally invasive surgical techniques and incorporation of preventative regional anaesthetic techniques have some benefit. Despite common usage, evidence for perioperative antineuropathic agents is inconclusive.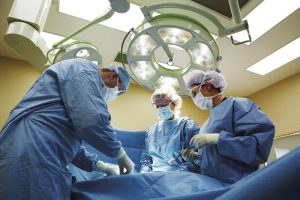 Recognising patients with signs of CRPS is important, as urgent referral to Chronic Pain services and institution of treatment for the former condition may make a difference in outcome. Features of CRPS to look out for include pain disproportionate to the inciting event, hypersensitivity, colour or temperature change in the limb, oedema, and changes in sweating and nail/hair growth.
Principles of managing CPSP are in line with other chronic pain conditions, and include:
Multimodal analgesia with paracetamol and NSAID is the best starting point. Gabapentinoids, TCA and SNRI agents may be useful. Opioids have little role in CPSP management but a trial of tramadol or tapentadol for its non mu-receptor activity could be considered.
Allied health treatments. Physical rehabilitation and improvement in function, rather than pain reduction, is the main focus. Physiotherapy and occupational therapy are appropriate especially with therapists skilled in this area. Psychological factors play a significant role in chronic pain development and psychology input is often invaluable.
Patient education. Patients should be encouraged to learn about their condition to help them be in control. Factsheets such as the one produced by the International Association for the Study of Pain (iasp-pain.org) is useful.
References available on request.
Disclaimer: Please note, this website is not a substitute for independent professional advice. Nothing contained in this website is intended to be used as medical advice and it is not intended to be used to diagnose, treat, cure or prevent any disease, nor should it be used for therapeutic purposes or as a substitute for your own health professional's advice. Opinions expressed at this website do not necessarily reflect those of Medical Forum magazine. Medical Forum makes no warranties about any of the content of this website, nor any representations or undertakings about any content of any other website referred to, or accessible, through this website.