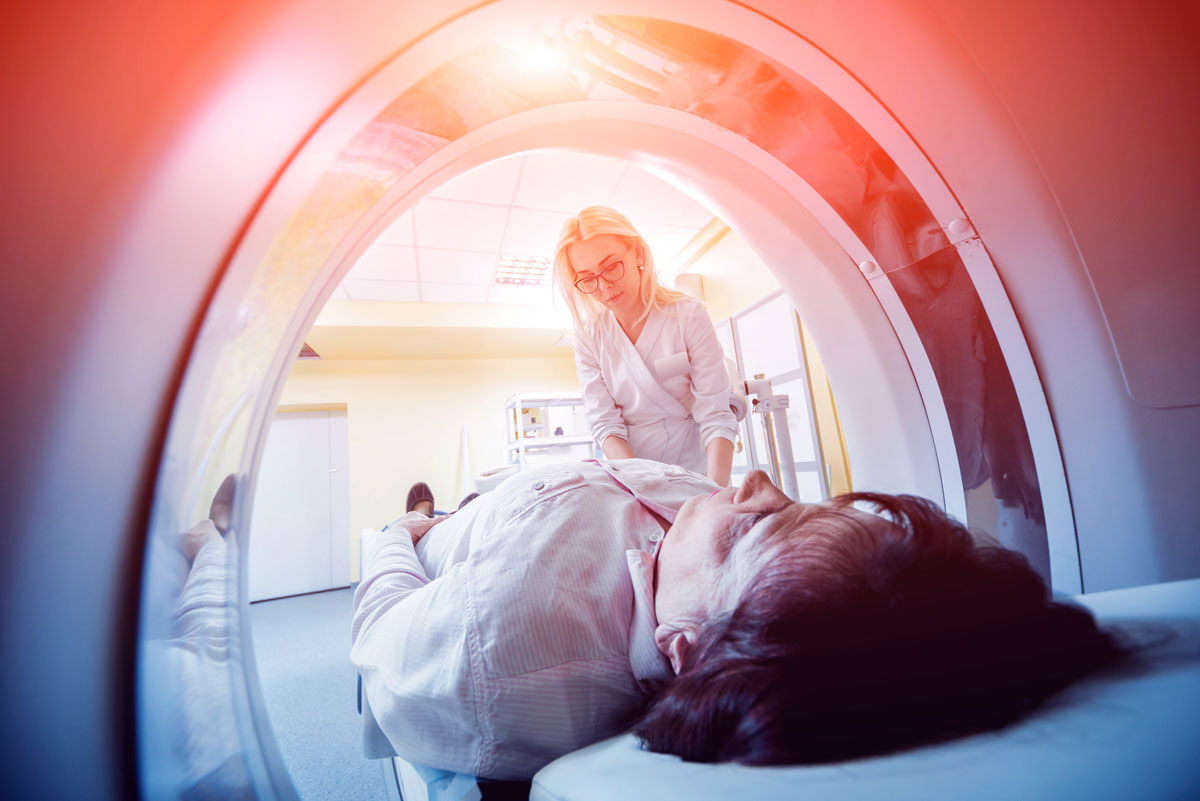 Jennifer is 63 and complained of chest pain. She has a family history of ischaemic heart disease and a history of intermittent smoking for a few years. A CT calcium score didn't show any coronary artery calcification but an incidental ground-glass nodule was seen in her left upper lobe (Fig 1).
This was followed up over a two-year period when it showed the development of a solid component (Fig 2). She was referred for resection and pathology identified an adenocarcinoma.
CT-based investigation for diagnosing coronary artery disease and assessment of cardiac risk is increasing. As a result, coincidental imaging of the lung fields is also increasing. This has led to increased identification of clinically silent but not necessarily clinically irrelevant, non-cardiac abnormalities.
These can comprise findings in the chest wall, breasts, skeleton, lung, pulmonary vasculature, mediastinum and non-coronary vasculature. Some will be clearly significant requiring prompt assessment. For others, the short- and long-term risk is not so clear and follow-up probably with further imaging will be required.
Even in health, the respiratory system is exposed to numerous, potentially irritating or noxious challenges. Respiratory infection is common and over time these can lead to abnormalities in lung tissue that may be identifiable radiologically. With normal ageing comes changes in lung function and histology, a loss of elastic recoil, increased collagen deposition, loss of small airway supports. In addition, other more well-defined factors can impact on lung structure and function (cigarette smoke, pollution, asbestos etc.).
While sometimes these may cause symptoms and be recognised, other times they may be early stage disease or entirely benign. Incidental imaging of the lung fields brings them to attention. In turn the lung abnormality will need to be assessed on its own merits.
Cardiac disease and respiratory disease share risk factors (smoking, increased age) and so abnormality in both is to be expected.
Non-cardiac (and for the purposes of this discussion – pulmonary) incidental findings on cardiac CTs are generally grouped as either significant or non-significant. The former can include lung nodules and masses, pulmonary emboli, aortic abnormalities, breast masses, pleural masses and effusions.
Non-significant, or perhaps better referred to as less immediately significant, findings include emphysematous change, small (<6mm nodules), pleural thickening, interstitial lung abnormalities.
In one large study of 2050 scans, 5% had significant, non-cardiac findings. The most common were lung nodule (<3cm) or lung mass (>3cm).
In a patient with a history of cigarette smoke exposure there is the concern that these lesions may represent early malignancy. For large masses, further investigation (e.g. biopsy) may be indicated. For smaller nodules, further CT follow-up may be required. The specific program of follow-up varies depending on the nature of the nodule (ground glass, semi-solid, solid) and the risk of underlying malignancy (age, smoking history, nodule size, number of nodules, past history of malignancy).
Data from lung cancer screening programs and other cohort studies has allowed the development of follow-up algorithms for pulmonary nodules dependent on the risk of malignancy (e.g. Fleischner Society). These aim for a balance between accurate and timely detection of malignancy and limiting radiation exposure by repeat scanning.
Other incidental pulmonary findings such as bronchial wall thickening, emphysema and fibrosis may represent age-related changes. This may include exposure to environmental pollution (i.e. urban compared to rural living) or be related to previous cigarette or other (e.g. occupational) exposures. Often these abnormalities may be asymptomatic, or the symptoms accepted as part of growing older.
Initial clinical assessment and lung function testing may be indicated. Follow-up assessment either radiological or physiological (lung function) may be required to identify progression or development of disease especially with interstitial lung abnormalities.
The timing of this is less clear than with nodules but may not need to be any more frequent than annually. Assessment of the potential cause is necessary. A history of occupational or environmental exposure (e.g. asbestos) may help with planning of follow-up. Prior imaging is always useful.
Key messages
The lungs are exposed to challenges and assaults, which can leave their mark.
With the growing use of cardiac CT, these findings will be more frequent.
The specific nature of the findings will determine the need and extent of follow-up.
References available on request.
Questions? Contact the editor.
Author competing interests: None to disclose.
Disclaimer: Please note, this website is not a substitute for independent professional advice. Nothing contained in this website is intended to be used as medical advice and it is not intended to be used to diagnose, treat, cure or prevent any disease, nor should it be used for therapeutic purposes or as a substitute for your own health professional's advice. Opinions expressed at this website do not necessarily reflect those of Medical Forum magazine. Medical Forum makes no warranties about any of the content of this website, nor any representations or undertakings about any content of any other website referred to, or accessible, through this website.