Thirty-four years ago, a cohort of young doctors graduated from the Royal Free Hospital medical school in Hampstead and last month three of them found themselves sitting around a meeting table at the Telethon Kids Institute in Perth.
Paediatric researcher Dr Desiree Silva invited her uni pals Dr Michael Mosley, of BBC fame and author of the Fast 800 program and his wife, GP Dr Clare Bailey, to see the new facilities housed at the Perth Children's Hospital.
Michael had been invited to speak at Science on the Swan and also at a WA Department of Health symposium on child health.
This gathering was a chance for friends to reflect on uni days and a time when diabetes was more of a novel disease than the sadly chronic status it bears today.
Michael: "We all started medical school in 1980. I was a mature student … much older and wiser than these guys having done a politics and philosophy degree at Oxford University."
Desiree: "I remember clearly the dean addressing us on the first day saying that four people in the room would marry each other. I looked at the person next to me and thought to myself it was hardly likely. But it worked for you two, and two other great friends (WA doctors Tim Haggett and Clare Tait)."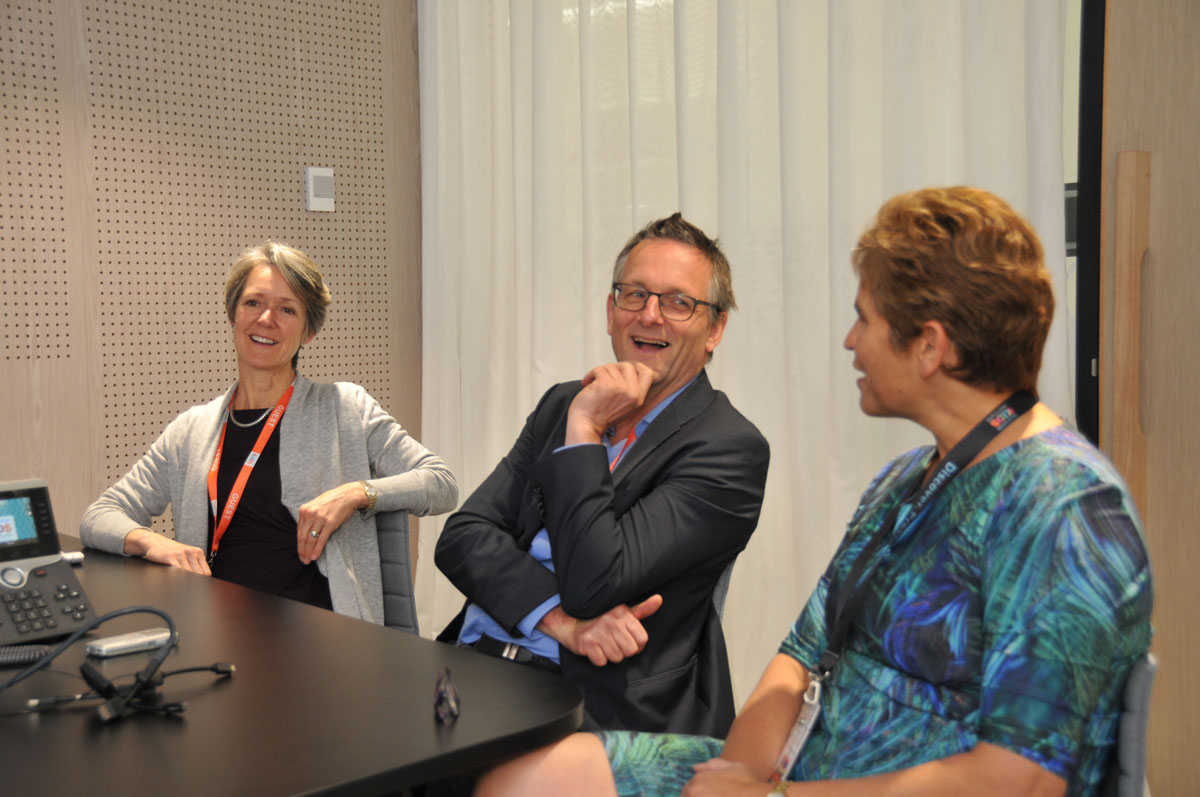 Michael: "We got to know each other well when we put on our annual revues. I did this sort of stuff at Oxford alongside more talented people like Rowan Atkinson and Richard Curtis (of Four Weddings and a Funeral fame) who were contemporaries of mine. I recycled the material when I went to medical school."
Desiree: "Our final year revue was the big show. I was producer and Mike was the director. One of the sketches was Doctopussy and Clare was the star – we had a female James Bond, we were ahead of our time. Who wrote that?"
Michael: "An amalgam … I blame other people."
Clare: "Desi made it happen. She was known as Miss Fixit. I remember having balloons strapped to my chest like Kenny Everett. It was all in very bad taste."
Michael: "It was my first big break in show business. The offers rolled in after that."
Desiree: "They really did."
Michael: "Just before the finals, BBC did offer me a job but I turned it down. But I proscrastinated for weeks and bore all my friends by asking their advice. Eventually I said yes and thought I'd do it for a couple of years and then go back to medicine. That was 34 years ago."
With the three going off in different career trajectories, they find themselves back on the same page working towards long-term solutions to chronic disease.
Michael and Clare, through her own GP practice, are vocal advocates of diet in the management and cure of diabetes.
Clare: "Guiding patients with diabetes on the Fast 800 has been hugely rewarding for them and for me too. There are extraordinary changes people can make with diet and it frustrates me that the NHS website continues to describe diabetes as a lifelong condition and that's just not true. It is very demotivating."
Michael: "There have been two great recent health revolutions, I think, which have changed our understanding, The first is Barry Marshall and Robin Warren's work to cure peptic ulcers. It was considered a lifelong condition until Barry and Rob came along and said, 'that's not true'. They went on to win a Nobel Prize. It feels a similar thing now with Type 2 diabetes and that affects even more people. The science is strong now that if you lose weight and change what you eat, you can put T2DM into remission but that's not the message most patients receive. These ideas need to be embraced and governments need to take direct responsibility for what food companies do in exactly the way they did for tobacco. Clearly food has an incredible impact on our bodies. Just telling people to self-regulate is pointless. It doesn't work and all we will see is catastrophic failure. So one of my missions in life is to bang on about it anyway I can. It has to be taken seriously."